"I'm in Danger When You Think I am Dangerous" Art
featuring DJ Schmitt 
and "Perfective Photography" with Kay Marie
presented by 
Artwork of S Jewell S McGhee
  and
The Justice Fleet

Project Narrative:"I'm in Danger When You Think I'm Dangerous" 
An image of a black teen from whose mind come a maze he feels stuck in. The walls of the maze form the word DANGER. In the passages of the maze are various dangers (the KKK, elections, friend's parents, etc.) behind the hidden corners. While a path through the middle is possible, a simple path also skirts the maze, both paths lead to a door through which a riot of color, African patterns, graffiti, and celebration lies. 
DJ hopes that his friends' parents and his parents' friends will see this and better understand how it feels for him to live in this world.
This collaborative art installation is a reflection of DJ's embodied experience of racial injustice and the trap that it become within a person's mind as well as the abundant life that is possible through healing and connection. 
 Jewell brings her professional experience to the project both in art and in communication. "I am committed to working for racial justice both as a parent, community member and artist. This piece directly addresses DJ's experience of being Black in family, in our city and as an artist. Our different racial experiences and generational experiences add to the layers of meaning in this artpiece. It is my belief that art is a powerful and healing tool for our selves and our communities that we need right now."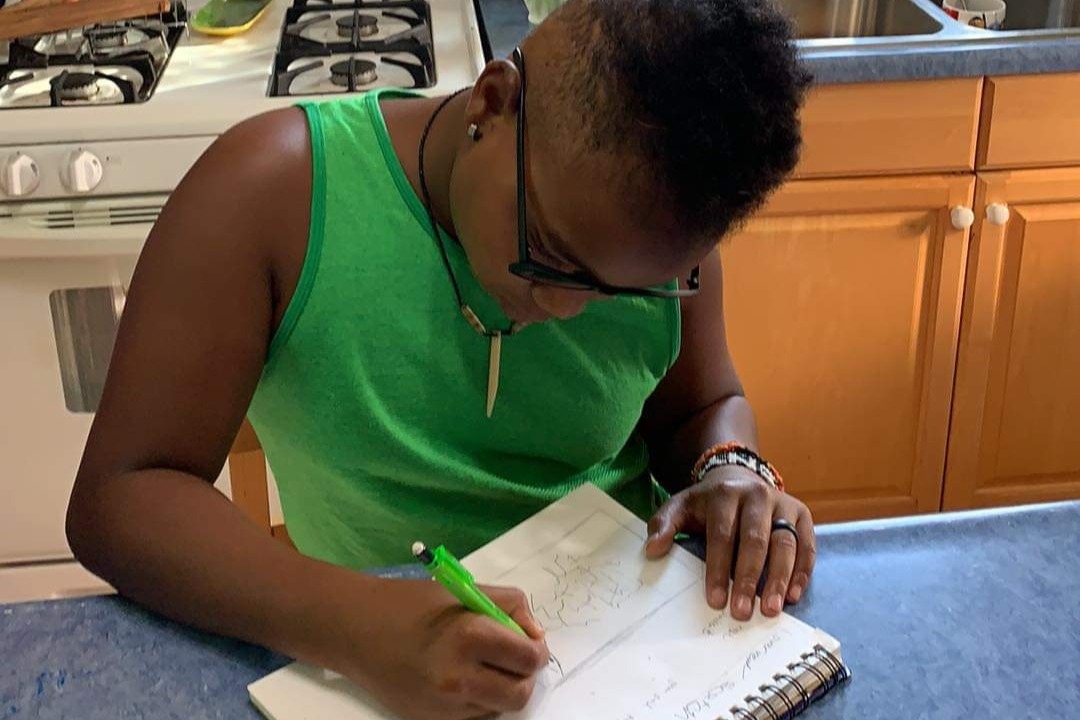 Artist Narrative Bio- DJ Schmitt
DJ Schmitt is an emerging artist whose work is powerful and healing. "Art is my dream life. This project will be peaceful and prosperous," DJ says of his work. He uses his experiences and emotions to tap into the untouchable hopes and fears of life. This revelation of himself shows courage and endurance in the midst of adversity and distraction. DJ has partnered with Jewell in the past on smaller projects, but this is his first full scale installation. 
Artist Narrative Bio- S Jewell S McGhee 
The Artwork of S. Jewell S. McGhee is diverse and engaging. As a "Community Artist" her work is influenced by the community it is meant for. Her murals and canvas paintings depict emotion and space. Having a background in theatre, she creates large and life-sized 3D pieces in mediums ranging from fabric, to recycled objects, to painted murals.  Recent collaborations with the Justice Fleet brought her art to the Pulitzer in "Dwell with Other Futures" and the UN with Angel Band Project and "Aria Rising." As a recipient of a  Regional Arts Commission Support Grant, she installed 4 pieces at St. Louis Language Immersion Schools. S. Jewell S. McGhee has a permanent rotating installation at Crossroads in Maplewood; a permanent collection held by Fidelity Counseling in St. Louis; was the Lead Designer on the rotating interactive installation "Aria Rising" from the Angel Band Project, and featured artist and presenter for "Turbulence Behind Tranquility." She is accomplished in colored pencil drawings known for being so fluid and rich they have the impression of being painted.
Resume
About the Justice Fleet 
The Justice Fleet is a mobile network of experiences that foster community healing through art, play, and dialogue. Housed inside of box trucks, each mobile exhibit ventures into various neighborhoods to engage community members in discussions about implicit and explicit bias, social justice, and empathy. The first exhibit in production engages community members in a dialogue about Radical Forgiveness—the profound notion that we don't have to live with fear, pain, hostility, or injustice because we have control over the way we perceive, understand, and act. Radical Imagination invites the community to come together to imagine new systems and build a world without injustice. Radical Forgiveness and Radical Imagination are fluid and deliberate processes that allows us to heal the wounds from injustice. Additional exhibits include Transfuturism and Black Girl Magic. 
Weight/Size.
The piece is on a canvas 6 foot tall and 4 foot wide
Endurablity.
The piece will be designed to be displayed inside or outside with appropriate setup by receiving location.
Location. 
Priority will be giving to locations that contributed financially. Initial installations will be 1 week-1 month in time. 
Timeline (tentative)
Proposal Announcement July 2020
Funding Campaign July 2020
Construction Period August 2020 
Available for installation September 2020 
Budget- Maze of Hate
A budget of $2,300 is detailed below and includes design, studio, photography, and construction costs.
200- Artist Fee: D. J. Schmitt
200-Artist Fee: S. Jewell S. McGhee
1000-Photography by Perfect Photography Kay Marie
40-African fabric
160-Spray paint
200-6'x4' canvas
100-adhesives
On an invoice from Artwork of S. Jewell S. McGhee:
100-Process Photography
100-Studio Materials: Paint/primer, repurposed materials, adhesives, studio tools, 
100-Studio Administration
100-Marketing
2300-TOTAL
Any additional funds raised will be for futures projects of the Justice Fleet and Artwork of S. Jewell S. McGhee 
Jewell has been a Project Coordinator with The Justice Fleet since 2018 
Partnered with the founder in developing the exhibit "Radical Imagination." Developed social media presence. Took part in vision casting and refocusing. Presented at the Pulitzer Arts Foundation in the "Dwell in Other Futures" exhibit.
Organizer
Jewell McGhee
Organizer
Maplewood, MO