A & K's Queerest Wedding Ever

Hey, there! We're A. Stiffler and K. Copeland, a queer couple who have been together for 12 years now! We do everything together, in fact, though you might be most familiar with our two comics, FindChaos  and ChaosLife . We also made a little edu-comic book called Lesbians 101 , as well as loads of other horror and/or LGBT comics and stories. You could say we love what we do. 

(And here are our dumb faces:)



As you can imagine, June 26, 2015 was kind of a big day for us. Marriage Equality finally passed in the United States and, just like that, we had access to rights we had been fighting for over years and years. We were ecstatic, we were overwhelmed, and most of all... We wanted to get married!

We made a comic  to celebrate and announce that fact, and the positive response was kind of overwhelming. On top of all, we kept getting the same suggestion over and over: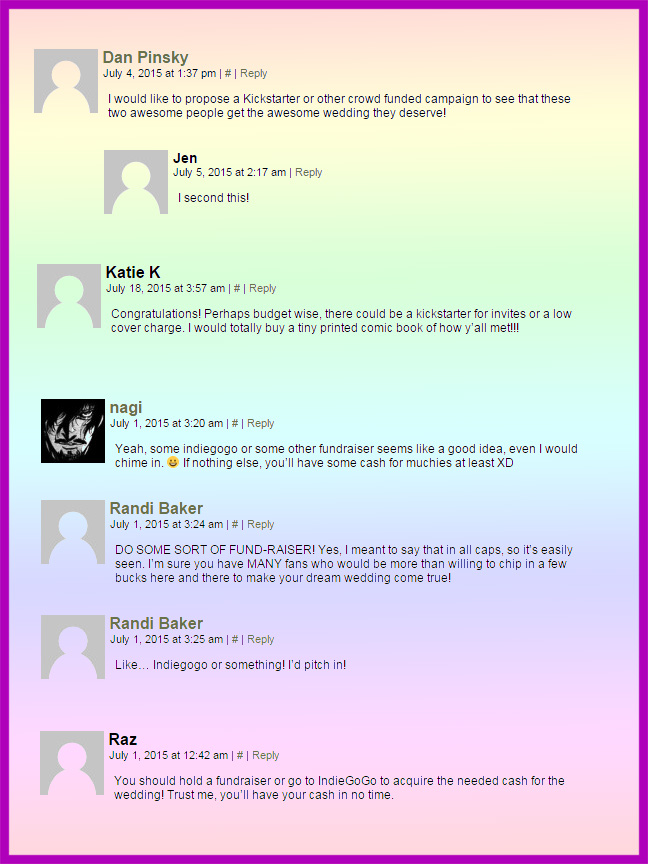 The Plan:
In 2010, K and I traveled to Massachussetts to get a marriage certificate in the hopes to have a few Federally-protected rights as a couple, even if our home state of Ohio didn't recognize it. We had a total of 4 people in attendance, the ceremony was very brief, and we headed straight home. While we were thrilled to be technically married and felt like it was an incredibly special moment, we also felt as if we lost the chance to celebrate in the way many couples have the opportunity to: with friends and more family, with planning, with decorations, in the state we live in and maybe with some cake.

Now it's 2015 and the biggest hurdle against that hope has passed! Our next hurdle to overcome: the cost. Our work covers our living expenses, but doesn't allow for much leisure costs, let alone something like a wedding reception, even if we kept it as small as possible. And that's the thing: we want to invite as many people as possible! Our readers, friends, and colleagues are like family to us, and have provided us with so much love and encouragement that it would be hard to imagine a major event in our lives without all of you! You ARE all invited!

Logistically, we obviously can't have every person we've ever met show up to a venue (turns out they have things like "attendence counts" and "fire safety," psht), but we want to make our Ohio marriage/reception as accessible as possible to as many people as would be able to come (and even those who can't, more on that in a sec). So, this GoFundMe campaign will help us not only drum up the funds to book as flexible of a venue as we can, but also help to give us some tally of how many people we can expect to host, provide food and refreshments for you all, help us show up clothed for such a thing, get some balloons... You get the idea. 

As for the people who absolutely can't make it, but would love to participate and/or observe, we want to cover you, too! We plan to get a digital camera capable of streaming the entire event live so that we can share this awesome experience for all to see, no matter what the distance! 

The Nitty-Gritty:
The budget for this campaign is set at a totally-arbitrary $5,000, because even the most modest venue around Columbus costs around $1,000-3,000 for an evening's event with a small group and any event licenses the law requires. Add food and beverage costs, a few decorations, and so on, and well, the whole thing adds up.  However, the bigger our budget grows, the more people we can host, the more party-like this all gets, and more fun is available to everyone! We plan to be as creative and innovative with our budget as possible, so you can expect one very non-traditional marriage bash!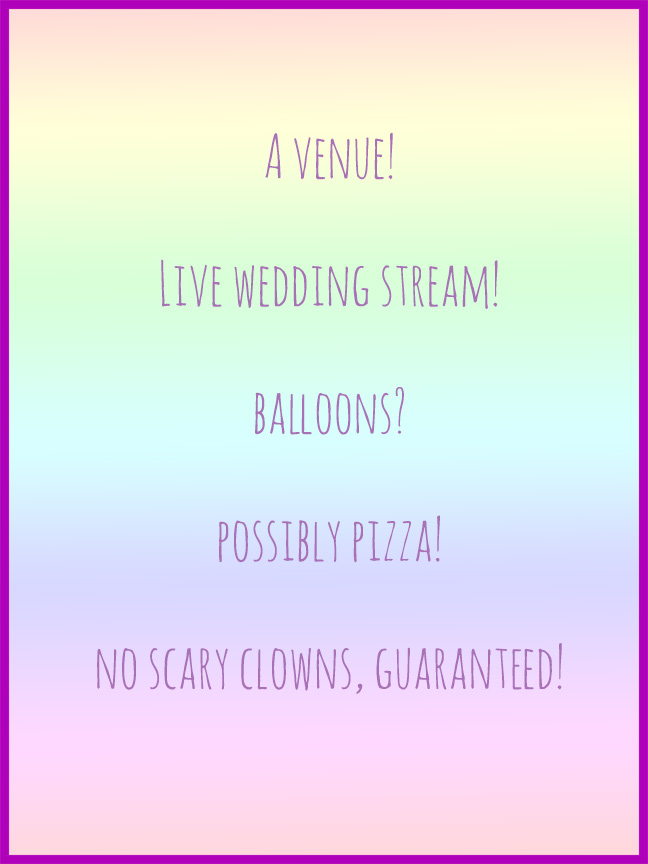 The Good News: 

We plan on having this wedding party no matter what, but its scope and setting are largely dependent on the budget we wind up with. K and I will be doing our best to drum up funds through extra work and merchandise sales up until the event, but even minor contributions to our GoFundMe will go a long way towards making this thing happen. 

The Timing:

We're not going to be having this event until Fall/Winter of 2016 (in Columbus, Ohio), so there's plenty of time! I mean, theoretically. Not "plenty of time" by wedding standards, but "plenty of time" by funds-gathering, travel-planning, and decorating standards. 

The biggest factor in figuring out our wedding date (and thus enabling you to make plans, if you're inclined to come) is booking a venue. The catch is: we need a rough idea of the size of the party to find a venue and most venues require booking nearly a year ahead of time. So while we have a lot of time, we also have very little! We need to a plan a party of indeterminate size, for an indeterminate date, at an indeterminate budget, with funds we just don't have on hand, yet. If you'll excuse me, I'll just take a sec to let my head stop exploding trying to comprehend this Gordian knot of party planning.

The Event:

No matter what size this wedding winds up being, where it's located in the city, or how much party we can afford, here are some things that will be absolute: 

1. The Dress Code is Whatever. Come dressed as you like, as fancy or unfancy as that is, per your own tastes. We want you to be YOU (within the guidelines of Ohio law). Even cosplay is a-okay, as long as you're having fun dressing up!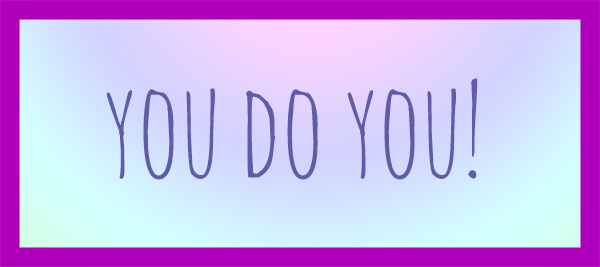 2. The Colors Are: EVERY COLOR. RAINBOW COLORS. Seriously, show up in anything. Again, we want YOU. We want this thing to look like a rainbow explosion of positive folks!
3. Will There Be A Ceremony? We'll have a short exchange of vows, but that particular ceremony will be contained within the same venue as the reception and probably take a whopping 10 minutes or so. We're impatient and want to party with you guys!
4. Am I Expected To Bring Presents? Nope! Just the presence (ha! See what I did there? Yeah? No?) of your company is enough, even if it's only in a digital way. However, if you're really stubborn and interested in finding our wedding registry, just hit us up!

To Wrap Up:

I could go on and on with plans and ambitions, because we're obviously really excited to have this event and have thought lots about the whole thing, but if I let it all out in this one post, we would all be here forever. In short, I hope you wind up as excited about everything as we are, that you can join us, and maybe even help us make it happen if you can! 

Check out the Rewards Levels* for ways to participate beyond bringing your awesome self, peruse the mini-FAQ below, and feel free to send us a message with any questions, concerns, or ideas you might have to make this the Queerest Wedding Ever!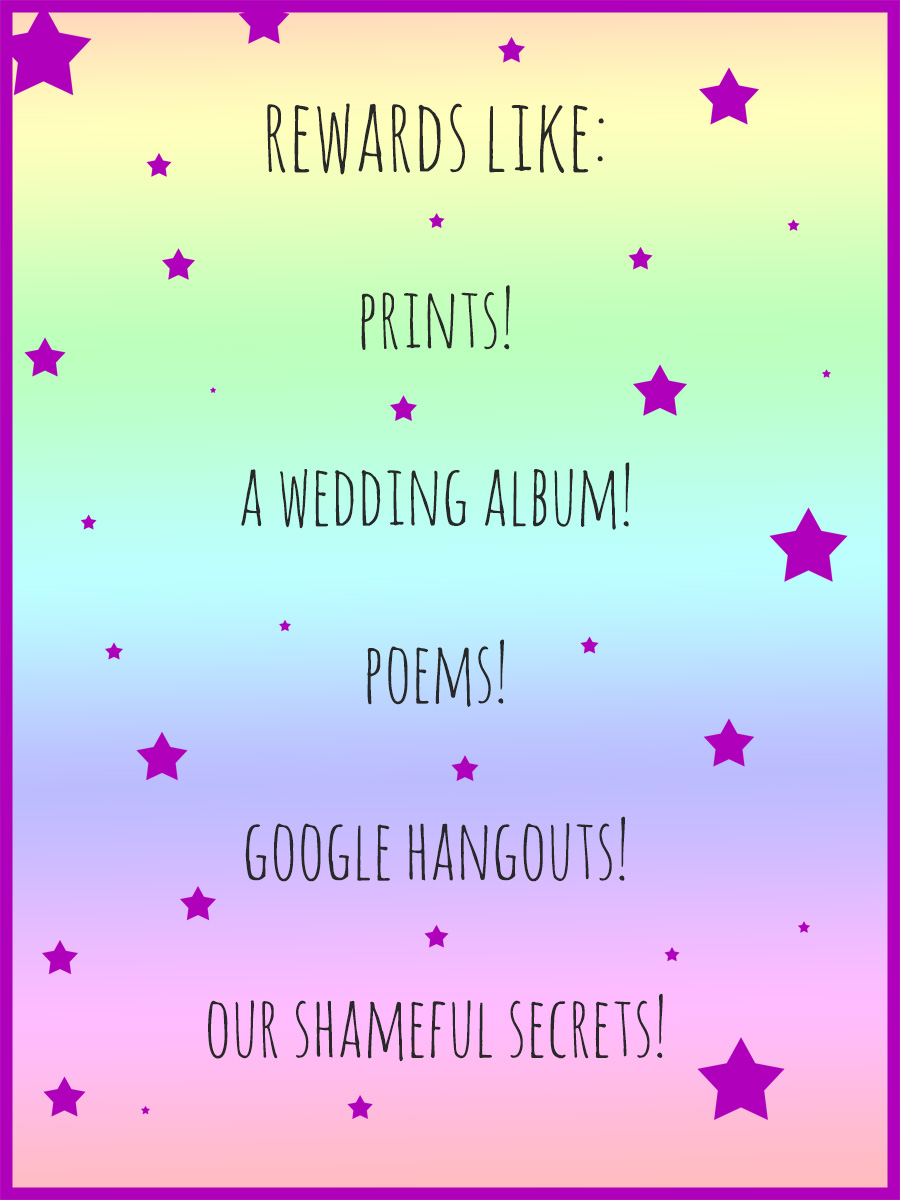 Thank you so much!

**************

Mini FAQ: 

* Wait, Do I Have to Donate Just To Get An Invite? Nope, absolutely not! Attendance will be free, but the venue we can afford will greatly impact how many people we're allowed to invite in the end. In theory, everyone is welcome! The actual legal restrictions are TBD. We ARE going to at least try to stream the event, though!

* Will There Be Refreshments to Accomodate for Food Restrictions/Allergies? We'll try our absolute best to make sure everyone will have something to eat and drink safely! Please let us know in advance if there's the strong possibility you'll attend and have any dietary restrictions.

* Why Do This? Why Should I Donate At All? The simplest answer is: because it's deeply important to us and you don't have to! Seriously, this is a no-pressure campaign. The event will happen one way or another, and we want to make it as special as possible not only for us, but for everyone who can make it. Once we announced the desire to have an open-invitation wedding, a lot of awesome people promised they would make it and still more wanted to see it happen, even if they could only attend virtually. That meant so much to us and we want to do our best to make this an amazing, fun party for all!

* How Long Will This Campaign Be Active? Essentially, from now until nearly the event. These first couple of months are crucial to funding our biggest expense: the venue. Most not only need to be booked about a year ahead of time, but the size and official location will enable us to settle on an actual date and party count for everyone to plan on. Any remaining funds collected from that point on will go towards things like food, decor, and any licenses we need to acquire, as well as any last minute unforseen expenses.

* This Didn't Answer My Questions. How Do I Reach You? Just shoot us an email  or contact us through GoFundMe and we can get everything straightened out!

*All Rewards Levels qualify for the specified reward AND all rewards of lesser value.
Organizer
Anna Stiffler
Organizer
Columbus, OH