Omaha South Band to Washington DC!!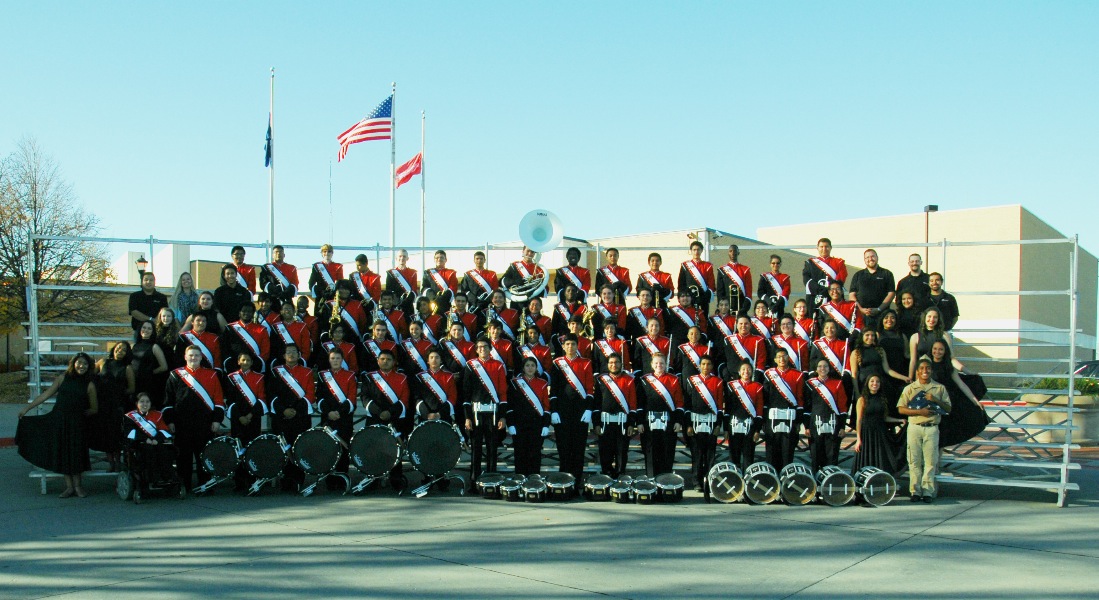 Hello old and new supporters of the Omaha South High Magnet School Band Program from Omaha, NE. Sorry this is  lengthy, but it explains our need for your support.
Omaha South High Magnet is part of Omaha Public Schools and happens to be in a very low-income area of town with 71% of the student population being Hispanic, 11% being African American, 4% Asian, and 10% Caucasian.  88% of our student population qualifies for free and reduced lunch. Out of almost 2,500 students who attend South High, over 1,800 students receive bus transportation to and from school.
Our band program has grown from 75 students in 2014 to over 140 students this school year. This does not include the 16 additional students who participate in the color guard portion of our marching band. Our program is growing fast and is starting to be recognized as being one of the most successful high school band programs in Nebraska.
Our students have bought into the philosophy of having pride in the work they do and to dedicate themselves to being the best students and musicians they can be. In many ways, we are teaching our students more about life skills than music. We have received many superior ratings and awards at local and district music contests during the last few years. The discipline and pride my studnets have is really starting to pay off. Instead of these students hanging out with the wrong crowd and/or getting in trouble, they are good, talented, and intelligent students who make good decisions and dedicate their extra time to making music, representing their school in a positive way, and are learning to be good future adults in our community!
In March 2015, Nebraska Congressman Brad Ashford nominated our Marching Band to perform in the 75th Anniversary Memorial Day Parade in Washington, DC. It was an honor to be nominated, but we still had to apply like everyone else. After submitting our audition material, we were notified at the beginning of May 2015 that we were accepted to be Nebraska's representative for this parade! This will be a 6-day trip (2 days traveling there and back) that allows my students to not only march in the parade, but to also visit the great sites and museums of Washington DC while staying in a nice hotel, having good meals, and traveling in two nice stage line buses. Needless to say, my band students are very excited about this opportunity!
Out of 156 students involved in band classes and activities (including our color guard members), we have 95 students who are in Marching Band this school year (we had 55 in Fall 2013). Marching Band is an extra-curricular activity at Omaha South and it's really impressive that we have so many students who are willing to spend at least 7-10 hours a week dedicating themselves to this activity.
Each of my students is responsible for paying $615 of the trip. This includes their $100 parade entry fee, hotel, meals, and site entry fees. This doesn't even cover transportation. It will cost $28,000 to provide two motor coaches to transport the students during the entire trip. My students are very nervous and worried about being able to fund this trip on their own. Even with the help from their family, its hard to pay for this trip due to low income, bills, etc. Some of my students work a part-time job just to help their parents pay bills at home......talk about being dedicated to their family! Some students are so nervous it breaks my heart to see them afraid of not being able to go.  I've taught them that we are a family outside our real family and this needs to be an all or nothing type of trip. We've worked hard to become this good together, and we will not sound as strong with part of the band there, plain and simple. They have worked hard and deserve this trip. I don't want to see any of them be left behind due to financial struggles.
I guess I'm nervous too since I have to make sure we can pay our first $10,000 payment by September 20th, 2015. Then every couple months another $15,000 or so is due. This doesn't even cover the bus payments yet! Everything needs to be paid off by April 2016. This adds a lot of stress in my life both personally and professionally. I really want to spend more of my time planning lessons and being the best teacher I can be for my studnets and right now I have no choice but to  put so much focus and planning on raising this large amount of funds!
My students have already fundraised a lot, but the money we're currently fundraised needs to go towards basic operating costs (marching band entry fees, marching uniform attire, supplies, equipment, repairs, music, etc.). We have a very limited budget this year and do not want a lack of funds to be a cause of this great program to decline.
I was recommended by some of our amazing counselors at Omaha South to use this site and see if there are enough generous people out there who can help make this dream possible for my students. 
Our first goal is $28,000.00 and this would cover our travel expenses for the entire trip. If we can reach this goal, we can keep raising it until we reach $90,000.00, which would fund everything on the trip with the exception of a few meals that need to be covered by the students. If we can accomplish this goal, my students and I would be forever grateful to all of those who helped. 
Thanks for taking the time to read and possibly donate to a great cause. My students are amazing and deserve this opportunity. If you do not have the extra funds to support our trip, please share this with as many people you can. Thank you for your time and support!
Sincerely,
Joe Homan

Organizer and beneficiary