You have your life ahead of you.  You're settled.  You have a family you adore, a home to call your own and a career that you love.  You have hopes, dreams and plans after you retire.  You're free to travel, to do the things you love, with those you love the most.  THIS is 40!
NONE of those hopes, dreams and plans ever include a Stage IV Colon Cancer diagnosis, with secondary tumours on your liver and lungs.  Yet, that is exactly what happened to my dear friend, my colleague, my little "work" sister, Laurie Odette.
THIS is 40, with CANCER.  This is her story, in her own words and those of her husband, Kevin and her beautiful girls, Emily and Elyse. 
Laurie: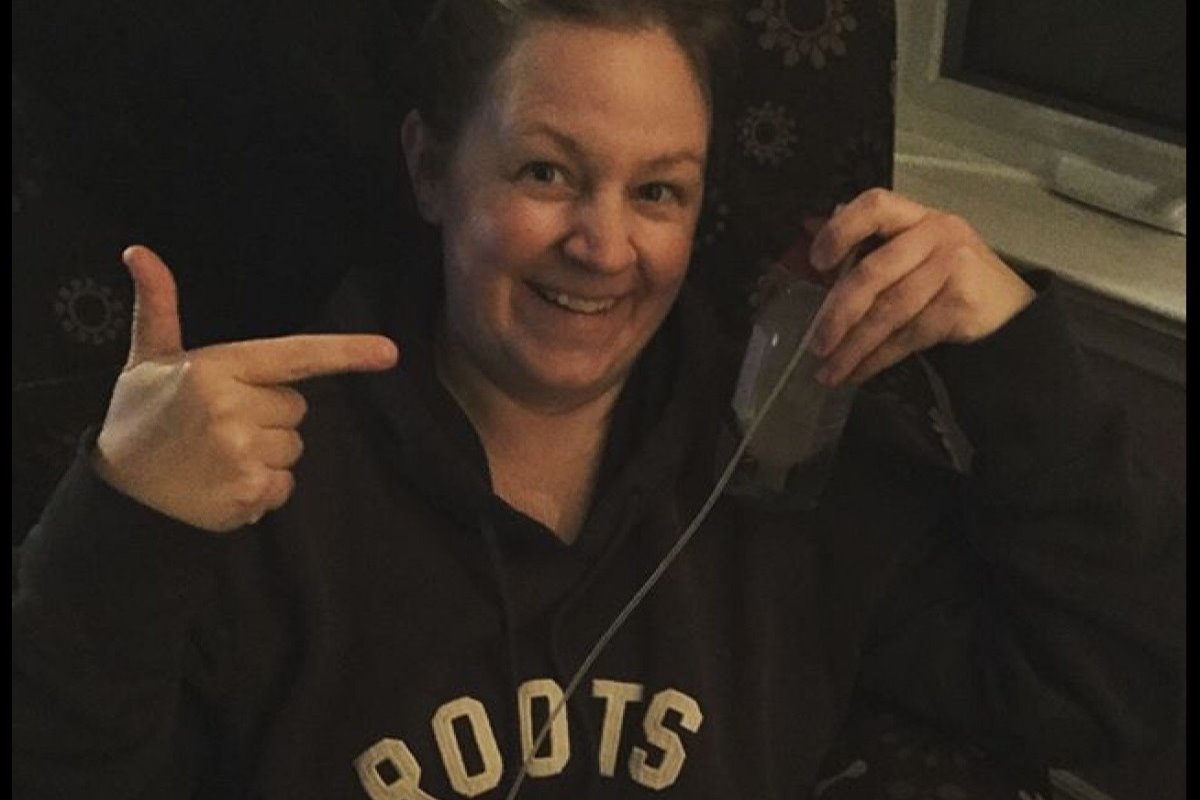 "I used to have goals.  A goal to buy a piece of property in Northern Ontario and open a campground when my husband, Kevin, and I retired.  A goal to see my daughters, Emily and Elyse, continue to grow, get married and have children.  A goal to see what career path they choose in life to further their education.
Those goals turned into hopes when I was diagnosed with Stage IV Colon Cancer in January 2017, one month after I turned 40.
Now, I hope to see Emily graduate high school and I hope to see Elyse graduate high school as well!  I hope that we can still travel some of the world together as a family and explore places we have never seen yet! 
There are days when cancer takes its toll and makes you feel horrible and I feel like I am holding onto hope just to make it to whichever special event is coming up next, whether it be a birthday or a special holiday.
So far in my cancer journey, I have endured 24 chemotherapy treatments (we are currently on the second line of chemo as the first line stopped working after 21 treatments), an ablation procedure to some liver tumours, colon and liver resection surgery.  I am currently at an inoperable stage because of the location of the 2 remaining tumours in my liver.  
The next step that my medical team has in my treatment plan involves a procedure called Y90, which will be done in London, Ontario.  This procedure which could prolong my life, improve my quality of life and possibly even kill the inoperable tumours that I have in my liver is not covered by OHIP and will cost around $20,000 for one treatment.  We are hoping at this point that one treatment will be all that will be needed.  
Prolonging my life is so important to me in this cancer journey as new discoveries are being made and the longer I can stick around, the better my chances are that maybe I will be around when they find a cure, or maybe this treatment will make me become operable and I can beat this and my hopes can turn into goals again and I will be here long enough to see it all!"
Kevin:
"She is my one love, my rock, my heart.  She is the reason I am who I am today and was lucky to meet her that fateful day in May 1997.
She has endured a lot since her first chemo treatment on Valentine`s Day 2017.  But through it all, she has remained a fighter, remained a mother, a wife and a great friend.
She has always wanted to live life to the fullest and she has.  Even through all of this, she gets up and tries to do everything she can every day.
She is the best mother to our two girls.  She has instilled in them, love, compassion, patience and so many more unbelievable things.
I always have and always will love loving you Laurie. 
Thank you for being who you are and for making all of us better people."
Elyse:
"My Mom is the most amazing person in the entire world.  She has inspired me to do so much and will always be my hero.  It`s always special to have your mother by your side to experience some of the most important chapters in your life, I would love to have my Mom by my side for all of those exciting chapters and experiences in my life."
Emily:
"My Mom has been with me through everything in my life. She is always there for me when I accomplish things, she cheers with me and when I don`t succeed she is there to help me get through it and to figure out what to do next.  She understands everything I go through and she always knows what to do, and she helps me get over my fears every single day.  She is more than a best friend, I can trust her with everything.  Every girl dreams of their graduations, their wedding, where their Mom is right by their side and I would love to have my Mom around for all of those memorable moments in my life that we will forever remember."
Kevin, Elyse and Emily have Laurie's back and are her biggest supporters.  They need her; they love her; and they should be given every possible opportunity to see her get her health back and to enjoy all that life has to offer.
I never imagined I'd ever be starting a "Go Fund Me" page for anyone, but, more than that, I know Laurie never imagined having her world turned upside down a month after turning 40; yet, here we are.
If you know Laurie, you know she's a fighter and she will do WHATEVER it takes to beat this!  One of the first cards I gave Laurie following her diagnosis, had this message:
"She stood in the storm & when the wind did not blow her way, She adjusted her sails."
This is Laurie…and she's been "adjusting her sails" every step of the way, without fail.  From the time of her diagnosis in January 2017, through her first few rounds of chemotherapy, Laurie came to work, chemo pump and all, smiling, laughing, getting her work done, never complaining!
In August 2017, however, balancing work, home and treatment was becoming too much to tackle and Laurie had to stop working, in order to focus on her health and her family.  I know she struggled with this decision, not only because Laurie enjoys what she does, but because of the financial burden she'd be putting on Kevin and the girls.
At work, we took it upon ourselves to host a BBQ and other fundraisers, unbeknownst to Laurie, and we were thrilled to be able to raise a little money for them.  While I know that this money helped to offset some expenses, I'm also well aware that this was just a drop in the bucket of ever-increasing expenses one incurs when undergoing cancer treatments in both Windsor and London.
While chemotherapy and hospital stays, surgeries and appointments are covered under OHIP, our provincial health care plan, fuel, parking, hotels, food, mortgage payments, utilities, car payments, kids sports, clothes, school supplies, etc...those things are not.
Compound those financial worries with the news that you're considered "inoperable" due to the location of the remaining liver tumours, after already having endured 24 rounds of chemotherapy, an ablation to your liver, colon and liver resection surgery, endless medical appointments, hospital stays, etc, and it would be understandable to want to give up, accept what you've been told and prepare yourself for the worst.
Well, that is
NOT
Laurie!  She has "adjusted her sails", yet again, and is preparing for the next part of her journey; her next battle.
This next step in Laurie's treatment is the reason I'm asking for help from friends and strangers alike, with Laurie's blessing.
Radioembolization, more commonly known as
Y90
therapy, the recommended treatment in Laurie's case, is
NOT covered by OHIP
, although other provinces in Canada have deemed it important enough to cover it for their residents.  This treatment targets the tumour(s) using radioactive beads, without damaging the liver, and it's goal is to shrink the tumours to a point where they can be surgically removed, or shrink them altogether.
Each Y90 treatment comes with a hefty price tag of almost
$20,000
and Laurie is to begin her Y90 treatment in October, in London, Ontario.
Anyone who knows Laurie knows she will fight with everything she has, to get through this, to be here for Elyse, Emily and Kevin, and she will do so with her loved ones and her friends by her side.
If any of you have the desire and the ability to assist Laurie and her family in any way, we would be eternally grateful.  Any and all contributions or donations would be greatly appreciated, as would your kind words of support and encouragement. 
Most of all, please continue to send your love, positivity and prayers to Laurie, Kevin, Emily and Elyse, as they face this battle head-on!
Thank you.
Nancy 
#Y90WHYYES!  #Laurieadjustshersails

Organizer and beneficiary
#1 fundraising platform

More people start fundraisers on GoFundMe than on any other platform. Learn more

GoFundMe Guarantee

In the rare case something isn't right, we will work with you to determine if misuse occurred. Learn more

Expert advice, 24/7

Contact us with your questions and we'll answer, day or night. Learn more