Puppy Angels (SPCA KCPP & MOGS)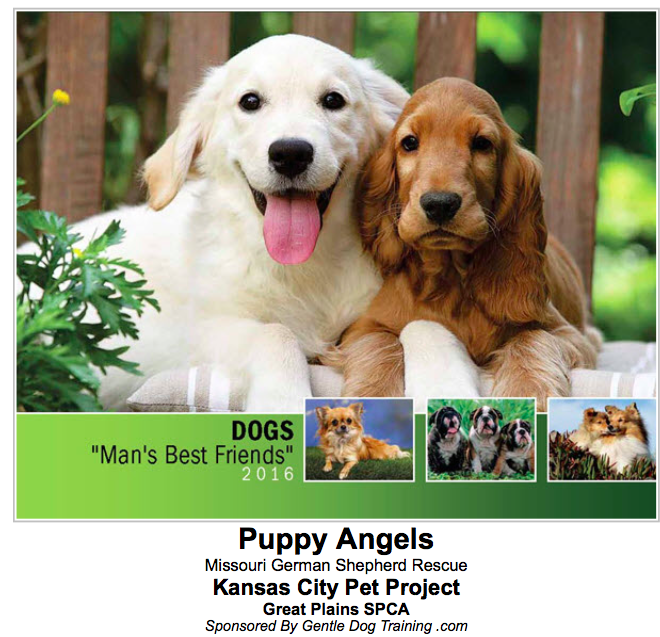 Donate $20.00 for a free Puppy Angels Calander!
We're Ken and Lisa Baechtold, owners of Gentle Dog Training www.gentledogtraining.com  
At this season of giving, we're asking you to help give the greatest gift of all to homeless pets:  the gift of life.
We're hosting a "Puppy Angel" fundraiser for 3 wonderful pet rescue organizations we partner with:    
---   Missouri German Shepherd Rescue (MOGS)
---   Great Plains SPCA (GPSPCA)
---   Kansas City Pet Project (KCPP) 
We can't do this alone though, and ask you to please take part in it with us!  
Will you be a "Puppy Angel" at this season?  
Please join us!
WHAT'S THE GOAL?    To raise AT LEAST $20,000 per organization by January 15th!  
HOW DOES IT WORK?    You can donate from now through January 15, 2016.  We've created a "Puppy Angel Tree" and have hung Puppy Angel ornaments for each of the 3 organizations.  We'll accept donations of any size and split the money equally among the 3 groups.  When the fundraiser is over, we'll report on this page what the totals are.  Let's blow this one out of the water, folks, and EXCEED the goal!
HOW CAN I DONATE?   Online:  click on the donate button on this page.    By check:  make out to MOGS and send to PO Box 22466, Kansas City MO  64113.  PLEASE designate your check for "Puppy Angels".  (MOGS is simply the administrator for receiving Puppy Angel checks.)  
WHY SHOULD I BE A "PUPPY ANGEL"?     Homeless animals in our area need YOU.  They're fighting just to stay  alive and you have the chance to make sure they do.  Plus, when you donate you also inspire and challenge others to give back this holiday season.  Without this support, these dedicated organizations – who are often out rescuing animals while the rest of us are eating Christmas dinner! – are forced to turn away sick, injured and other pets.  Frankly, many of those will die.  We must do everything we can to prevent that.
WHY IS THE PUPPY ANGEL FUNDRAISER NECESSARY?    This is a time of celebration for us humans.  Sadly, it's also the time shelters and rescue groups like MOGS, GPSPCA, and KCPP are hit the hardest.  Many of last year's furry little "gifts" have become this year's homeless animals.  These 3 dedicated organizations  experience a huge increase in unwanted pets turned in at the holiday season  – and it breaks not only their hearts, but their bank accounts.  People surrender their pets at this time of year for many reasons, from being too cold to leave the pet outside, to not wanting to deal with the  pet when going on Christmas vacation.  The excuses are endless!    The bottom line for shelters and rescue groups?  This holiday season means an urgent need for more funding to cover vet bills, medications, dog and cat food, and other necessities for these animals' survival. 
HOW DOES GENTLEDOGTRAINING.COM HELP?
We believe in giving back.  And we've partnered with these 3 groups by taking on some of their most difficult cases, extensively fostering and training dogs that have often been in the system for over a year and are on the verge of being euthanized.  We at GentleDogTraining.com have 9 dogs of our own, most from shelters or owner surrenders.  Bruno is a good example.  He's now one of our pack of rescued dogs.  But just a few months ago he lived on the streets of Kansas City MO, was horribly malnourished, terrified of people, and heartworm positive.  He'd been that way for 5 years, since he was a puppy!  He was 24 hours from being euthanized when a special friend, KCPP and MOGS all reached out to us for help.  We were his last hope.  Today Bruno is one of our very own pack of puppy angels, safe and loved for life.  But we also know Bruno is one of the lucky ones.  Every day thousands of unloved and unwanted pets are euthanized.  During this holiday season our local shelters and rescue groups are fuller than ever, struggle more than ever to pay for the animals' care, and desperately need our help.   
We're doing our part.
Will you join us and do yours?
JUST WHO ARE THESE 3 GROUPS?
We've come to know these 3 groups very well.  We've watched them in action and have the utmost respect for their around-the-clock, life-saving work .  All are incredibly dedicated.  They help sweet animals and difficult ones.  They help healthy pets and seriously ill ones.  All 3 groups have one thing in common:  they don't turn away pets in need just because treating or rehabbing them will be tough.  They believe every homeless pet deserves a second chance.  But most importantly they don't just believe it – they LIVE it!  They put in the work and expense required to get the job done, whether the issue is medical or behavioral.  That's why we're proud to partner with them -- we know how hard they work, how they never stop, and how much they give every hour of every day.  There are no holidays for rescuers -- or for homeless pets!!!
MOGS
MOGS is a small yet mighty rescue group that saves dogs in the Midwest, and we're proud to have been their partner for 8 years. Their medical expenses this year alone will be close to $40,000 - and that doesn't include boarding the homeless dogs they haven't found fosters for yet.   MOGS takes on some of the worst German Shepherd cases in the Midwest that other rescue groups won't touch, either because of the dog's behavior or the dog's medical bills.   But because MOGS is small and not as well known as the bigger organizations, they're often overlooked for donations and don't have the resources for major fundraisers.  MOGS depends on people like us right now.  $20,000 won't cover all their expenses, but it will make a huge impact for them!
Great Plains SPCA and Kansas City Pet Project are both fabulous No-Kill Shelters who take in thousands of unloved and unwanted animals every year.  Their expenses are endless.  They're always in need of funds for building expenses, paid staff, vet care, food, cleaning supplies -- the list goes on and on.
Great Plains SPCA has a motto:  no matter what their size, shape or story, all dogs and cats deserve the chance to live long, happy and healthy lives.  Their team of experts works hard every day to be a lifeline to a better future for pets.  They provide comprehensive and affordable medical care, adoption services and innovative community pet programs.  They know that with a little support, people and pets can build a bond unlike any other -- creating happier homes and a community that values life and love.
Kansas City Pet Project serves the entire Kansas City Metro Area as an open admissions shelter and their job is TOUGH.  They perform miracles with incredibly limited resources, including an antiquated and outdated facility that causes major problems at every turn. Yet their mission is to end the killing of healthy and treatable/rehab-able pets in Kansas City, MO – and they're making huge headway!   They refuse to give up or abandon hope despite the never-ending stress and emotional toll of handling thousands of unwanted pets with never-enough room and inadequate, illness-inducing facilities.  KCPP is truly a blessing to our community.
*************************************
PUPPY ANGEL SUCCESS STORIES FROM THESE GROUPS
The 3 groups help some of the toughest cases around – behavioral and medical cases that other rescues won't take on.   Here are just a few. 
Lindey's Story:  Many of you know her story well.  Lindey was thrown off a 4-story bridge near downtown, somehow survived the 40 ft fall, a vet immediately called MOGS, and the rest is history.  Lindey had multiple surgeries to her face and legs, and MOGS raised $17,000 to cover her expenses with the help of the media and public.  They fostered her during her extensive rehab, found her a fantastic home, and today Lindey is a thriving young dog living with another rescue dog.   (Pictured above)
Dino's Story:  Dino came to MOGS with a serious and extremely painful condition called peri-anal fistula ("PF").  Because this condition is hard to treat, PF dogs are almost always  euthanized at shelters.  But MOGS dug in, researched, discussed, and experimented.  Working with both a generous local vet and an integrated vet medicine expert, MOGS eventually developed a protocol that began to work.  Dino is now with his forever family and in complete remission!  Sadly Dino's case is not unique -- MOGS recently saved Sonny, another PF case from a large shelter that was about to euthanize him, and has also gotten him into complete remission!  Sonny is about to be adopted to his forever family. 
Cheyenne's Story:  Cheyenne, like many homeless pets, came to the GPSPCA with severe medical needs. His transformation was amazing!   There are many like Cheyenne, who for varying reasons  must first go to foster care.  These dogs with extra needs are the ones that especially rely on your generosity to help with their training, medical bills and care.
Taylor's Story:  Found with a badly broken leg, Taylor couldn't even be treated immediately for his injuries because of the mandatory shelter wait period.  He waited, suffering, for owners that had abandoned him.  If he could have been treated earlier, he would have only needed a splint.  Instead, he needed major surgery at a discounted cost of $1,300.  MOGS took him in without hesitation, got him the surgery and rehabbed him.  Today he's doing great and will soon be on his way to a forever home.
*************************************
THE BOTTOM LINE
Each group has their own niche, goals, challenges, and setbacks.  But they all have one thing in common:  they work themselves to the bone and make truly incredible sacrifices to save as many homeless pets as possible.  Between them, they save thousands of our local abandoned, unwanted dogs and cats every year!
WON'T YOU SUPPORT OUR LOCAL RESCUERS?
100% of profits go directly to these 3 organizations!
All donations are tax deductible.
If you'd like a separate receipt sent to you, BE SURE to put your address / email address in the notes section!
Thank you for helping us bring happy endings to all the very real angel puppies and kitties that so desperately need your help right here in our hometown!
Organizer
Ken N Lisa Baechtold 
Organizer
Overland Park, KS