Hello all,
First and foremost, thank you for your time. My name is Alex Stern, and as a child growing up in the  town of Hoover, Alabama I always have had the good fortune of never having to worry about the small things that we often take for granted. I never lacked food, sports equipment, school supplies, or shoes. I was truly blessed. However, as I have grown up and my world view has expanded beyond my  town, I have begun to realize that not all children are as fortunate as I was. This fact has inspired me to do my best to use the resources around me in a posotive manner to contribute to those in a less fortunate circumstance.
It is my firm belief that alot of us are lucky enough in America to be presented with an excess of oppurtunity. With that being said it is my firm conviction that we should be compassionate global citizens and use our excess of oppurtunity to benefit others who are not as fortunate or in the same position as us. This philosophy is exactly why I have started a little endeavor called Project Kits 4 Kids.
Originally the goal of Project Kits 4 Kids was to collect  soccer gear from the Birmingham area and distribute it to impoverished areas of the globe.  Since I played soccer all my life it didn't take long at all for me to use all my connections to collect a lot of soccer gear.  Shortly after graduating high school I decided I was going to take a year off and volunteer abroad at a orphanage/school in Africa. So I gather up all my gear and headed to Zion Gate primary school in Arusha, Tanzania for what would turn out to be the best few and most impactful months of my life!
However when I got there I quickly realized the kids needed a lot more then soccer gear. It was great seeing the kid's faces light up when gear was distributed and I still firmly believe sports facilitates unity and community growth, but I understand now there a lot more important things that need to focused on such as sheltor, food, health care, and education.
Me and the kids of Zion gate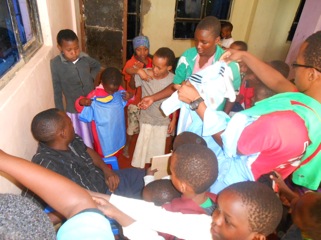 unloading sports gear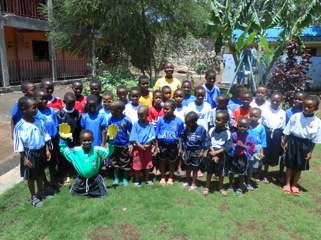 Ready for some soccer!
So in an effort to expand the ideals and impact of my little endeavor this upcoming summer I am headed to Nicaragua to partner with the  organization  Hogar de Niñas Madre Albertina. Hogar de Niñas Madre Albertina is a home for young girls in Nicaragua who come from circumstances many of us could hardly imagine in the United States. All the girls at the home are social orphans, meaning they are living there due to the conditions of their homelife.Hogar de Niñas Madre Albertina provides these girls with sheltor, food, education, love, and support. If you would like to learn in depth about the organization please
check
the above video.  Every $ I raise will go directly to provideing basic necessities to kids who desperately need it. Nicaragua is one of the poorest countries in the western hemisphere and life there is very difficult for vunerbale children.
Every single donation, no matter how small, is appreciated beyond belief. It is my goal to  raise enough money to really contribute to what the people at Hogar de Niñas Madre Albertina are already doing and assist in alleviating the suffering of these young kids. I hope you will help me in the pursuit of this endeavor.
Thank you!
Organizer
Alexander Stern
Organizer
Birmingham, AL