Project Scream'n Eagles! Caboose Restoration
Help us bring a piece of American railroad history back to life!
*UPDATE*
We asked and y'all Came through!  
As of Novemeber 2021, All 3 train cars have been relocated from their resting place of the last 30 odd years to the LIRRs Riverhead Team yard. 
We would like to thank you all for your generous contribution to our organization to help make this relocation a possibility.
NOW! Climb aboard and help us achieve the next phase in out project and actually restore these cabooses to operation.
Work has begun on stabalizing both cabooses,  and our restoration efforts will focust first on returning 13456 back into its former Missouri Pacific glory.  
The more we raise the further and faster along the project will proceed.
Thank you all again for your help!
The Twin Forks Chapter of the NRHS has saved two ex-Missouri Pacific cabooses #13388 and #13456 and an ex-Pittsburgh and Lake Erie boxcar from immediate scrapping, currently sitting in Riverhead, NY. We are raising the funds to move and restore these two historic home-built Missouri Pacific cabooses and P&LE boxcar to their original appearance.
13388 was built in 1948 and 13456 was built in 1949 at Missouri Pacific's Sedalia Shops. They were sold to National Tube Works in Mckeesport , PA in the late 1970's-early 1980's.   In the late 1980's, when National Tube Works was liquidating their assets,  Fred Cowan inquired about them. National Tube works sold them to Mr. Cowan for the price of shipping them.
Around the same time, Mr. Cowan acquired a 50ft P&LE boxcar.  He purchased it from the Youngstown and Southern, who had numbered it 4236.
The two cabooses were to be used as showcases for Mr. Cowan's products. That plan was never realized. In 1988, Mr Cowan received the boxcar and used it for storage. The land the cabooses and boxcar sit on was sold to Frank Fisher in October of 2018, who subsequently donated the two cabooses and boxcar to Twin Forks in July of 2019.
The two cabooses will be painted in Missouri Pacific red with the "Buzz Saw" logo on their sides. We plan to restore one to its as-built appearance and one to its as-retired appearance. We want to show what cabooses looked like out side Long Island. 
The boxcar will be painted Jade-Green and will be lettered for the Pittsburgh and Lake Erie. It will be used for storage. 
Main Photo: Our Two Missouri Pacific cabooses in their no home.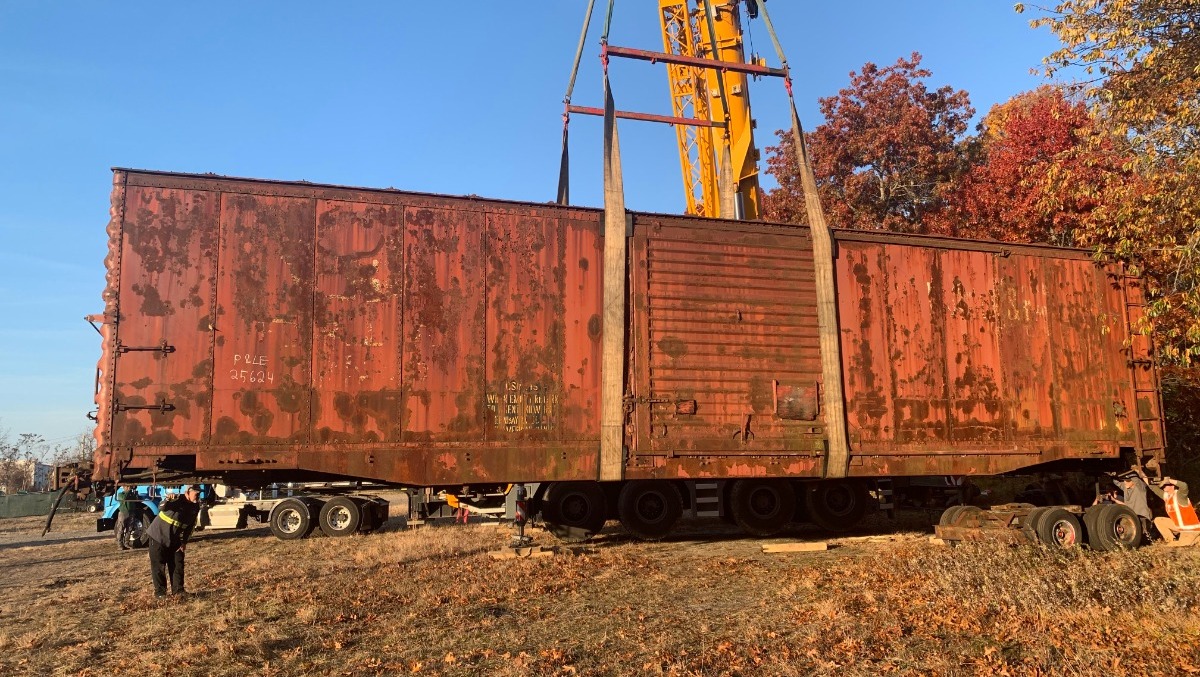 Below: This is where the equipment was stored off line fot 30+ years and how it appeared after we trimmed some bushes before we did any painting.

Fundraising team (3)
Jerry Jewels
Organizer
Raised $320 from 3 donations
Lake Ronkonkoma, NY

Twin Forks Chapter National Railway Historical Society
Registered nonprofit
Donations are typically 100% tax deductible in the US.
Gerard Jewels
Team member
Raised $20 from 1 donation