Help Us Build Oma's Kitchen!
The Chef & The Therapist
We are a couple who fell in love with each other and then in love with baking!  
We own a small, local baking operation in Central Texas.  The mindfulness of measuring ingredients, working with our hands, and breaking warm bread with our friends and family has truly transformed our lives. We recently celebrated our one year anniversary and would like to share our adventure with you.
We met many moons ago in the band halls of Benold Middle School.  We traveled in separate circles and lived separate lives for fifteen years until we reconnected in 2014 under the Oak Trees in Walburg.  He had two kids and a healthy lunch delivery business (Fresh. Healthy. Delivered).  I had myself and a clinical social work license.  Somehow we figured out how to make it work!  We were wed on June 27, 2016. 
The first kiss as newlyweds!
In December 2016 we re-located our baking operation from our commercial kitchen in Georgetown, TX out to the beautiful community of Walburg.  We currently bake within the Walburg German Restaurant, a restaurant my dad has owned for the past 30 years!  We have a building on-site that we're renovating into our very own community bakery (Nelson, my dad, and others put a new roof on in February).  The original timeline for project completion was April of this year, but we find ourselves in need of a blessing from our community.
Kyrsten, age 13
 Since shortly before our wedding, my husband, Chef "Fresh" Nelson, has been suffering from an undiagnosable skin disorder.  It started as small spots around his ankles that we wrote off as heat rash.  Plausible, given that he worked twelve hours a day in a 100 degree kitchen!  The rash continued to spread up his legs and stumped doctor after doctor.  We kept hearing the same thing: "It's stress."
We are small business owners in the first year of our business (and marriage)… stress is kinda the norm!  It frustrated us and made us feel helpless and hopeless.   
Jake, age 11
After ten long months, we were referred to an allergist and the testing came back with a heartbreaking diagnosis:
Nelson is allergic to flour- specifically, barley, rye, and corn.
  Barley is a primary ingredient in most commercial flour and rye is heavily used in European baking.  Even though we use King Arthur Flour, which is never bleached or bromated and is non-GMO, malted barley is still a primary ingredient.
The diagnosis devastated our family-
the very thing that is supporting us and bringing us joy, is debilitating Nelson and making every moment in his beloved kitchen, painful.
We've done our best since the diagnosis to restructure the business and continue baking. We have a waitlist for restaurants wanting our product and continue to sell out weekly at the Wolf Ranch Farmers Market in Georgetown.  
Despite these setbacks, we remain optimistic and excited about the future!  Nelson's allergy has given us the opportunity to think even more critically about what goes into our bread and to continue to be advocates for good food and REAL bread (flour, water, salt...that's it)!  
We recently visited Barton Springs Mill in Austin and are talking to Richarson Farms (another Wolf Ranch Farmers Market Vendor) to source 100% whole wheat flour for our products, so that Nelson can continue to do what he loves...make beautiful & delicious bread!
Modifying all of our recipes will require a lot of alone time for Nelson in a kitchen-his creativity zone.  With the summer and fall seasons upon us, the increase in business for the Restaurant and our Bakery have brought us to a pivotal crossroads: to expand and evolve, we must have the kitchen built out now.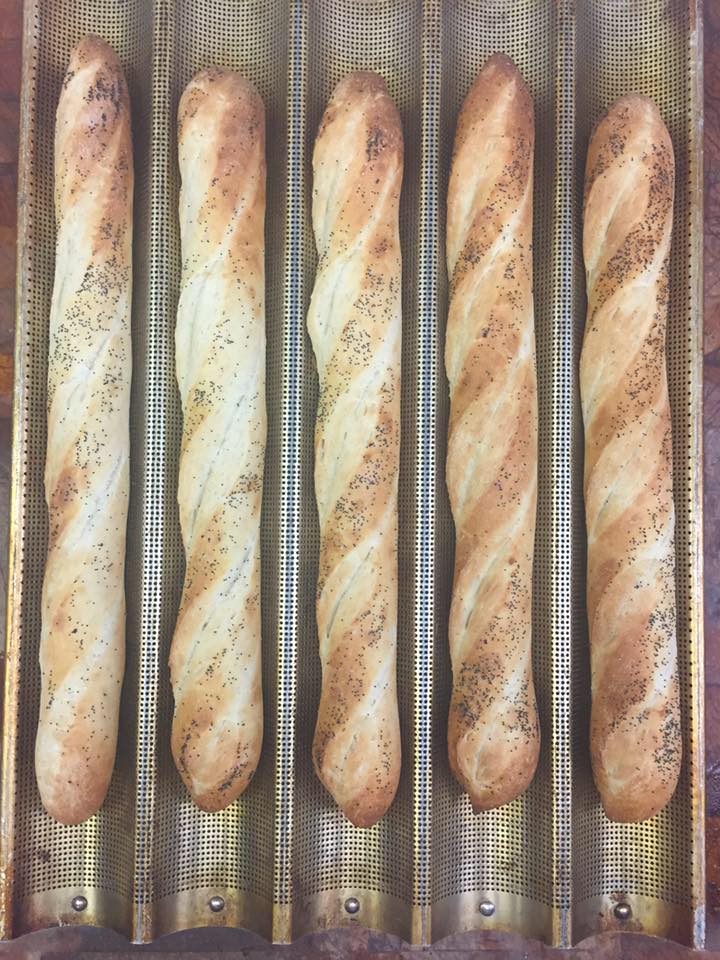 Our baguette beauties!
We believe in the power of baking to heal.
We have witnessed it over the past two years in ourselves and more recently in the new additions to our team. We are working to change our business model in the coming year, to combine Nelson's love of baking and my background in social work into a HUGE vision-
to grow into a large commercial kitchen in Georgetown and create an apprenticeship program for incarcerated and formerly incarcerated youth. 
 We're calling this "Project Pretzel," and anticipate the launch of a pilot project in summer 2018.  
But first we need our Walburg kitchen!
Would you help us make this dream come true? We are looking forward to investing in our community in this new endeavor and appreciate you taking the time to read and be a part of our story. Connect with us online at
our website
 or on social media using #rockthebrot. Our facebook pages are Oma's Brot (@projectpretzel) and The Positive Rockstar (@thepositiverockstar).
Organizer
Kristen Adams
Organizer
Walburg, TX