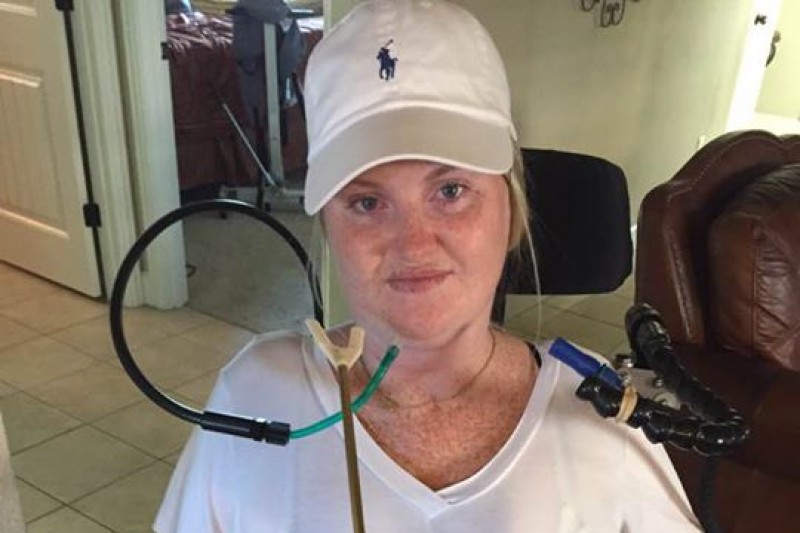 So, Its been 7 years since my daughter was left paralyzed from the shoulders down from an auto accident that occured April 10, 2009. At the time she was 19 years old and a freshman in college and had a full soccer scholarship and all that got taken from her in one instant.  It was an " unlucky" accident meaning, there were no drugs or drinking involved, no speeding or careless driving.  Her boyfriend at the time somehow lost control of the vehicle and it rolled and Jordan was partially ejected and at that point she didn't feel her body again.  She spent 6 weeks in ICU in Oklahoma City and was airlifted to Craig Hospital in May 2009 and came home September 2009.
     Yes, we are past the initial trauma and life changing event of that day, but here we are in 2016, she lives her life in a power wheelchair and relies on caregivers or family to care for her, provide for her, and just the simple daily needs  most of us take for granted such as bathing herself, feeding herself, getting a drink of water etc
     We are looking at getting her into Project  Walk in Houston TX (closest facitlity to us).  They  are having great successes with the paralyzed!!!
     Will she be able to walk again? We don't know but hope everyday for ths. Project walk is gaining unprecedented achievements in their field, they can help Jordan with gaining muscle strength, the possiblity of getting off of narcotic medications, and improve function below the level of injury (C-4).  It helps prepare her body as well for any potential surgery or treatments or advancements made in SCI ( spinal cord injury) And it would give her a social life and something to look forward too.
     Jordan is now 26 years old and has her life in front of her and I believe she deserves the best and a chance at the most knowledgable and advanced therapy.  We have tried traditional therapy and because she doesn't "make progress" then insurance gives up on her treatment with physical therapy etc.
     Project Walk is non-traditional and is all private pay.  It is $100 an hour.
     In all these years I have not asked for any kind of funds from anyone, but now I am because I believe in this so much and in Jordan to give her the best quality of life as possible. 
     Jordan and I are a single family income and I am fortunate enough to provide a home and the daily expenses of life, but that number is out of my budget. The $30,000 would give her one year access at 6 hours a week. And a little left over for Jordan's moving expenses.  This would give us time to get moved and begin planning how to pay for the following year, But one thing at a time. Phewwww!
     Myself and Jordan would be so appreciative and thankful and honestly outright ecstatic for anything given and just revive her hope that maybe she can move forward and be productive in life. 
     And finally prayers are apreciated too, as this change will be challenging, I need a job and a home and to get Jordan all settled.  My cup runneth over, but it can be done !

Organizer