REBUILDING PRO SURF COMMERCE BY THE PEOPLE

The surf industry has let The People down.  At the most critical of times it has abandoned, with impenitence, the athletes upon which brands were built, its former essence long lost in the mire of M&A and corporate budget cuts.  The current iteration of a professional surfing tour proffered by the World Surf League has also failed us by portraying an inaccurate and degraded version of our culture to the mainstream - a whitewashed wall of positive noise, obdurately oblivious to What's Really Going On. 
Despite our aversion to the status quo, we have a deep love of professional surfing and care for the industry; we are optimistic the days ahead bring positive change and opportunity for innovation.  The current global economic climate and antiquated business models perpetuate the need of a new prototype for sponsoring professional surfers and a reconsideration of the value lost by discounting the core audience.  This represents a vast Blue Ocean in the surf world and one which The Grit! and Surf Splendor's podcast community will address by implementing PROJECT IBELLI.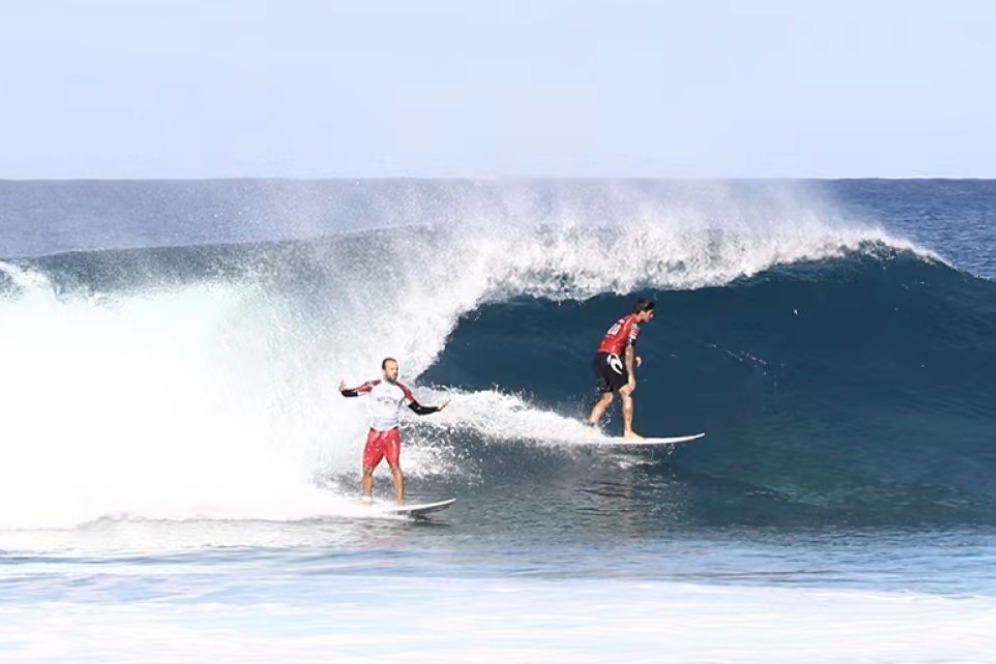 PROJECT IBELLI evolved from years of witnessing a decline in pro surfing's chosen path and was spurned by a synchronicity of current events: 1) Caio removing his marquee sponsor's sticker from his board after being dropped, and 2) the financial market coup perpetuated by Redditors who exposed large hedge funds via the GameStop stock pump.  Herein, we immediately recognized an opportunity for an epic controlled-disruption and social statement to be carried out by The Grit! podcast community utilizing grassroots tactics similar to the aforementioned melee on Wall Street.  
PROJECT IBELLI'S mission is to take back surfing by crowd-funding support of our favorite surfers, individuals who align with our core values and are often neglected or maligned by "industry" support.  To kick off PROJECT IBELLI, listeners of the The Grit! podcast (and the community at large) will be given the opportunity to crowdfund a cash deal to have The Grit! sticker placed on the nose of Caio Ibelli's boards for Newcastle.  This serves as our entry point and represents our minimum viable product.  Ultimately, we hope for PROJECT IBELLI to evolve into an entirely new business model for sponsoring professional surfers, all the while prompting the sport to be more representative of the core. (Coming for you next Connor O'Leary!!)
Just like podcasts produce no items of tangible value, the sponsorship of Caio will not be backed by a product, but rather the alternative ideology mutually held among the avid The Grit! / Surf Splendor listener.  The value return to the shareholders in this instance is the thrill of sticking it to the corporate hegemony and planting the seeds of a core takeover of professional surf.  All backers will in some way own a piece of Caio's success and have a vested interest in his bid for world title.  Feelings of solidarity will be engendered among everyone involved.  Moreover, the visual representation of The Grit! in WSL events inevitably begets the conversation of what an alternative surf media group sponsoring a surfer really means and in turn, amplifies the podcast's message.
In addition to our financial support of Caio, a secondary aspect of PROJECT IBELLI is pumping up his remaining sponsors from all directions and elevating his social profile any way possible. This includes a blitz of the various social media feeds with positive messaging and if possible, actions such as buying stocks in Seadoo, RYO products, DHD boards and gear, Ibelli Burgers, etc.  We want to see Caio become the most trending and highest paid surfer on the planet and cross-collateralize this altruistic endeavor with the existing brands who support the Surf Splendor network of podcasts.   
In theory and in the long-run, we are inventing a virtual currency backed by Caio and held up by investors who share in this vision.  PROJECT IBELLI is here to disrupt and to distribute professional surfing's ownership amongst The People.  While PROJECT IBELLI is in its nascent stages, we hope to grow to the point of bringing more athletes into the fold and developing a cutting-edge platform where sponsorship of professional surfers is decentralized and capitalized.  This will usher in a new paradigm where surfers are bolstered by their constituency and unhindered by lack of corporate support.  The Revolution is here; a transition of power has begun.  The People stand with Caio.
VIEW THE CONCEPTION OF PROJECT IBELLI
Fundraising team: The People (2)
Project Ibelli
Organizer
Raised $4,760 from 184 donations
Huntington Beach, CA
Chas Smith
Team member
Raised $1,665 from 49 donations
This team raised $1,597 from 51 other donations.