Help to Save the Osa Rainforest: Now or Never!
Join BioSur Foundation, a passionate non-governmental grassroot NGO in Costa Rica, and Lands for Biological Diversity, a recognized 501(c)(3) tax-deductible NGO in the United States, on a shared mission to protect the very heart of Central America's last Pacific Tropical Rainforest. This lush paradise is nestled within the Osa Peninsula and the Golfo Dulce, boasting an astonishing 2.5% of the world's biodiversity.
Our mission is as simple as it is profound: to stand by local communities and preserve the unbreakable bond between nature and humanity. By becoming a vital part of our cause, you have the power to ripple positive change throughout the global community and assume a pivotal role in safeguarding critical ecosystems for our endangered fellow inhabitants of this planet.
Our collaborative project carries twin objectives: first, to mitigate the impacts of climate change, and second, to safeguard the precious wildlife that calls this region home. All the while, we actively engage with and uplift the local communities, ensuring that our efforts yield benefits for both people and the planet. Your participation transcends mere conservation; it's an opportunity to be a part of something monumental, a collective endeavor to secure a sustainable future for our beloved Earth.
Join hands with us today, and together, we can etch an indelible mark on the preservation of our invaluable natural heritage. Explore more about our dynamic initiatives and discover how you can contribute to our shared vision of harmonious coexistence between humankind and the natural world.
Your generous donation of $5 or more will wield remarkable influence in the preservation of this unique wildlife haven. Furthermore, you have the power to inspire others to rally to our cause by spreading the word about this campaign. We have less than 20 years to stem the tide of climate change's negative impact on our society.
Take a moment to reflect on the countless gifts bestowed upon us daily by Mother Earth, from the air we breathe to the water we drink, and the solace we find in nature's embrace. The true worth of protecting the Osa rainforest is immeasurable, and your contribution holds profound significance.
Join us in supporting the Rio Nuevo Nature Reserve, Insectopia Rainforest Exhibit Center, and Environmental School. By becoming a donor, you can help shape the destiny of our planet and contribute to a greener and more sustainable future.
a. Rio Nuevo Nature Reserve
In less than three years since its establishment, BioSur has reached a significant milestone by acquiring 148 acres of rainforest contiguous to the buffer zone of Corcovado National Park. The Río Nuevo Natural Reserve, a crucial remnant of rainforest inhabited by endangered species, now safeguards a substantial expanse of primary jungle forests. However, this newfound land has brought forth fresh challenges in terms of management and preservation.
At BioSur Foundation, our comprehensive initiatives include rainforest protection, scientific research, environmental education, and community resilience. We are deeply dedicated to fostering a balanced coexistence between nature and the local community. However, your support is vital to sustaining our conservation operation, and projects in the long term.
Image 1. A tourist and landscape at the Rio Nuevo Nature Reserve. The reserve offers an alternative for wildlife hiking and serves as an open classroom for environmental education. It also protects the biodiversity of the Osa Peninsula.
Your contribution empowers us to sustain this reserve, protect its inhabitants, and establish new vital facilities that serve the entire community. This, in turn, creates alternative economic prospects for local families through both direct employment opportunities and activities related to ecotourism and scientific research. By fortifying our reserve, we can mitigate conservation issues such as logging, gold mining, and illegal hunting, which have directly impacted the reserve's well-being.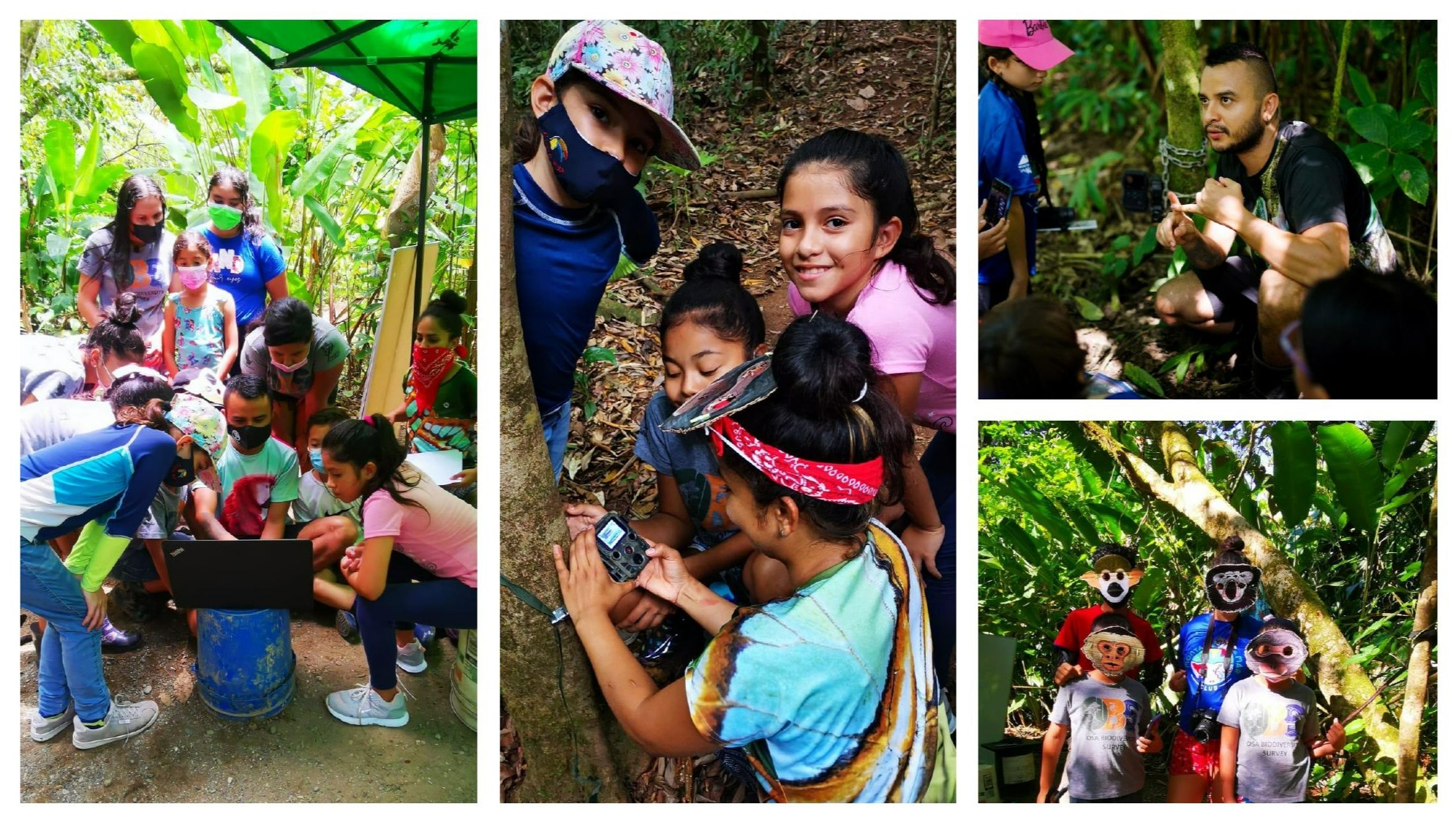 Image 2. Exploring Camera Traps with Eddier Blanco, Executive Director and Educator at Escuela Ambiental, alongside local children. Rio Nuevo Nature Reserve, July 2019.
Rio Nuevo Nature Reserve Needs
1. One of our goals with this campaign is to seek $15,000 to cover administrative and attorney fees for the transfer and add 86 acres of rainforest to protection, a valuable asset awaiting transfer due to financial constraints.
2. New Job Opportunity within the Reserve: Currently, we only have one person employed full-time for tasks related to the improvement and maintenance of trails, patrols for safeguarding purposes, and management of the reforestation nursery. Through ongoing fundraising efforts at BioSur, our goal is to create another job salary for 2 years ($24.000). The person hired here will be responsible for patrolling the reserve and maintenance (which involves navigating through remote and challenging terrain within the jungle, which comes with inherent risks). Having an additional staff member is of the utmost importance to ensure the safety and security of our land and BioSur team members.
3. Moreover, we aspire to improve and repair our NGO's only vehicle, which currently limits our ability to conduct patrols, monitor, and host environmental education activities. A more functional vehicle 4x4 pickup is essential for our multifaceted endeavors. Getting on the way to the Reserve, we need to cross 3 rivers without bridges, and a tall and stronger 4x4 car is urgently for our organization.
b. Insectopia Interactive Center
In the most biologically intense place, the local community lacks a museum-like space that encourages, scientific research, appreciation, public participation, and awareness about the importance of biodiversity conservation in the region. In response to this need, the BioSur Foundation plans to open the doors of this new and exciting project, destined to become a great attraction for residents and national and international visitors, increasing the beauty of Puerto Jiménez as a tourist destination.
The Insectopia Interactive Center is an innovative initiative that aims to promote environmental education, scientific research, and biodiversity preservation in the Osa Peninsula. This exhibition will showcase over 8,000 insect specimens from different forests in Costa Rica, which are considered a natural heritage of the country due to their biological significance. We recently discovered a new genus and 16 new species of beetles, adding to the world's knowledge of these fascinating insects.
Image 3. Local community and visitors exposed to Insectopia Insect Collection. Our future exhibition will raise awareness in Environmental Education to protect the Osa rainforest.
Insectopia Needs
1. To achieve the Insectopia Interactive Center, $20,000 is needed, which will be used as a counterpart to expand our Educational Exhibit and Research Center space in the community.
c. Free Environmental School
The Osa Peninsula is confronted with numerous conservation challenges, including practices that endanger soil health, biodiversity, and the welfare of rural communities. La Escuelita Ambiental's objective is to educate children on the significance of environmental conservation and sustainable agricultural practices. The BioSur Foundation has conducted these environmental education workshops for the last two years on a smaller scale due to a lack of funds. However, around 150 children receive education on this topic every year.
Environmental School Needs
To carry out this program, a total of $9,500 investment is required for 15 children for eight months for each workshop. This investment covers the cost of tutors, materials, activity locations, food, and transportation. If you're interested in supporting this program, you can donate to adopt a student for this non-traditional training school with as much or more than the average investment.
Your participation in this journey is significant as we work together to create a hopeful narrative for our planet. Your donation today is essential in promoting a sustainable world for future generations.
Join us in making a meaningful impact by donating now to support the mission of the BioSur Foundation!