Murphy and I are asking for support to fund his ongoing physical therapy needed to improve/strengthen an injury sustained from abuse as a puppy before I rescued him. Please read our story below and consider donating so that we may keep up with his treatments. Thank you for your time and generosity!
UPDATE: For those of you following Murphy's story, his first year of therapy has been as successful as we could have hoped. The donations we've received covered approximately 7 months of treatment—which equates to 7 rounds of Adequan (anti-arthritis supplement), 14 laser therapy treatments, and close to 30 aquatic therapy sessions! He's so popular at rehab and loves all the attention from his vet and technicians. Looking forward, his treatment plan consists of the same treatments 2x per month and Adequan once a month. Any additional support we receive is greatly appreciated!
——————
In March of 2017, I decided that I was ready to adopt a dog. While searching the local rescues and shelters, I came across the most perfect little face that spoke to my soul. At the time, this little guy's name was 'Tom Hanks' and he was being fostered and ready for adoption through Secondhand Mutts. I immediately reached out to the organization to express my interest in meeting him. They quickly warned me that he had a physical disability due to abuse.
When he was about 8-12 weeks old, a heartless human threw his fragile body up against a wall; thus breaking his leg in his elbow joint. He was pulled from the home and taken in by a vet clinic where they had to re-break the already healing joint and attempt to surgically repair it. He spent 2 months in a cast at the clinic waiting for enough strength to be adopted.

Three weeks after his cast was removed, I met him and fell in love. I decided to take on the challenge of raising a puppy with a physical disability. Meet my main man, Murphy!

The rescue informed me that the vet he had been seeing was concerned that his leg would not heal correctly and that it would require amputation. After visiting an orthopedic specialist, we heard good news that amputation would not be necessary and that he just required good food, exercise, and a lot of love! All of which I felt capable of providing.
Over the following months, Murphy and I went to obedience training and he also became a Certified Therapy Dog!

In October of that year, I began noticing a change in the way his elbow joint appeared from the outside. He has always had a considerable limp/lameness in the leg, but it was beginning to look more deformed. I took him to the vet again and they decided to do an x-ray. Sadly, the x-ray showed that his joint was calcifying at an abnormally fast rate. This meant that his bone was continuing to grow around itself--thus decreasing his mobility further and causing him greater pain and discomfort.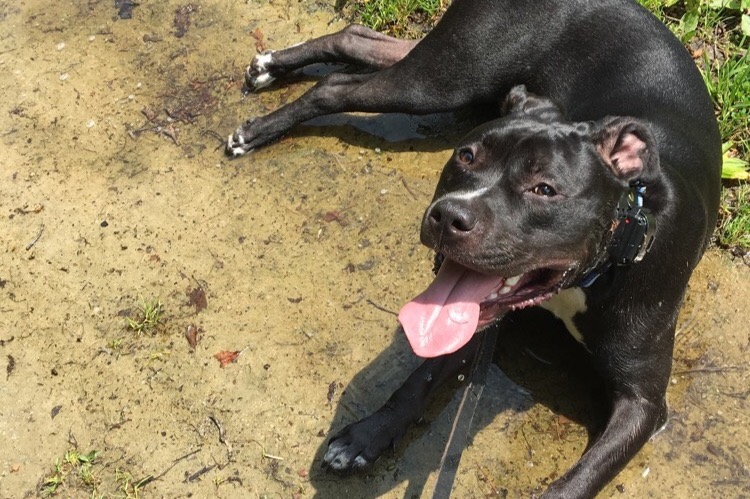 I was finally able to get him in to see a canine rehab specialist at the recommendation of my dog trainer. Dr. Huppe at Up & Running Rehabilitation confirmed my fears...Murphy is in pain and over time his joint is just going to get worse. With this information, we decided on a rehabilitation plan that includes laser treatment therapy to reduce inflammation, water therapy to increase strength, and a supplemental injection to keep the looming arthritis at bay.
Without these treatments, Murphy would likely have to get his leg amputated in a few years. The hope is that this treatment approach will increase his bone health and strengthen the other muscles in his body to keep his leg strong enough for him to keep using it.

He has been going to rehab regularly since February of 2018 and the costs are getting to a point that is difficult to manage. I want to be able to continue to provide the treatments he requires so that he does not regress. This is where you come in. Please help me in funding the cost of Murphy's treatments! The water therapy and laser treatment will likely continue 1-2x monthly as maintenance for life. And the Adequan (arthritis supplement) will need to be administered for the remainder of his life as well to promote bone health and hopefully keep him from developing severe arthritis at a young age.
Any little bit helps and your generosity is so greatly appreciated! Murphy and I thank you!!!