PowerSalad to the People!
"If you think you're going to complete your life's vision in your lifetime, you're not thinking big enough".                                                              Wes Jackson, The Land Institute
SPONSOR A PANE; RENOVATION OF POWERSALAD FARMS BIG GREENHOUSE
---------- ..TRADUIT EN FRANÇAIS UN PETIT PEU PLUS LOIN..------------------------

In the heart of the bay of Mount Saint Michael...

There is a sanctuary rich in biodiversity and great produce...

Which needs some help  to grow...Please help support the renovation this special place where we eat, experiment and play with good food.
Thank you for watching the video. My sincerest apologies to
Cameron
, whos skills capture beauty and magic, for taking so long to post the video as I was hesitant to embark on this journey until now. Finding the courage to share my passion and spreading the message has taken some time but if not now, when?
Since the video was made, le Jardin de Zoe has evolved and
PowerSalad Farm
  has been born.
Be part of co-creating paradise ...
Horticulturalist before studying International Agriculture and becoming a landscpaper here in France then marrying them altogether and becoming a farmer – PowerSalad Farm was hatched from the idea to see if we can make our food production work differently, if productive ecosystems can produce enough (and they do!!).
Born of a teen dream of self sustaining creative arts centres all across the world, my love for our planet and how we co-create upon it has pretty much always been centred around food. Politics, religion, environmental policy – nothing seems to federate us like a shared meal. So here we are almost 25 years later and the dream has gone from a vision to reality. I know it's bigger than me and thats why my door has been wide open to the worlds travellers for nearly 15years –sharing the journey - as with my son who has grown up knowing the world through all of them – he's more incredible than our micro farm!
The possibilities of edible landscapes being sculpted into wildlife corridors to re-establish this worlds vast diversity only motivates me more to ask for your help – I know our global consciousness is pulling us to co-create and our fears may limit our view sometimes but everything is still possible – join us in spreading the love by bringing
PowerSalad to the People
 . And thankyou to each and every one of you who have stepped through that archway and assisited in making this dream a reality that touches us all.
Now it's time to make this:
Into this:


We've started and it's slow going but with your help we can maintain this new momentum. Our star helper is incredible - please keep feeding him with any of the following:
-a replacement pane of glass: 12 euro
-a tube of silicone: 9 euro
-a metre of wood renovated or replaced: 25 euro
-nails, screws, linseed oil, metal paint, brushes...
-a bottle of red from time to time!

Any participation is going to make all the difference so please share this campaign and bring "PowerSalad to the People "

Food with integrity from farming with integrity.
"My why, thats easy, it's been with me forever - Free food for all! Its a big idea imagining our food systems as perennial forests and prairies but it's an empowering one. Preoccupation denies us of our "devoir creatif", our "raison d'etre", to play with FORM, de jouer avec la forme".    Zoe Scott
Et en FrancaisUn nourriture intègre, d'un agriculture intègre.
Merci d'avoir visionnez ma vidéo car si vous êtes déjà passés par là – camper, visité, appris, dégusté ou flâner – vous connaissez déjà la magie de ce lieu –Je vous demande de continuer à co-créer ce paradis avec moi, et participez comme vous pouvez.
Aujourd'hui nous commençons a transformer la grande serre - le renover entierement - avec un helper de premier class deja a l'attaque - il manque que des materieux - mais il va en falloir! Merci de votre participation
-9euro pour une tube de colle-12euro pour un panneau de verre-25euro par metre lineaire de bois renover/remplacer et poser-les clous, lames, huile, savon, peinture anti-rouille, pinceaux
Si vous n'avez jamais eu l'occasion de venir voici un petit bout de l' histoire...
Horticultrice avant d'étudié l'Agriculture International, paysagiste par la suite avant de devenir agricultrice –
PowerSalad Farm
 à éclos de l'idée que nos systèmes de production alimentaire peuvent être designer autrement et devenir des écosystèmes productifs.
Ce rêve d'un lieu tels que
PowerSalad Farm
  existe aujourd'hui, me suis depuis mon adolescence et ma passion pour le pouvoir fédératif d'un bon repas partagé existe toujours autant !
Ce rêve est aujourd'hui ma réalité mais aussi une référence locale ainsi qu'une réserve naturelle et un point de ressourcement...
C'est beaucoup plus grand que moi, et c'est pour ça que la porte est, sera, est restera toujours ouverte aux visiteurs et au voyageurs du monde entier, pour voir, discuter, échanger autour de notre alimentation.
Mon fils a grandi dans cette environnement singulier, il est plus impressionnant que la micro ferme elle même ! Il a eu la patience nécessaire pour m'accompagner dans ce projet depuis le début (il n'a pas eu trop le choix).
Maintenant je demande a vous tous de voir si vous voulez m'aider a ramener
'PowerSalad to the People '
.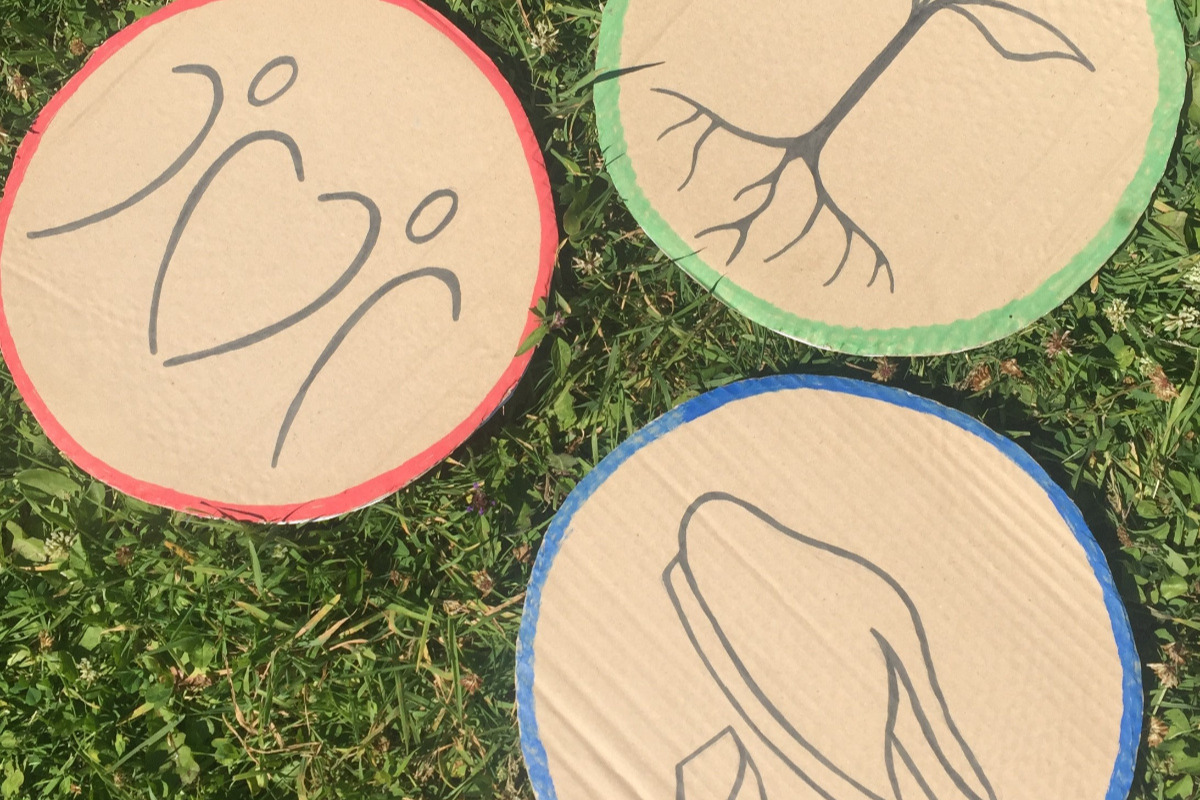 "We are bringing people of all ages and cultures to experience the non-monetary richness and interconnection of global and local community and to take part in an emergent, creative, collective enquiry into the paradigm shifts needed to create, as the title of Charles Eisenstein's book suggests, 'the more beautiful world our hearts know is possible' – and, most importantly, to create practical pathways to make this reality".                                                             Yvonne Cuneo
Fundraising team: PowerSalad People (3)
Zoe PowerSalad Scott
Organizer
Raised €1,243 from 37 donations
Saint-Loup
Delphine Leplatois
Team member