Tragedia w rodzinie Chilińskich !
Czy rozpoznajecie ludzi ze zdjęcia powyżej?
(english version at the bottom)
Na pewno są wśród Was tacy, którzy bez wątpienia wskażą na Anię (do niedawna Figlewicz) i Grzegorza Chilińskich. Jednak znakomita większość obserwujących fotografię nie ma pojęcia kogo ona przedstawia. Dzieje się tak dlatego, że Anna i Grzegorz od 13 lat nieustannie pomagają innym, jednocześnie nie afiszując się ze swoją charytatywną działalnością i nie oczekując podziękowań za nią.
Tych dwoje ludzi, od niedawna Państwo Chylińscy, to nie tylko nasi serdeczni przyjaciele, ale przyjaciele wielu Polaków mieszkających w Chicago, którzy od ponad dekady nigdy nie odmówili nikomu swojej pomocy – BEZPŁATNIE wystepując w polonijnych przedstawieniach, przygotowując największe polskie imprezy, działając charytatywnie na rzecz potrzebujących. Bez ich udziału i bezinteresownej pomocy wiele akcji nie miałoby racji bytu. Oboje ciężko pracują. Ania niemal każdego dnia wstaje o 4 rano aby dojechać do swoich klientek, Grzegorz jest malarzem pokojowym – a mimo to zawsze znajdują czas aby udzielać się charytatywnie. Może właśnie dlatego nie dorobili się dużego majątku. To jednak dla nich nie jest priorytetem. Ich życiowa dewiza to dzielić się z innymi tym co posiadają najcenniejszego... w ich przypadku jest to miłość i poświęcenie dla drugiego człowieka. 
Życie lubi nas zaskakiwać. Niestety, nie zawsze są to miłe niespodzianki. Dzisiaj rodzina Chylińskich znalazła się w krytycznej sytuacji. Córka Grzegorza – Aleksandra – została zdiagnozowana z nowotworem mózgu. Ola jest niezwykle utalentowaną 22-letnią studentką Akademii Sztuk Pięknych w Gdańsku.  Niedawno przeszła operację usunięcia guza w Polsce, lecz ze względu na jego fatalne umiejscowienie w mózgu – nie można go było usunąć w całości. Jedynym ratunkiem dla Oli jest terapia protonowa, której można dokonać w klinice w Monachium, a to wiąże się z kosztami rzędu 40 tysięcy dolarów. Niestety, takiej sumy Anna i Grzegorz nie posiadają, a tylko ona daje szansę na przeprowadzenie terapii i urataowanie życia Aleksandrze.
Chylińscy potrafią dawać, ale nie porafią prosić. Z tego względu, jako przyjaciele podjęliśmy akcję zebrania 40 tysięcy dolarów aby uratować życie córce Grzegorza. Mamy na to zaledwie 14 dni. 14 dni na zebranie 40 tysięcy. Szacuje się, że w Chicago mieszka nas, Polaków, około 1 miliona. Na przykład, jeżeli tylko 400 osób wpłaci po $100 zbierzemy potrzebną kwotę i uratujemy życie młodej kobiety, której rodzina, nigdy nie odmówiła pomocy tym, którzy najbardziej jej potrzebowali.
Podziękujmy wspólnie Ani i Grzegorzowi! Prosimy Was, przyłączcie sie do akcji.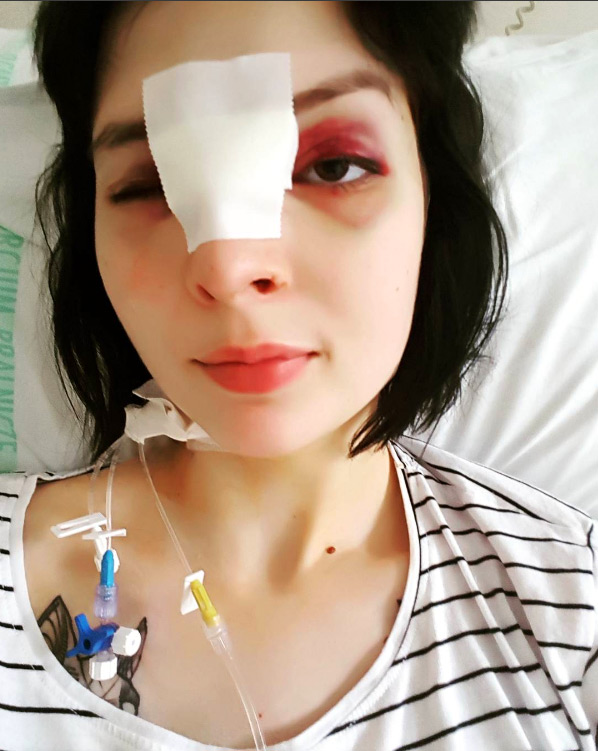 ~~~~~  ENGLISH VERSION ~~~~~
Do you recognize people from the photo above?
There are certainly some of you who recognized Ania (Figlewicz) and Grzegorz Chylinski who are both well known in the Polish community. However, the majority of you have no idea how much time they always contribute to others. Anna and Grzegorz have been helping multiple charity organizations for the past 13 years, while not boasting their charitable activities and not expecting anything in return.
Without their participation and selfless help many actions would not be as successful. They both always work hard. Ania who is a makeup artist almost every day gets up at 4am to reach her clients, Gregory is a painter - and yet they always find time to help others. Maybe that's why they did not make a big fortune. But was never their priority. Their motto is to share with others what they have the most precious ... in their case it is love and dedication.
Life likes to surprise us. Unfortunately not always those are pleasant surprises. Today the Chylinski family is in desperate need of our help. The daughter of Gregory - Ola - has been diagnosed with brain cancer. Ola is an extremely talented 22-year-old student of the Academy of Fine Arts in Gdańsk. She recently underwent surgery to remove the tumor in Poland, but due to its fatal location in the brain- it could not be removed entirely . The only hope for Ola is proton therapy, which can be done at a clinic in Munich, Germany and it costs 40,000 Euros. Unfortunately, Ana & Gregory do not have that kind of money that can save Ola's life.
Chylinski family knows how to give but this time the unexpected circumstances force them to ask for help. Therefore, as their friends, we are organizing this action to collect $40.000 to save Greg's daughter's life. We only have 14 days to make this happen. This can happen to any of us. Let's get together and do this.
$40.000 for all of us together is so little but for Ola means her a chance to live.
Please, join us and support one another.
Thank you for your kindness and love.
Friends of Anna & Greg
Organizer and beneficiary