Around 2am on February 15th, 2017 PJ and Bruce Pollard, and their young daughter Meade, awoke to the smell of smoke in their house. An electrical fire had started in the attic and by the time the sound and smell of the inferno woke them the attic adjoining two bedrooms was fully engulfed in flames.
The family of three and their two dogs were able to call 911 and evacuate their burning home. They ran to safety out into the street to await help.
The crews arrived and were able to save most of the main house. The barn and the back of the house were gone and unsalvageable. Volunteer firefighters from 7 neighboring towns were on site for hours fighting the blaze in the frigid night while the family watched the energetic and determined crews work.
No Homeowners Insurance
Unfortunately, the Pollards were recently dropped by their homeowners insurance company, so all efforts to rebuild, replace appliances, and fix their home will come completely out of pocket. Their daughter Meade's room was completely destroyed, along with all of her clothing and belongings. Meade is 14 years old and in the 9th grade at Green Mountain High School. She plays JV and Varsity Basketball. 
Currently, their home is mostly open to the elements, with everything covered in water and freezing due to the temperatures and snow we've gotten since the fire this morning. Since it was an electrical fire, their electric has been turned off until an electrician can come and inspect the safety of the rest of the house. As such, they have no heat and the temperature is below freezing.
They were very lucky: while 25% of their home is completely lost, 75% sustained only smoke, fire axe, and water damage. Thankfully no firefighters or family were physically harmed in this incident but they could use any help you can offer to help them rebuild their home.
Any help you can provide would be so greatly appreciated in this time of need. 100% of money raised will go directly to PJ & Bruce Pollard for immediate survival needs, to rebuild their home, and clothes for their daughter, Meade.
Thank you so much
--
Here are some photos taken today, 2/15/17, after the smoke had cleared. 
The stairs they ran down exiting the house to safety that were engulfed in flames. 
What was their kitchen
Their daughter Meade's bedroom
Another view of their daughter Meade's room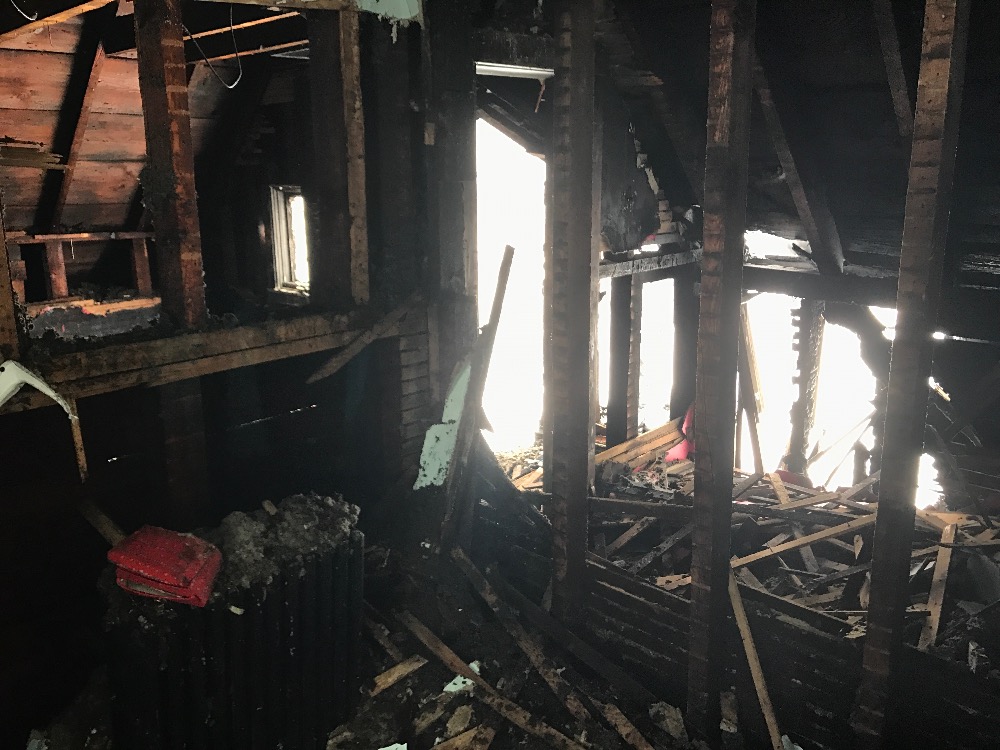 Another view of Meade's room, now fully exposed to the outdoors.
Looking out to where there was once house and barn. We got about 5 inches of snow this morning after the fire. 
This was a bed, see the headboard on the right.
**Please consider a donation of anything at all. Every penny counts.  Thank you so much.