Pillar of Enoch Ministry Help Fund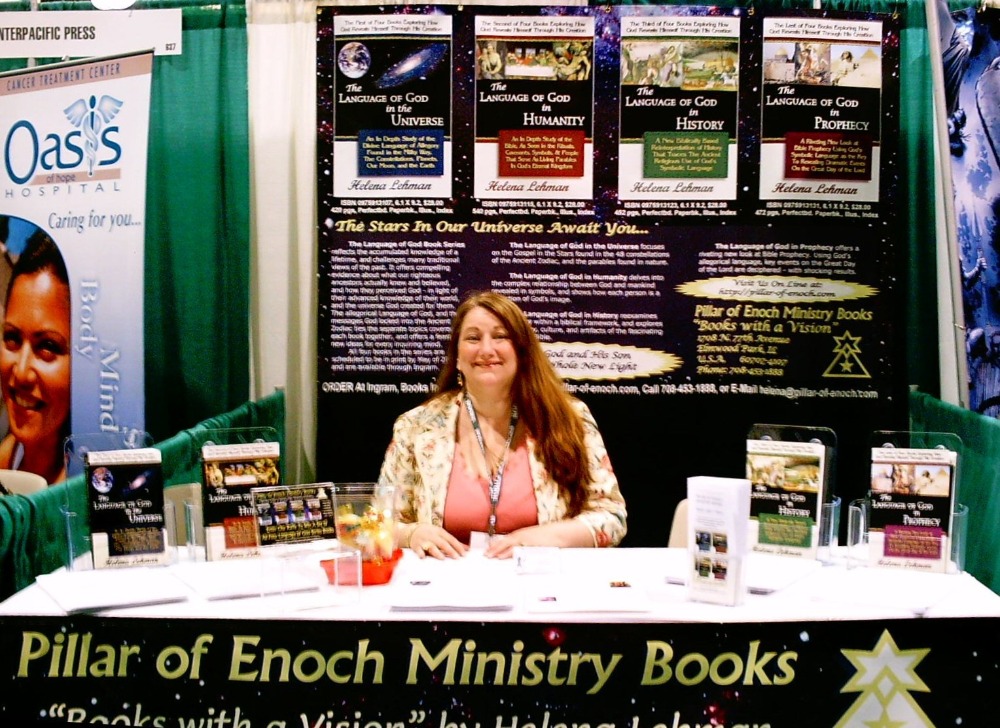 Me, Helena Lehman, at Book Expo 2006 in Washington DC. This is a method of book advertising that I cannot afford without your help!

Dearly Beloved Followers of Yahshua,My name is Helena Lehman, and I am a Messianic Christian Scholar, Author and Artist - and the sole operator of the Pillar of Enoch Ministry and Publishing House.
For over 15 years, I have been actively teaching the Gospel of the Kingdom of God, Bible Prophecy and History, Hebraic Roots, and the understanding of the Gospel in the Stars and Sacred Astronomy through my free articles and book excerpts at my
Pillar of Enoch Ministry web site at http://pillar-of-enoch.com .
This is a full-time ministry that relays information via my official Ministry web site, my Ministry Blog, and Facebook and Twitter. My web site features some of my hundreds of free articles, and I created and maintain it myself, with no help from anyone. It also serves as an advertising medium for my critically acclaimed 4-volume "Language of God Book Series", which I fully published myself and advertise using my own funds. To learn more about these books that I published between 2004 and 2009, and fully revised and updated in 2013, please visit my introductory page for them here:
Introduction to the Language of God Book Series: http://pillar-of-enoch.com/language_series/
This heavily researched set of books contains over 3000 pages of information tying Biblical Symbols, Biblical Astronomy, and Bible Prophecies together with ancient historical records and current events. Together, they present a compelling picture that the tiny nation of Israel is fulfilling many ancient Biblical prophecies concerning the regathering of Israel into the Promised Land in the End Times spoken of by Yahshua or Jesus in the Gospels of Matthew, Chapter 24 and Luke, Chapter 21. They also tie the godly meanings of the Ancient Mazzaroth or Zodiac and the Signs in the Heavens to the events of ancient Jewish and ancient Church history leading up to recent world history and its clear ties to the End Times.
In addition to the Language of God Book Series, I have written hundreds of free, illustrated articles that are published at my popular
Pillar of Enoch Ministry Blog at http://pillarofenoch.blogspot.com
 . This widely acclaimed Blog contains many interesting factual Bible Studies and articles tying Bible Prophecy and the Signs in the Heavens to current End Time events. Please be sure to check out my blog and subscribe to it via the WordPress blog site so you won't miss any of my frequent postings.
Currently, I am seeking funds to keep my online ministry alive, and to pay for the publishing and advertising costs for two new book compilations of material from the Language of God Book Series. One will focus on all my material concerning Enoch the Antediluvian Prophet, and the other book will focus on the Old Kingdom Pyramids in Egypt and their ties to the godly Prophet Enoch, the Tribe of Joseph, and the Two Houses of Israel. I am also working on the preliminary sketches to do a series of Pastel and Pen and Ink drawings of the Twelve Signs of the Zodiac or Mazzaroth and several other constellations as they relate to Bible Prophecy and the Twelve Tribes of Israel.
However, though these new projects may eventually help me to raise more funds, I currently have no source of funds outside of my older book sales, sales of personal items on E-Bay, and the financial gifts given to me by my ministry friends and supporters. Thankfully, various individuals have found many reasons for funding this ministry, including my frequent posts on Facebook and Twitter with intriguing commentaries tying the current event information in the posts with End Time Bible Prophecies. Many of my articles also offer hope and encouragement to Yahshua's Bride and the Five Wise Virgins who are anxiously waiting and watching for His soon return.
The funds I raised last year through Go Fund Me and on my web site via PayPal not only paid for my web site and internet costs, but they helped see me through my husband's long term unemployment, several of my own health crises, and the near loss of our home due to an inability to pay our property taxes. My deepest thanks goes to all the people who came forward to help me last year, and I hope that some of you will find the means and desire to help my ministry stay alive and grow for another year as we await our Messiah Yahshua's soon return.
Please consider giving a gift of $10 or more to the Pillar of Enoch Ministry via Go Fund Me.
You may also sign up to give a one time or recurring gift via Pay Pal at my web site using this link: http://pillar-of-enoch.com/contact.html
If you are unable to give at this time, I do understand, and all I ask is that you please pray with me that my ministry's needs will be met, and I will be able to provide many more articles, books and art to bless believers throughout the world. Thank you so much for your help and prayers, and may our wonderful Father God Yahweh bless all of you for your help, generosity, kindness and love!
Very Sincerely Yours In Yahshua, Helena Lehman of the Pillar of Enoch MinistryMinistry Web Site: http://pillar-of-enoch.comMinistry Blog: http://pillarofenoch.blogspot.com
Organizer
Helena Lehman 
Organizer
Elmwood Park, IL