Rosie Ashcraft - Life Not MAiD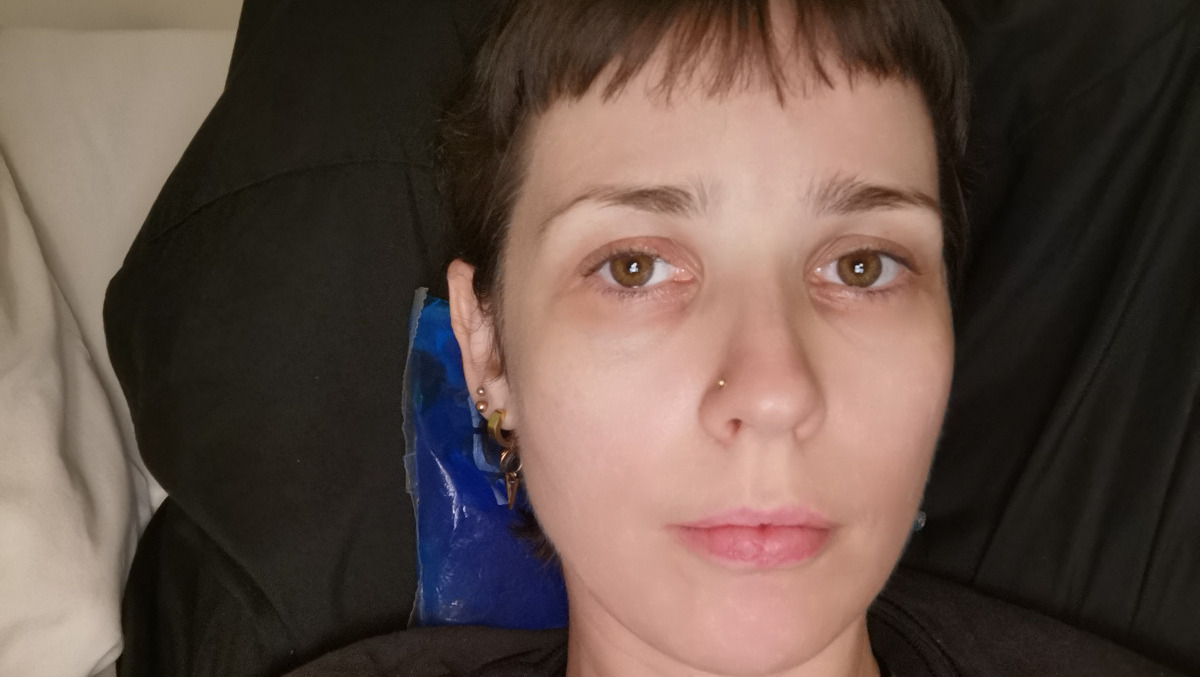 Rosie Ashcraft is stuck living with a painful and dangerous complication of Ehlers-Danlos syndrome (EDS), a medical condition that has gone mostly unaddressed within the Canadian healthcare system. 
She desperately needs surgery to fuse unstable discs in her neck, which are causing compression of her brainstem. This particular surgery is not available to patients with EDS in Canada, leaving Rosie mostly bedridden with a high level of pain and weakness, suffering neurological and GI effects and incredibly poor quality of life.;
Rosie was diagnosed with cervical spine instability four years ago and has desperately tried various avenues to get the treatment she needs, without success. Recently, a glimmer of hope appeared on the horizon: Rosie found a capable neurosurgeon in Europe who offers the procedure at an attainable cost. We are trying to help her raise the funds and need your help to do so.
 As it stands, Rosie is suffering so much that she is considering MAiD (medical assistance in death) if she is unable to access the care she needs. We do not want her to be cornered into making this "choice" when treatment exists, but is financially out of reach. Rosie is only 36 and is a mother of two, as well as a talented musician and writer with so much yet to live for and share with the world. Rosie deserves LIFE - not MAiD!
About Rosie
Our Rosie (Scarlit-Rose Ashcraft) is a gifted music artist/singer/songwriter, poet/writer, blogger, and advocate. *hyperlink site* She has produced a fabulous music album and book of poetry and is also on the roster of a modeling agency, but sadly has had to step back from taking jobs as her health has worsened. She also has two teenage sons.
Rose is a beautiful and genuine person inside and out. She is also on the autism spectrum and formerly shared her experiences as a late-diagnosed austistic woman through her blog A Girl Outside the Box. At times, she has encountered bullying, misunderstanding, and discrimination, including within the medical system, but has worked to overcome trauma and to educate and speak out. 
 Rosie's greatest passion, however, is the literary and performing arts, and she has big dreams to achieve her potential in this area of her life. As things stand, Rosie feels that these dreams have been quashed by the unnecessary neglect of her medical condition(s). 
The Neglect of EDS in Canada
Ehlers-Danlos syndrome is a genetic condition that weakens collagen, causing hypermobile and loose joints, soft and delicate skin, and a range of systemic issues affecting the digestive system, heart and circulation, the spine, and more. (More info here.
http://scarlitrose.org/eds-brochure
) Appropriate care and therapy to manage EDS exists and is effective, and surgical interventions can address serious complications like Rosie is suffering from.
 Unfortunately, EDS is largely neglected here in Canada, forcing patients to travel and pay large sums out of pocket for care. Rosie has experienced this firsthand, having to fight unnecessarily, first to have her EDS confirmed in Europe and then to have cervical spine instability diagnosed in the US.
 Advocates are working hard to change the situation for those impacted by EDS in Canada. Though an EDS clinic now exists in Toronto, care beyond diagnosis is still scarce, and there are no neurosurgeons trained to provide surgeries to those in need. The ILC Foundation (*link
https://www.theilcfoundation.org/
) is pushing for neurosurgical services, but due to governmental pushback, progress has been painfully slow for patients like Rosie who are living with debilitating and potentially life-threatening complications.
Rosie's Dilemma
Due to many years of neglect and abuse while falling ill,
https://www.bcdisability.com/post/scarlit-rose
Rosie suffered unnecessary damage, especially to her neck. After years of advocating for herself with the support of family, friends, and doctors in the US and UK, the Canadian healthcare system finally accepted Rosie's diagnoses and offered basic care - IV fluids and Rx medications.
Sadly, this was delayed past the point that Rosie suffered damage to the ligaments in her neck. This led to a diagnosis in 2018 of atlantoaxial and cervicospinal (C1-C6) instability, which essentially means the vertebrae in Rosie's neck are not being held properly in place. This causes severe levels of pain and, in Rosie's case, compresses her brainstem. This results in a range of neurological issues impacting many autonomic functions and body systems.
 C-spine instability is dangerous, and Rosie urgently needs surgery to correct it. Appallingly, the Canadian medical system cannot clean up the mess that it caused for her, leaving her largely bedridden and with no real treatment aside from opioid painkillers and other band-aid medications that in turn cause harsh side effects for her. 
The instability in Rosie's neck has been left untreated for four years, and recent imaging suggests that it is worsening. We fear that Rosie does not have much more time to wait for things to change and the level of care she needs to become available for EDS in Canada. We - Rosie's friends and family - are outraged by this situation. 
Fundraising Breakdown
We are hoping to raise $50,000 in total, with $30,000 allocated for Rosie's most pressing need - neurosurgery in Poland. (This includes travel costs, accommodations, and imaging.) 
 Ideally, an additional $20,000 would serve as a "healing fund." This would go toward rehabilitation and addressing other aspects of Rosie's health - particularly gastrointestinal motility and immunological issues. Rosie has mast cell activation syndrome (MCAS), a disorder that often occurs alongside EDS and causes her immune system to overreact to many foods, medications, and environmental stimuli. In Rosie's case, her MCAS is likely worsened by some of the medications she is on and their negative impact on her digestive tract. Inability to successfully manage MCAS adds to her daily symptom burden, also affects her GI system, and further reduces her overall quality of life.
 Appropriate testing and integrative treatments available at the Center for Complex Diseases (*link) would help to improve Rosie's overall health. Rosie's family doctor has already agreed to work with and communicate with the doctors there and prescribe any treatments deemed necessary if Rosie can obtain funds to consult with them. 
 However, reaching the $30,000 surgery goal remains the most important. 
MAiD (Medical Assistance in Death)
Rosie is not the only one in this position in Canada. Many patients with complex, chronic conditions like EDS, ME/CFS, Lyme disease, and dysautonomia experience medical gaslighting, lack of access to proper care and treatment, and discrimination within the medical system. Many, like Rosie, are neglected to the point of developing complications that severely impact quality of life and can sometimes result in death if left untreated.
In recent years, others here in Canada have been situationally forced into opting for medical assistance in death (MAiD) due to poverty and inaccessibility of treatment. (This article (*link) documents the story of a disabled woman who recently began the process because she was unable to find appropriate housing.)
https://www.gofundme.com/f/housing-not-MAID
Though MAiD was originally allowed for those suffering from terminal illnesses, Bill C-7 opened eligibility to Canadians whose conditions "cannot be relieved under conditions that you consider acceptable." This has created an ethical crisis as those with complex, chronic illnesses with low income cannot access the resources and care that they need and are instead cornered - sometimes outright pressured - into opting for MAiD. (More information on this issue here.
https://canadahealthalliance.org/why-is-canada-euthanising-the-poor/
 Rosie's Situation
This is the boat Rosie now finds herself in. She spends most of her days stuck in bed, reliant on several medications that do not fully alleviate her severe pain. She now has difficulty with many activities of daily living: eating, using the bathroom, etc. She is at times forced to use a catheter because the compression of her brainstem causes severe bladder retention and occasionally has trouble even breathing because of C-spine instability.
 Rosie is now unable to sing, play guitar, or participate in modeling jobs. Losing the ability to take part in her passions has broken her emotionally. Rosie is highly intelligent and has researched her conditions and available treatments extensively - Knowing what she needs and being unable to attain it is agonizing. 
It is infuriating for Rosie and those who care for her to know that a surgery exists that would give her her quality of life back, but to be forced to watch as the Canadian healthcare system instead leaves her to rot, on a slew of medications that at best partially mask her pain and also make her ill. This is simply inhumane and no way to live.
Summary
 Rosie has eloquently survived a difficult life, beginning with a painful childhood. She often had to fend for herself from a young age and was not diagnosed as autistic until young adulthood. Though she experienced bullying, those who knew her as a teen and young adult remember her as smart, endearing, strong-willed, socially motivated, and well-liked by many of her peers. Rosie channeled trauma and struggles into the performing and literary arts and later engaged in advocacy for autism and chronic illness, making use of her gifts for performance and writing.
 Our friend has overcome so much in her life, but Canada's lack of treatment for her condition continues to suffocate her potential and break her down. Rosie deserves life over resorting to MAiD, and her sweet sons, Pearson and Elliot, deserve their mom to be here with them. It is already difficult for them to watch her suffer, and it would hurt them deeply to lose her.
 It is possible for Rosie to have LIFE, but the dilemma is simple: We need enough funds for her treatment. Please help in any way that you can. You can bet that Rosie will give back. We cannot lose this amazing soul.
 Check out Rosie's music, writing, and advocacy efforts and learn more of her story on her website. www.scarlitrose.org   
Organizer and beneficiary