Help Ammaar Dadlani fight bone cancer
Our dear son, Ammaar, was diagnosed with bone cancer in June 2018. Sadly, after 9 months of aggressive chemotherapy and multiple surgeries, the cancer has returned, and now there are multiple tumours throughout his body. He has started chemotherapy again, but his oncologist has advised that this is just a short-term solution, and it won't be able to cure him. This means that he will need further treatment that the NHS cannot provide. We're pleading to you for help in raising $450,000 for his enrolment onto CAR-T cell immunotherapy in the USA.
Ammaar was diagnosed with bone cancer when he was just 5 years old. He fell over whilst playing with his brothers at home one afternoon, but we didn't think much of it. However, the next day he was in a lot of pain, so we took him for an x-ray, which detected a 9.6cm tumour in his left leg (distal femur bone). A needle biopsy carried out a week later confirmed the diagnosis - high grade osteoblastic Osteosarcoma, Stage 2b. Within 2 weeks his treatment started - he went through 9 sessions of aggressive chemotherapy at the UCLH in London, then limb salvage surgery @ the RNOH in London, followed by a further 9 sessions of chemotherapy, which finally ended in February 2019. Ammaar rang the bell and cut a cake to celebrate his discharge from hospital, and we left thinking that he was cured. However, we were wrong.
A few months later, we noticed a small lump on his right collarbone, and after several scans and another needle biopsy, the doctors confirmed that the tumour was back, and it had managed to re-appear in a completely different part of his body. His right collarbone was surgically removed on 9th September, and another surgery followed ~6 weeks later to remove yet another tumour that was growing nearby. Sadly, the most recent PET scan dated 4th November 2019 highlighted several new tumours throughout his body (ankle, hip, lower back, lungs, shoulder and upper right chest. We had no choice but for him to start chemotherapy again at the UCLH, which is expected to last ~5 months. However, Ammaar's oncologist has advised that the chemotherapy will not be able to cure him, and as a result, we have no choice but to seek medical treatment elsewhere. The good news is that cutting edge CAR-T Cell immunotherapy treatment is available for our son in the USA; however, it is shockingly expensive, and being a UK national, Ammaar's treatment in the USA is not covered by the NHS. The treatment on its own is expected to cost around USD $450,000. Moreover, we need to raise a minimum of USD $75,000 just to cover the initial costs (hospital admission for 4 weeks, full medical consultation & treatment plan etc). The initial funds would be required by end-January 2020. As a family we are doing all we can to raise the money for Ammaar's treatment; however, being such a massive amount, we had to make the tough decision to set up this GoFundMe page. 
We are very hopeful that this new & innovative treatment will not only kill the existing tumours in Ammaar's body, but that it will also prevent any more tumours from growing in the future, so that our son can live a long & healthy life going forward. Any money you are able to donate towards our son's treatment will be so greatly appreciated. Please kindly also share this page with your family & friends. Thanking you very much in advance!
Please do not hesitate to contact me directly if you would like the funds sent directly to the hospital on Ammaar's account.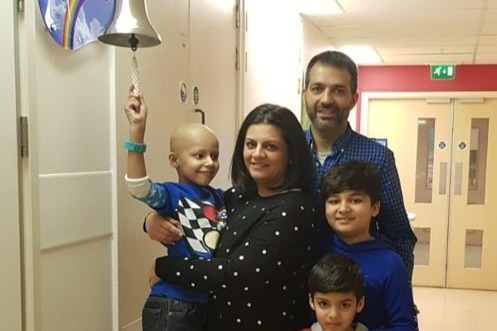 Ammaar ringing the bell @ UCLH in February 2019.
Ammaar & his brothers @ Watford General Hospital's Xmas party held @ Watford FC in November 2019.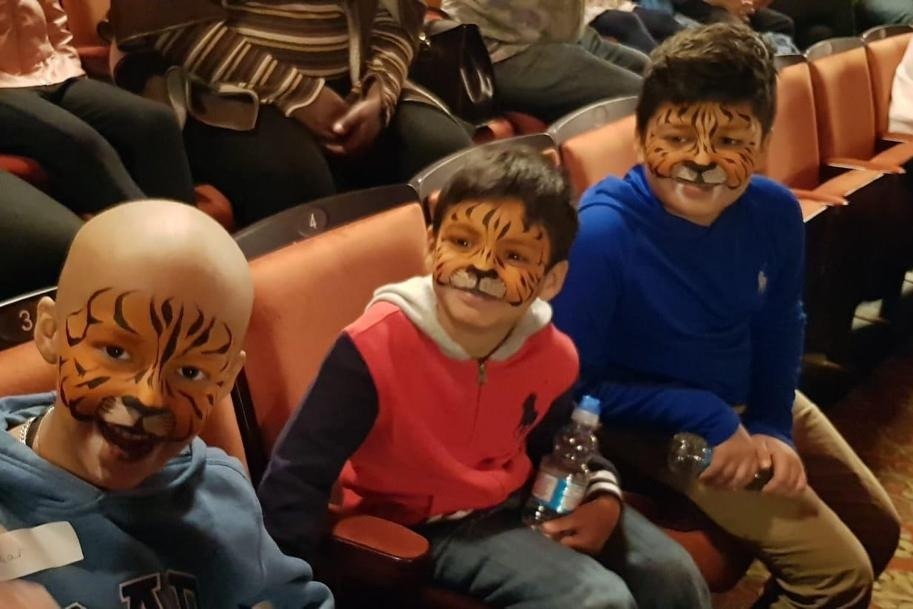 Ammaar & his brothers @ The Lion King theatre production organised by 'Spread a Smile'.
Ammaar @ T11 North, UCLH London just before round 2 of chemotherapy, December 2019.