HUMAN TIMEBOMBS AHC documentary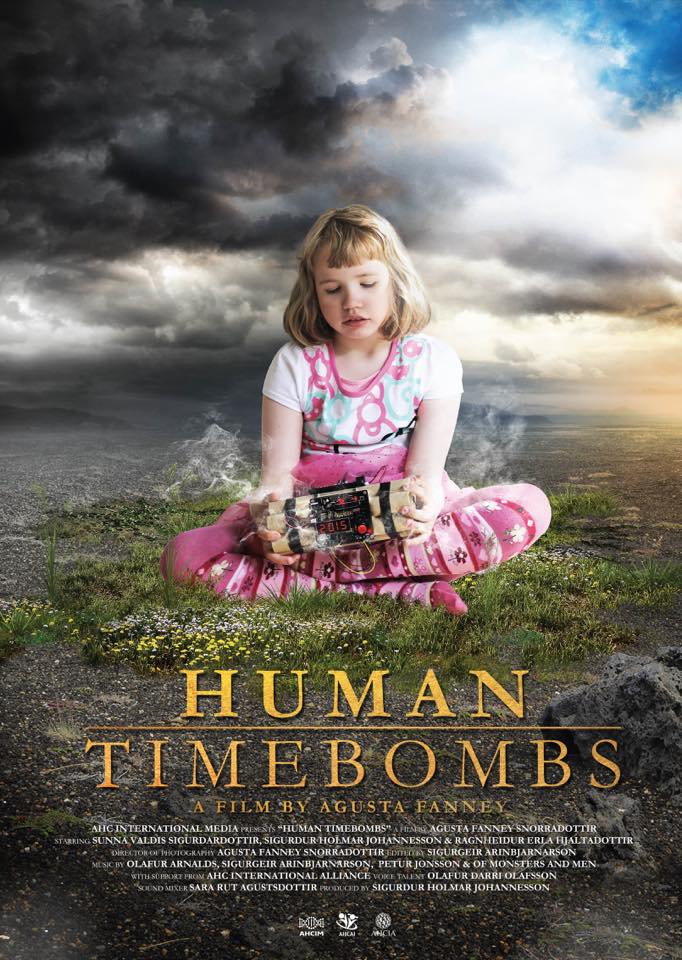 This GoFundMe is to raise money for the multi-translation and worldwide distribution of Icelandic filmmaker Ágústa Fanney´s documentary on Alternating Hemiplegia of Childhood, HUMAN TIMEBOMBS.
Now that HUMAN TIMEBOMBS is completed, the documentary team needs to distribute it around the world to AHC Associations so that they can offer it to their local media outlets and medical institutions, rare disease communities and short film and documentary film festivals in Europe and the U.S. And why is this important? Because while being rare is a special thing when it comes to precious gems, guitars or celebrity signatures, it's not such a good thing when you are talking about disease. And that is because it takes a lot of money to fund the researchers seeking a cure. And when a cure is found though something such as a special medication, it costs more money to produce it and pharmaceutical companies to distribute it. Sadly, all of this happens much faster when there are more people affected with a particular disease.
By distributing the HUMAN TIMEBOMBS documentary, the team, which includes Sunna's pabbi (daddy) Siggi Jóhannesson and actor Darri Ólafsson (most notably from The Secret Life of Walter Mitty and TV Show True Detective) hopes to find the other 6,000+ people with AHC and speed up the process of finding a cure. The young lady in the film's poster is Sunna Valdís Sigurðardóttir. Sunna is the only person in Iceland suffering from AHC, but she's emblematic of all the 7000+ people worldwide who suffer from this terrible and debilitating disease.
We hope you will find it in your hearts to help.
Direct link: 
https://www.gofundme.com/pippaswish2
----------------------------------------------------------------------
The story of Pippa Zooey Hull and Sunna Valdís Sigurðardóttir
One year ago, Pippa, a 7 year old girl with cerebal palsy and a rare form of epilepsy had a BIG WISH. She wanted to visit Iceland and meet "her boys" the band Sigur Ros.  So we started a GOFUNDME page and within 6 weeks, friends, family, Icelanders and Sigur Ros and their fans all over the world made it happen in a BIG way! And my oh my, was it a great adventure! You can read about it on her Facebook page (
www.facebook.com/pippaswish
) and her mamma's blog Pippu Osk (
http://pippuosk.blogspot.com/
). One of the most wonderful things to come out of the trip were the friendships that Pippa and her family made while in Iceland. And one of the most special friendships Pippa made was with Sunna Valdís Sigurðardóttir.
Sunna is a 9 year old Icelandic girl who lives in Reykjavik. And she is special for many reasons. She loves Hello Kitty, purple is her favorite color, she loves to help her mamma bake, she adores her older brother Viktor and she loves going for bike rides with her pabbi (daddy). And of course, she loves sharing videos and mail with her BFF Pippa. Sunna is also RARE. In fact, she is ONE IN A MILLION. Sunna is One in A Million because she has a rare disease called AHC - Alternating Hemiplegia of Childhood which is currently effecting 800 people in the world. But it is believed that the true occurence is 1 in 1,000,000 or approximately 7,000 people worldwide.  Sunna is the only known person in Iceland with this condition.
AHC is a complicated neurological disease that combines many different symptoms, the main one being repeated paralysis on one side of the body or the other (and often both sides). These attacks can last minutes, hours or days and are often relieved by sleep. The other symptoms are tonic attacks (lack of muscle tone), dystonia (a painful stiffening of extremities), nystagmus and other eye disorders, developmental delays, mental retardation and seizures. It is not know exactly what sets these attacks off - and it can be different for each child - but things such as a common cold, bright lights, temperature changes (the weather, going into cold or hot water) and excitement can all trigger an attack. And sometimes they happen for no rhyme or reason. For a fuller discription of this rare disease, please visit Sunna's website at  
http://www.ahc.is/en/ahc/
. 
Pippa and Sunna are similar in many ways and they (and their parents) really connected in a beautiful way in Iceland. And this summer I got to meet Pippa the Fierce in person after running the Pippa's Wish Fundraiser last year. It was truly a wonderful weekend and she is just as wonderful and fierce in person as you would imagine! And while we were living the California Dream and hanging out in the pool, Pippa said she wanted to help her friend Sunna find a cure for AHC. And the best way we thought we could make that happen was by supporting the AHC Documentary film that features her friend Sunna and other children and families around the world. The film is called HUMAN TIMEBOMBS by Agusta Fanney and it was just completed and the poster released. You can visit the documentary website and see a teaser of the film (along with other videos) at
http://ahcdocumentary.com/videos/
.
Pippa and her family hope that you will join them in raising at least $10,000 to help get this film distributed. Although we are going to be completely honest here. The documentary team needs at least $20,000 to make this happen. So if you want to raise the full amount, we will not stand in your way! In Wishland, as we like to call Pippa's Wish, we have a saying: We Believe in The Magic of Kindness! And we really, really do! We saw the magic happen when you made Pippa's Wish come true! And now we hope to see you make Pippa's ONE IN A MILLION Wish come true for Sunna and AHC Champions around the world!