Piper Newfoundland bone infection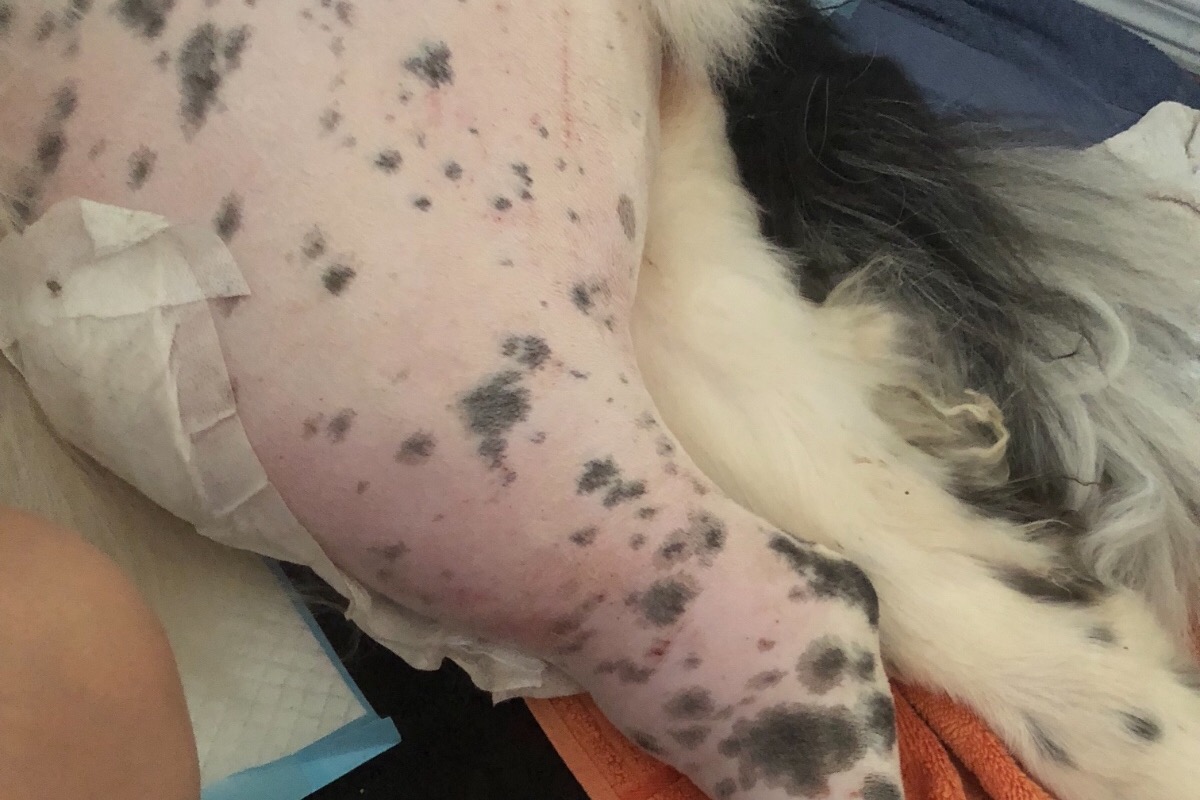 As most of you would know, Piper is our beloved Newfoundland, who has just turned 11 months old. She is a sweet loving family member to us and the best companion to my 78 year old grandma, who lives with me. We were always aware that she is possibly going to have problems with her legs or joints (like a lot of giant dog breeds do). The way Piper runs didn't look quite right, but we didn't know that the day for a major problem would come this soon.
On the 17th July we noticed lameness in her back legs. After we visited the vet, an X-ray confirmed both of her back leg joints are inappropriately positioned and that her ACL cruciate legiment has gave in and was torn on one leg. We were advised by the vet that the cost of the surgery TPLO (Tibial Plateau Leveling Osteotomy ) would be $4200. After making sure we have enough money, we then booked her in for the next possible day (24th July) to proceed with the surgery.
However, things were not smooth after the surgery. We noticed swelling from the first day, and this progressed to a purple puss the size of a tennis ball. We went back to the vet and was told that this is all normal. My instinct told me this was not 'normal' and I was extremely worried about this. Next day 2nd August we went to the emergency with Piper, who had a temperature of 41 degrees and we were given treatment, the area was drained, and more injection ....and was told that this is a skin infection, as the infected area is far from the surgical site. From 2nd August until 27th August we treated this as a skin infection and Piper was on antibiotics... alot of them.
She was also then at the vet twice a week to change her bandage, which has a further cost to us at approximately $3500. So we thought things are looking good and that Piper is finally bearing weight on her leg, so thought we were over the worst of this.
On 28th August we were told to X-ray Piper ( now we know that we were told to do this, as another dog who had surgery on the same day has got a bone infection .....) and sadly Piper is confirmed with a bone infection in the surgical site. The vet's plan is to have Piper off antibiotics for a few days and take a sample out from her to find out what bacteria it is that we are dealing with, then use the right course of antibiotics for the next 6 weeks until the bone has healed, then another surgery is needed to remove the Plate and flush out the area. After that, Piper will be back on antibiotics again for another 6 weeks. However we were told that what we are battling with is severe chronic bone infection which if the bacterial spread, her life could be at risk or optimally her leg would need to be amputated, our time is limited and we need to act fast.
We are devastated. Seeing her already on so many drugs, suffering at such a young age and also knowing this is going to be ongoing and further surgery will be needed. We obviously want to save Piper's leg and stop the bacteria from spreading and save her life. The cost so far is $7700, and we are now struggling to be able to pay for the further treatment and surgery that is necessary to save Piper's leg and life.
We have taken insurance out for Piper, as all giant breed owner should, but complications that fall under the surgery, we were told are not covered by her insurance. We will only receive $2600 for the maximum amount from the insurance company and we have to find the remaining thousands for Piper.
I would not usually reach out to the general public and ask for help, but this massive extra costs has come at a terrible time and was unexpected. Right now, anything would help. We love Piper more than words can explain, and she is so special to my grandma and my niece who both live with me. I'll happily send myself broke to ensure she gets her quality of life back and not being sick anymore, but I'm also struggling to look after both my grandma and niece at the same time. Anything we may receive would obviously go straight to Piper's medical bills. I will post all the updates, pictures and information I get.
Our next appointment is 5th September this coming Wednesday to find out what exactly bacteria we are dealing with.
Thank you so much in advance for any help we may receive. Piper is sending slobber kisses.
If you are unable to help, please share it for us, we would really appreciate it.
Organizer
Canny Mac 
Organizer
Devon Meadows VIC