4 x Cancer Survivor Just needs help
My name is Phyllis Hilenski.  I am in  my 60s and am a four-time cancer survivor. Today I have no cancer in my body, and will get my final port out on Tuesday, October 28th, 2014. I have the approval and blessings of my bone marrow doctor to remove it. I am so blessed and have such a great family and am thrilled that I have reached this milestone.
It all started in 2005 when I was diagnosed with non-Hodgkins Lymphoma of the tonsils, discovered after a tonsillectomy, leading to radiation and chemo. As a result of the treatment, in 2006 I was diagnosed with thyroid cancer, which led to a thyroidectomy and more chemo.
After being diagnosed in 2008 with Adenocarcinoma of the uterus, my next procedure was a hysterectomy with even more chemo.
Shocking me yet again, a diagnosis in 2011 of Myelodysplastic Syndrome, a form of cancer which stops the bone marrow from making enough healthy blood cells which could lead to leukemia, lead to a Bone Marrow Transplant in April of 2012.
I disclose this information because I want you to know I have fought a long and hard battle, and for that reason I am now on GoFundMe. I have not told my immediate family because I just believed, over time, I could manage this, I have told my partner because he often sees me freak out about this ongoing money situation.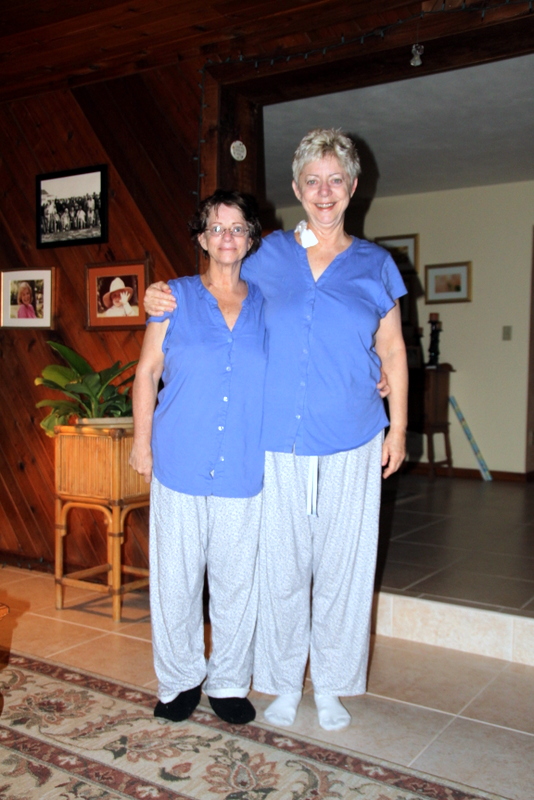 Me and My Bone Marrow Donor - Sis Roda
Over these years I have been accruing medical costs that I have not been able to pay. Mostly the costs come from medical lab work and physician fees. My drugs and medical co-pays have been paid by the Leukemia/Lymphoma Society, who I am so appreciative of and so dearly love.
I am asking for $20,000 to help cover my over a decade's worth of medical bills I have put on my credit card, including me now getting my last port out. Just to let you know, the cost of my insurance paid bill for the BMT was over $500,000 dollars.
I am now 2.5 years out and just got my 2nd round of Immunization shots, and will be getting my last shots in 1 year. Although I am cancer free, I am still going through the post-treatment Graft versus Host (GvH) disease. This is both very good and very difficult at the same time. It means the BMT is working and I am developing a whole new bone marrow system that is without cancer along with a healthy immune system.
The down side is the very difficult body spasm and cramping that are very painful and make it very difficult to work in a day to day job. I have not been able to start a new career but have started an online "Etsy" page of
www.Upthinkart.com
 That is another way that you could also fund me. I am in the process of starting a new life that is uplifting and creative.
Coming on to GoFundMe has been an extremely hard decision for me but the facts are simple...I am not able to do this by myself. The stress of living under the weight of these bills takes its toll on me. That is what has led me to reach out to the world.
I know the holidays are coming and I want you to please make sure your family is taken care of. But if you could please  forward this to any family, friends, or organizations that could help me get this under control, I would be so THANKFUL !
Bless you all for whatever you can do.

Organizer