PHS Theatre to perform nationally
Pittsburg High School Theatre Department in Pittsburg, Kansas, has been invited to perform at the most prestigious venue for high school theatre: At the International Thespian Festival at the University of Nebraska at Lincoln, June 25-30, 2018!
We are one of only 11 schools in the nation to qualify
, and this is a first for our school!
We were chosen based on the quality of our fall musical, "Urinetown," a parody of a show that opened on Broadway in 2001 and was Tony award-winning. We're proud to say our performance of "Urinetown" was award-winning, too: After performing it for our school in November 2017, we learned we'd qualified to take it to our State Thespian Festival and perform it for nearly 2,000 students and theatre teachers from across Kansas. What an honor! It was at State that we learned we had qualified for Internationals.
In addition, three our our students qualified for individual events at Internationals in musical theatre and sound design!
We were elated. We hugged. We cried. Some of us fell down. And then we realized: We had to raise $45,000 by June.
We're raising that money with the help of the Friends of PHS Performing Arts, a support group that provides meals on show days, scholarships to those who need assistance getting to regional and state events, and helps in many other ways so that money is never an obstacle for any student who wants to participate in the arts. We pride ourselves on being inclusive to all, and our diverse group is proof of that.
At PHS, theatre is not just a class
. It's not just an extracurricular activity. It's a
family
. A place where we can express ourselves. A place we gain
confidence
. For a few, it's
THE reason to show up to school each day
.
We've learned life skills
like responsibility, discipline and dedication, teamwork and leadership.
We've learned technical skills
, like how to build sets, design lighting and sound, and apply specialized stage makeup. And our program is growing and growing.
Same with our band program — and having a live band for "Urinetown" not only enhanced the quality of our show, it gave students a unique opportunity to perform their instruments at a professional level for large audiences.
We are challenged, though.
Our district is in the poorest county in Kansas.
We have a high poverty level, with more than 60 percent of our students on free and reduced lunch plans. Every year, we conduct fundraisers, from pancake feeds to selling concessions during intermission. That funding helps us get to State Thespian Festival and pay for extras outside of what our Director receives from the school district.
In addition to a rigourous rehearsal schedule, as well as being involved in many other school activities and sports and maintaining high academic standards, 
we try to give back to our community
in numerous ways: We sing Christmas carols at elementary schools. We fan out across town the week of Halloween to collect food for Wesley House as part of Trick or Treat so Kids Can Eat. We act as counselors to younger actors at a summer theatre workshop for kids. We also produce a free "Breakfast With Santa" show each Christmas for families and children. And on a rare free Friday or Saturday night, you'll find us at the roller skating rink, or standing around a piano singing show tunes, or roasting s'mores — we're good kids and we stay out of trouble.
So back to that $45,000.
Our cast, crew, and band totals 50, and the cost to attend the weeklong International Thespian Festival is $800 per student. 
We have planned several local fundraisers such as silent auctions, ice cream socials, and so on. For the rest, we're turning to the public here, on Go Fund Me, in hopes that if enough people give what they can afford — whether it's $20 or $2,000 — those dollars will quickly add up and help us get to Lincoln.
We are thankful to you for reading our story. We would be grateful to have your financial support.
Follow us on Facebook at PittsburgHighSchoolPerformingArts and on Twitter and Instagram at @PHSPerforms.
www.pittsburghighschooltheatre.org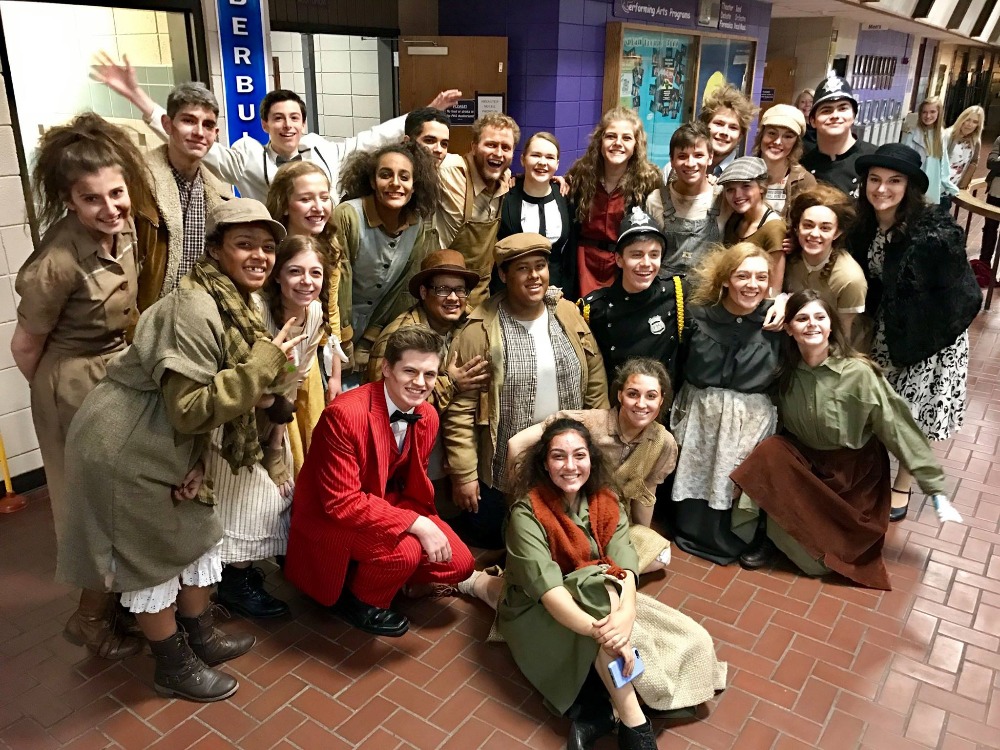 Organizer and beneficiary