Help Trump Get a Purple Heart
NEW UPDATE 10 AUGUST: Donald Trump's Metaphorical Swear Jar  (aka "Phase II") is live but in a preliminary phase. Ongoing satirical/charitable efforts (in the spirit of this campaign) will be concentrated there...please see "Updates" section just above this paragraph for information/explanation. May the Basic Human Decency be with us. #TrumpSwearJar

IMPORTANT: all money raised goes directly to vetted organizations working to help Syrian refugees, and NOT to Trump or any political figure. Don't worry...it's satire for a good cause. Please read past the 2nd paragraph (well, 3rd paragraph counting this one. Sorry, math AND reading skills required at this point...which could actually help screen out and disorient the negative/ignorant trolls). 

On 2 August 2016, a veteran handed Donald Trump a Purple Heart medal at one of his rallies in Virginia. Making light of a military decoration awarded to combat-wounded service members just days after attacking a fallen soldier's family, Trump remarked "I've always wanted to get the Purple Heart. This was much easier."

As with seemingly everything else in his life, Mr. Trump got one handed to him instead of earning it. That being said, as a Purple Heart recipient [proof ] who earned one the old-fashioned way by returning from Afghanistan one leg lighter, I fully endorse his desire to earn one and would happily oblige his interest in doing so, by being one of the first to chip in to fly him to the conflict zone of his choosing. After all, you're never too old to follow your dreams.

…ok, let's be serious. Super serious. We're not going to be able to help Donald realize his conveniently retroactive military fantasies, and based on precedent he could likely get a series of deferments to avoid going even if we tried. So instead, we're going to convert his toxic bigotry, ignorance, and callousness into something positive. As Michelle Obama said/as Melania Trump might say at some point in the future: "when they go low, we go high."

What better way to do that than to redirect money to a good cause that Donald Trump would vehemently oppose: aiding Syrian refugees. All money actually raised will be distributed to vetted groups working directly with Syrian refugees as well as refugees of similar conflict zones - the decent fellow humans who were unfortunate enough to be in one of these regions when everything around them collapsed, and whom Trump has broadly categorized as likely terrorists unworthy of resettlement.

Due to the amount raised so far, the funds will be split between three organizations with different specialties:
-1/3 of it will go to the International Rescue Committee, which is one of the nine voluntary agencies (VOLAGs) that work directly with the admitting/screening U.S. government agencies to help refugees "move in" and establish their new lives, while at the same time helping them become self-sufficient and well-integrated members of their community.
-1/3 of it will go to the Syrian American Medical Society, which is comprised of medical professionals of Syrian descent offering a wide range of medical services to Syrians in need, both inside and outside of Syria. In addition to providing medical care themselves, they also help to "teach a man to fish" by providing instruction to Syrian medical professionals.
-1/3 of it will go to Refugees Welcome International, essentially an "AirBnB for refugees" that engages our European and Canadian friends whose governments allow private refugee sponsorship (something the U.S. does not yet do). Because so much of the spirit of this fundraiser is centered around a unified global outlook (we're all fellow homo sapiens, sitting on a rock hurtling through space together), I figured we could help our European and Canadian allies demonstrate the efficacy of private sponsorship.

Why these three groups? I wanted at least two of the organizations to be smaller (yet established) groups that need the money more than the big VOLAGs, while at the same time giving at least some to a leading secular VOLAG with a proven record. Furthermore, I could not find anything substantially negative on any of them, save for the occasional xenophobic lowest-common-denominator all-caps rantings of Trump supporter types on obscure blogs/social media.

Admin note: GoFundMe holds fundraisers legally accountable for using money raised on their site "in the exact manner you state within your campaign." I have contacted all three organizations via email (and Facebook) to figure out how to transfer the money directly to them when this fundraiser concludes. Proof of transfer and full receipt of funds will be provided (both on this page and in an email to donors) for purposes of transparency.

UPDATE (5 August around 5:30pm): #PurpleTrumpsOrange is now the official hashtag for this fundraiser (credit to Ollie Mastrangelo).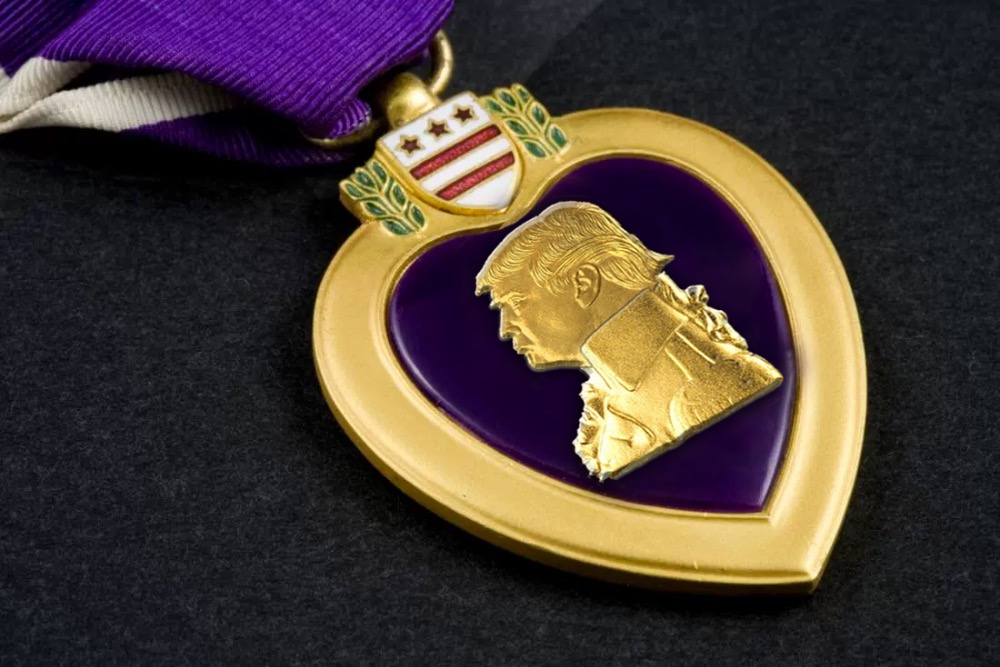 Credit for the design of the "Purple Trump Fantastic Medal for Huge Classy Terrific-ness and Definitely Not for Total Lightweights, Captured POW Losers, or Unfair Meanie-heads" goes to Tyler Kerr.

For periodic updates over the past several days, please see the "Updates" section (just below the photograph of Darth Trump himself, if you can bear to look at it for more than a few seconds…kind of like looking at the sun, except that he doesn't provide any light energy for life on Earth or drive photosynthesis or anything nearly as useful)

"Travel is fatal to prejudice, bigotry, and narrow-mindedness, and many of our people need it sorely on these accounts." -Mark Twain

[Also yes, the orange theme on this page is very much intentional.]

Organizer
Cameron Kerr
Organizer
Alexandria, VA