Water For Chocolate Fire Relief
***UPDATE 3   3/25/2015 11:30 P.M.***


We just broke $10,000. I continue to be at a loss for words here. What started as a simple gesture of support has turned into a truly unbelievable and incomprehensible show of compassion and love from this awesome community. This is the type of thing you always read about in far off communities that bring a smile to your face and restore your faith in humanity for 10 minutes or so then you go about your day. But to see it happen first hand with such velocity and power is something that is really leaving me in awe. Everyone in this community are rock stars. Whether you donated, helped spread the word, went and checked on Sean/Water for Chocolate, worked on donating material items, sent thoughts and prayers his way etc etc. Everyone should feel extremely lucky to a part of such an amazing group of people. Thank you all... Seriously... Thank you to every single one of you.
P.S.
Sean has been connected to the GoFundMe so he will be able to withdraw the money on his own at his convenience.
Also... Don't forget about a couple events coming up to also support the efforts.
Hot Tomatoes II will be hosting an event on April 2
where Sean will be guest cooking and all proceeds will go towards W4C. Also,
Yelp and Bad Decisions are teaming up to help support as well. Be at Bad Decisions on April 9.
Here is more info
http://goo.gl/w3dJOL


 

***UPDATE 2***


Again... Wow to everyone involved with this. Just unbelievable to see such an amazing community initiative take life like this.
Thank you to the various media outlets that got the word out:
Baltimore Business Journal
Baltimore Fishbowl
Thank you to the recent donation of $500 from OrderUp. 
And thank you to everyone who made a contribution to help Sean out. I always knew this community of ours was special but this just takes the cake. Thank you to the facebook groups, Canton Neighbors, Fells Point Neighbors and Patterson Park Neighbors for really getting this whole thing started. If you live in the area and aren't a part of any of these groups, join them!
It's been said over and over but this just goes to show how much of a landmark Water For Chocolate is in this community and how much of an amazing person Chef Sean is.
I have been in contact with Sean and will be giving him access to the fund for him to be able to withdraw the funds directly.

***UPDATE***
First of all... WOW... The amount of support from all of you is simply incredible.
Second... Getting an update from a friend of Seans, he said that majority of the damage was done to the upstairs apartment. The restaurant is actually in fairly OK shape. Sean is currently being housed by friends on Eastern Ave. and he is aware of this GoFundMe and is grateful.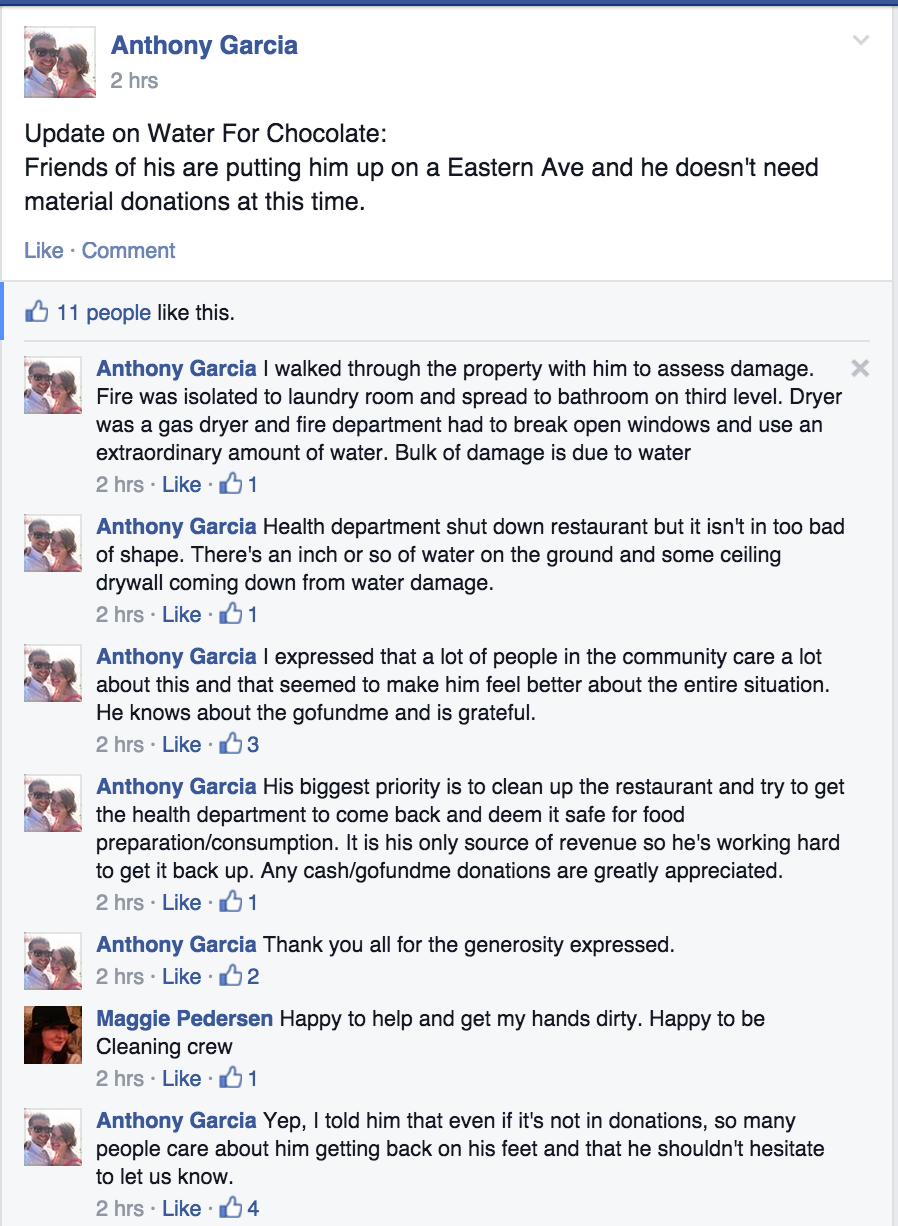 Again thank you for all your support.
*******
Hey all... If you haven't heard yet... Water for Chocolate had a pretty bad fire this morning.
Chef Sean Guy is safe but he lost his dog and the restaurant is reportedly badly damaged. It also affected his apartment above where he and his mother lived.
You all know how much of a gem both Water for Chocolate and Chef Sean Guy is to our community. Let's help a brother out anyway we can.
I set this funding page goal to $5000 but I have absolutely no idea how much is needed. Hearing the reports, this fire was pretty damaging. Obiviously any amount helps... Thank you all.
****Background on myself****
I used to live a block away from Water For Chocolate on Ann St. My friends and I would frequent there all the time and it quickly became one of our favorites. I got to know Sean just by interacting with him at the restaurant... great guy. I now live on Fleet Street near the SW corner of the park and still go there often. It was just my first thought to do when I heard the news this morning. I will either paypal Chef Sean the money or bring it to him directly when this is all said and done, whichever way is easiest.
Thank you all for the amazing support.
Organizer and beneficiary