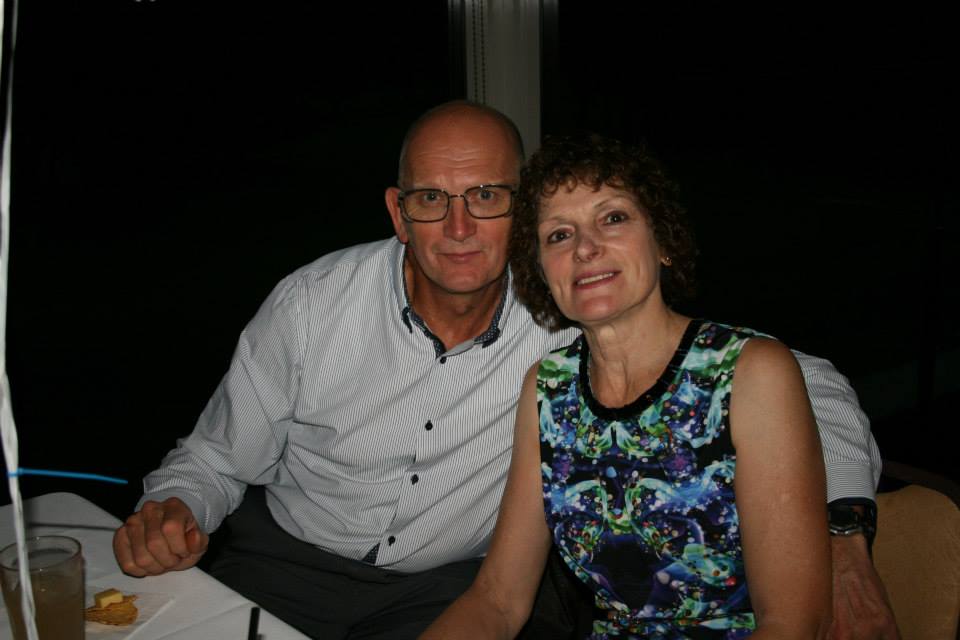 Hello Friends,
Let me introduce you to my parents Peter and Margaret Williams, Who have been Married for over 37 years. They have 2 adult children myself ( Natalie) and my brother Reuben, they also have 3 grandchildren and 2 grand babies on the way. We have a close and loving family and mum and dad have always been excellent role models. They have taught us how important it is to be there for and help others when they are in need. Mum and Dad have been dedicated members and fundraisers for clubs, schools, organisitions and individuals in need of help and have always put others first, leaving themselves last, they are a real inspiration.
Now its their turn for your help.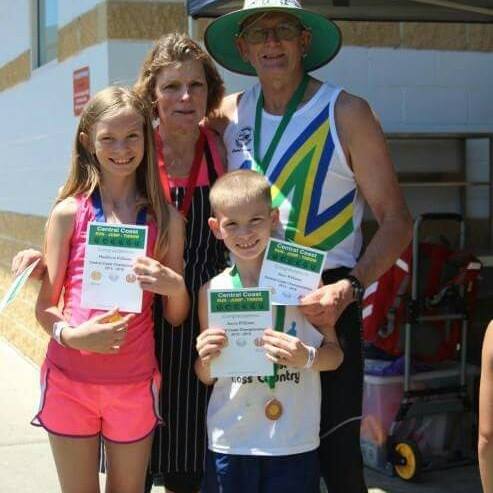 Dad and mum with their Grandchildren Maddison and Jaxon.
Both Mum and Dad were active competing masters athletes looking forward to another summer season of competitions.
But on the 30th of December 2015, Dad suffered a massive stroke leaving him with a permanent brain injury and parallisis of his left side. This has changed their lives forever.
Dad is able to speak, still has his sense of humour and his memories. But he doesnt have mobility, he can sit but not stand or walk.
Dad was in gosford hospital for a week until he was transfered to the rehabilitaion unit at woywoy hospital. He was on thick liquids and mushy foods as he had problems swallowing. But was cleared to drink thin fluids and eat normal soft foods and cake just intime for his 60th birthday on the 30th of january this year, which we celebrated in the rehabilition unit.
After 4 weeks in the rehabilitation unit, the decision has been that dad's condition will not improve greatly and reccomendations were made for dad's future, to be spent in an aged care facility ( nursing home).
This is not an option for Dad or our family, we wish to bring him home where he belongs and derserves to be.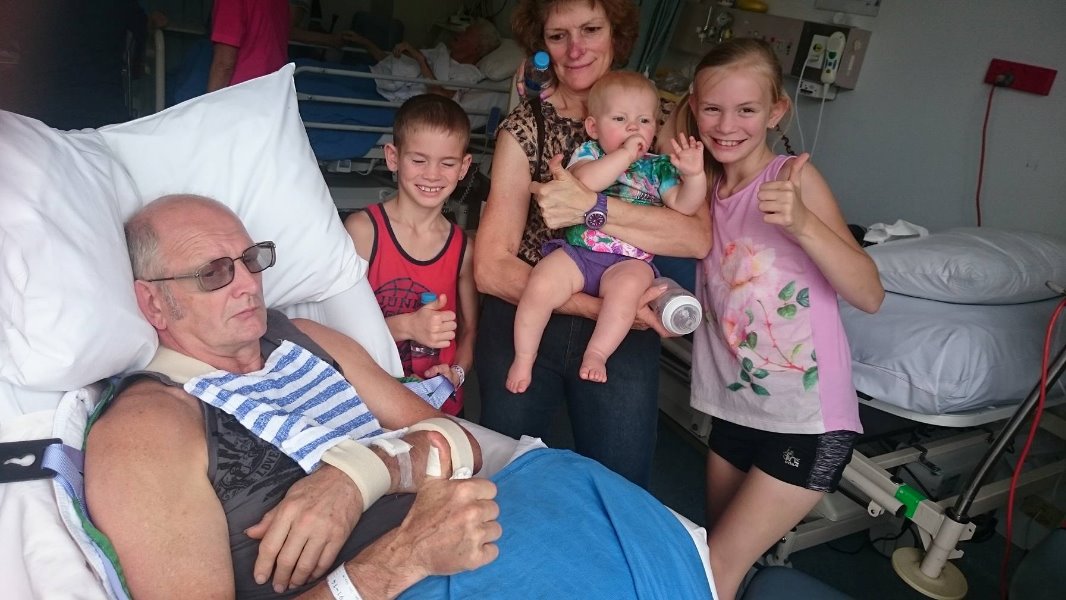 Dad , Mum and there 3 Grandchildren
To acheive this, the family home will require wheel chair friendly renovations, like a wheelchair accessable bathroom and ramp to enter and exit the family home.
Special equipment will need to be hired before permanent aquisition is possible. The equipment will include a wheelchair, wheelchair commode, electric bed (hospital style), a sling hoist, special pressure cushion and numerous other devices to aid Dad and our family to care for and help mobilise him.
Dad will also need to be placed in respite while the renovations are being done to the family home. There is also a chance that he will be accepted into the transitional care unit for 12 weeks while the renovations are being done, this also comes at a cost per day and the cost of his medications aswell.
Dads ongoing medical treatment once comfortably back at home will include special care services, physiotherapy, occupational therapy, massage and life long medication expenses.
Bringing dad home will be finacially and emotionally challenging, but home is where dad belongs.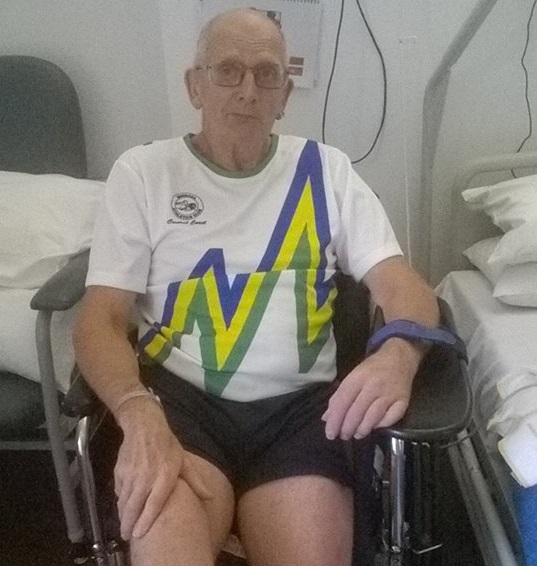 Dad at the Rehabilitation unit at Woy woy
Dad has always been an inspiration, so has mum for that matter. They have shown great dedication over the years to all the clubs they have been part of or us kids have been part of.
over the past 7 years mum and dad have been on the commitee for Mingara athletics club and Dad for the past 5 years the vice president, while also juggling the role of club captain at gosford distract pistol clb which he held for over 20 years until standing down last year. But remaining a vital part of the club by training new members, range officering or working bees to improve the clubs facilities.
Mum and Dad have always been the first to step up and fundraise for a good cause, they have backboned the Mingara Athletics club attendance at the cancer relay for life at mingara, providing, shelter, food and support for their team and athletes. They are always the first to arrive to set up for an event and the last to leave once its all packed away. Dad and mum are designated first aid officers for mingara athletics club and have provided the club with the use of a first aid kit which purchased and is mainly stocked by mum and dad themselves.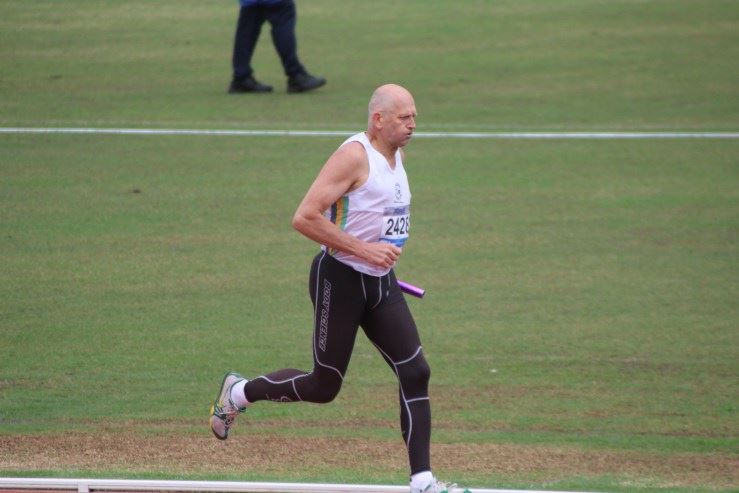 Dad competing in the relays
They have and always will go out of there way to volunteer and help when needed, they have even gone without running there own events on athletics days to officiate and see the event run smoothly. They will do whatever they can no matter what.
So please help us bring this inspirational and dedicated family man and good sport home to where he belongs.
Help prove to mum and dad what goes around really does come around.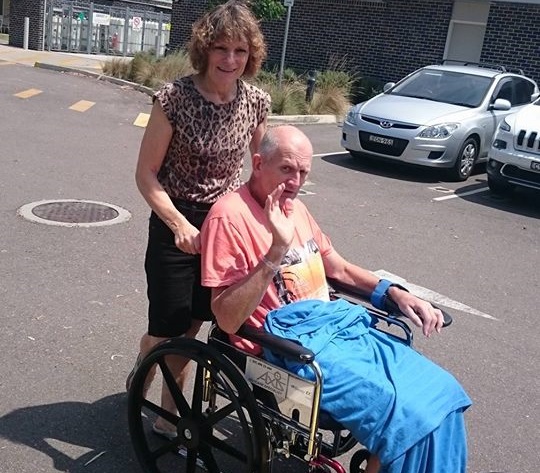 Thank you in advance for taking the time to help dad with his last hurdle home. we will keep you updated on his progress.
Big thank you's from the Williams family, too you :)