Tropical Permaculture Guidebook
Welcome to the Tropical Permaculture GuidebookGoFundMe campaign!Complete:
Stage One $10 000  (English edition)
Current:
Stage Two $10 000 (Tetum Language)
**Permatil Global, the organisation behind the Tropical Permaculture Guidebook, now has DGR Tax Deductible status in Australia. All donations made in Australia over $2 can be tax deducted, please let us know when you make a donation and we will email you a receipt.**
"Thank-you! What incredible support! The
english
edition is complete! Please visit our website!We have reached our $10 000
target
, we are totally amazed and inspired to have made it. 110,672 chapter downloads in 174 countries!  Thanks to the help from this campaign, we've been able to finalise the English edition.We are now raising funds to develop a Tetum language version, to be used by its 'home' country, Timor-Leste. It is a big effort, not just for translating but to re-design and reformat the guidebook into each language. We will be creating partnerships to enable this to happen and ensure that
high quality
versions are produced."
 Lachlan, co-author.
December 2021.

A gift of 'permaculture knowledge' from Timor-Leste
The revised and expanded international edition is a comprehensive reference guide to tropical permaculture. This unique book provides practical information for anyone, regardless of experience.
The guidebook is being created to expand and accelerate the understanding and application of permaculture. Designed as a training, programme and project base as well as a practical reference guide which can be used by a wide range of organisations, it will improve the results of all permaculture/non-permaculture projects and is a complete tool for farmers and communities.
This edition has grown from the Permaculture Guidebook from Timor-Leste produced in 2008. The core ethos and vision of the original book – providing practical knowledge to anyone who reads it, especially in poor, low literacy and disadvantaged communities – is retained and enhanced in this new edition.
The 1,100+ page guidebook contains over 2000 superb illustrations and clear, comprehensive text ensuring widespread practical application of the strategies and techniques.
It is divided into 3 themed volumes, with each volume containing six chapters, an introduction, glossary and reference section.
The Tropical Permaculture Guidebook International Edition is developed by Timor-Leste NGO Permatil (Permaculture Timor-Leste), xpand Foundation (Australian social enterprise working predominantly in Timor-Leste) and Disruptive Media (Design and strategic communications for the NFP/NGO sector).
It is an open-source resource that will improve health and well-being, education and training, food security and sovereignty across the tropical world, and is especially for developing countries. This guidebook takes the broad aim of creating sustainability and provides the how-to links for communities and farmers to actually achieve it. 
Pay what you can. Fund the future.
We operate using the third permaculture ethic of Fair Share and ask you to 'pay what you can' in exchange for what you download, with all money further developing this project. By investing in our guidebook, you're helping to provide access for all, fund translations, help people to help themselves and regenerate our earth
- Provide access for all
This guidebook is available at no cost for people and organisations that cannot afford to pay. We offer this service to accelerate positive change and because knowledge should be accessible for everyone, no matter their circumstance.
- Fund translations
We aim to share this guidebook with people in a language they can understand. Translations to multiple national and regional tropical languages has already commenced and will be part-funded by public investment.
- Help people to help themselves
With this guidebook and the projects we work with, farmers, youth and community members gain the education and skills to improve their resilience to challenges including climate change, to create more sustainable livelihoods and their increase their capacity to live a good quality life.
- Regenerate our earth
We must protect and repair our fragile environment and agricultural lands, and create societies that have a positive environmental impact. Permaculture simultaneously focuses on environmentally sustainable lifestyles, improving agricultural conditions and soil year-on-year and regenerating the surrounding natural ecosystems.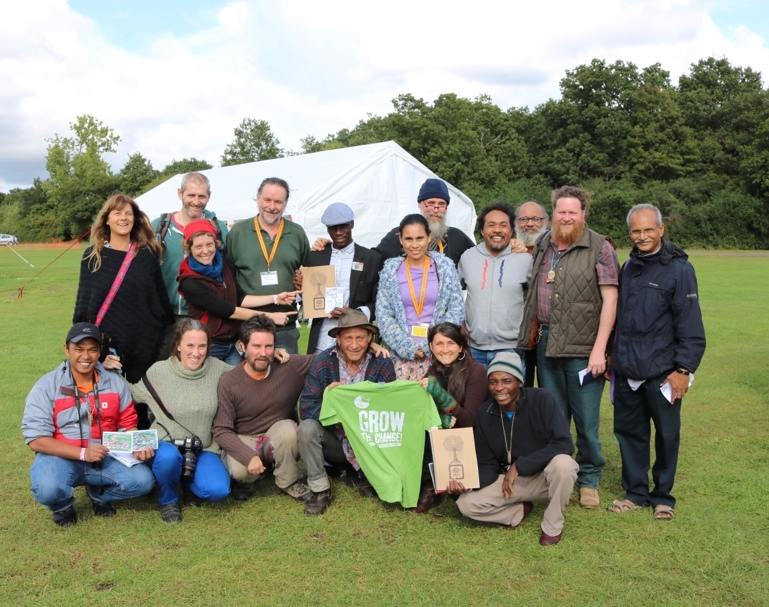 Languages
"Access to information in a language one understands is a human right. Even with the power and potential of advancing technology, the world's poorest, least educated, most vulnerable populations are being left behind because of the language they speak."   - 
Translators without borders                                                      
What we are doing
The Tropical Permaculture Guidebook International Edition has been updated and written in English. This provides broad access to the guidebook, however, from the beginning of this project we have recognised the English edition as only the starting point and a good base for translating the text into multiple languages.
For most tropical countries English isn't the national or working language. This is especially true once we leave the cities. Spanish, Portuguese and French are more prominent regional languages in the tropical countries, and there are many national and even sub-national languages as well.
Our goal to translate and re-create the guidebook in many languages has already commenced.
We are currently raising funds and starting work to develop a Tetum language version, for the guidebook's 'home' country, Timor-Leste.
Each new language edition is a huge effort. Translating the guidebook is just the first step, followed by comprehensive editing, a complete reformat of the guidebook, editing and checking the new formats and finally to package the new edition. Then we need to create new web pages with translated text and upload onto our website.
To speed up the process we have created translation and formatting templates. This also means that each new language retains the same look and feel as the English version. We are determined to ensure that we produce high-quality versions that are technically and grammatically correct in each language.
We're inviting you to help us, and by doing so, becoming part of the project. With your support, we can achieve our aim: for this important resource to be accessible and available to all.
We are also approaching larger funders such as NGOs, Foundations, and ethical businesses to help sponsor other chapters. 
Small individual contributions are just as important to us as those from large organisations - they helped to get us started with this project and they add up to something big! They also give us heart and encouragement to keep on with our project! Once we reach our target here we will raise the bar higher with the aim of funding another chapter.
Sample page of the guidebook in Tetun: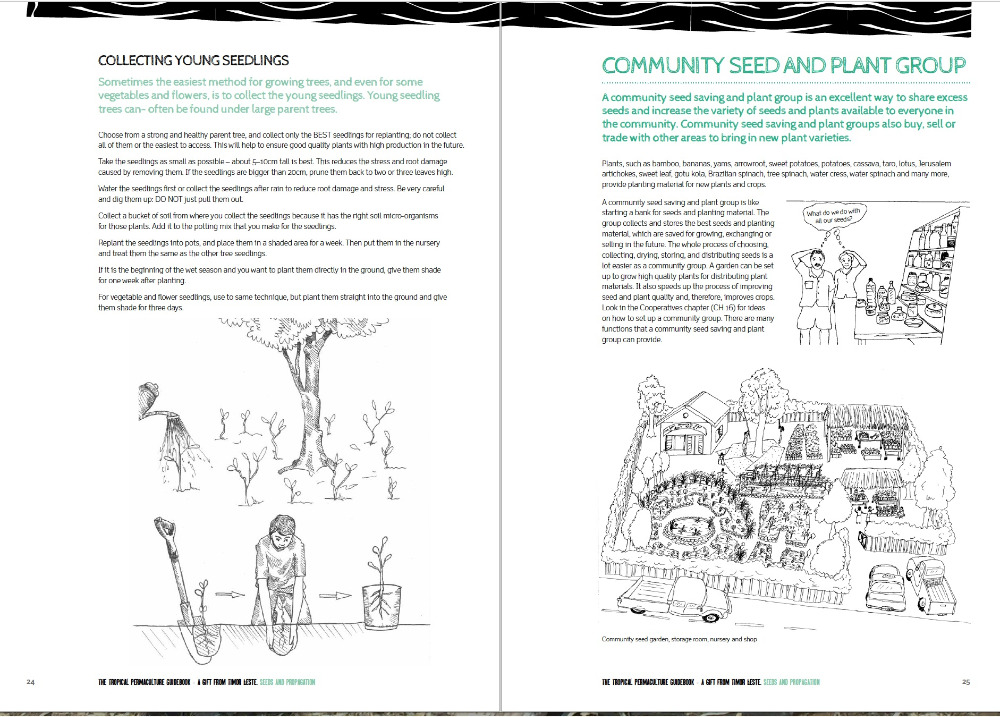 A page spread from Ch 8 Seeds and propagation



Fund the future
You will be part of providing this invaluable resource to people who desperately need it and can't afford to pay for it. 
All money goes towards this project – translating and reformatting new language versions, maintain and update the website and work with NGOs, education institutions, farmers and community groups across the tropical world to put this guidebook to practical use.
From us a HUGE THANK-YOU because you are helping us achieve our goal. We have seen how much difference the original book has already made in Timor Leste and we want to replicate and expand that positive change across all tropical countries.
From the people who use this book
-they will probably never know that you helped them and their families, but they will be able to have more food, cleaner water, be more resilient, more sustainable, have better livelihoods and live in healthier and more stable communities.  You will know that you've contributed to that. 
Thank you for your support, with it you become part of the Tropical Permaculture Guidebook project. We hope the guidebook is as useful for you as it will be for all the communities that you are helping!
Thanks
-  Eugenio (Ego) Lemos and Lachlan McKenzie
    Guidebook authors
                 

Visit our website to access the English edition and for more details about the campaign and what it will achieve. 

Our Facebook  page:  Tropical Permaculture Guidebook for loads of information about the book, the team and about great permaculture ideas and links for the tropics.