About The Grape

Some things just go together. Macaroni and cheese. Peanut butter and jelly. Wine in a can and bad decisions. Live jazz music and The Grape in Ventura.
Anyone who has been to The Grape knows why it needs preserving. Since 2007, Adam Randall and Josh McNutt have worked tirelessly to provide a home away from home for their Southern California community in the form of a boutique winery and bar. In 2011, they shifted gears and began offering a home for jazz musicians, too.
In the seven years since, The Grape has hosted the likes of Colin Bailey (who recorded on the four-times Platinum certified album A Charlie Brown Christmas,) Mike Garson (a pianist who has worked with David Bowie, Nine Inch Nails, and the Smashing Pumpkins,) and Danny Carey (drummer for the Grammy Award-winning progressive rock band Tool.)
(Ojai local Jacob Scesney and David Liebman play together at The Grape.)
The Grape has also hosted David Liebman, a prolific saxophonist known for touring with Miles Davis, and Tom Scott, a Grammy award-winning saxophonist. Then there's Charles Lloyd, an accomplished saxophonist in his own right, but those unfamiliar with jazz culture will recognize his work with the Doors, Canned Heat, and the Beach Boys.
These names, along with many other world class musicians, have graced The Grape's iconic "Wall of Fame," and have helped make it one of the most notable California jazz clubs outside of Los Angeles and San Francisco.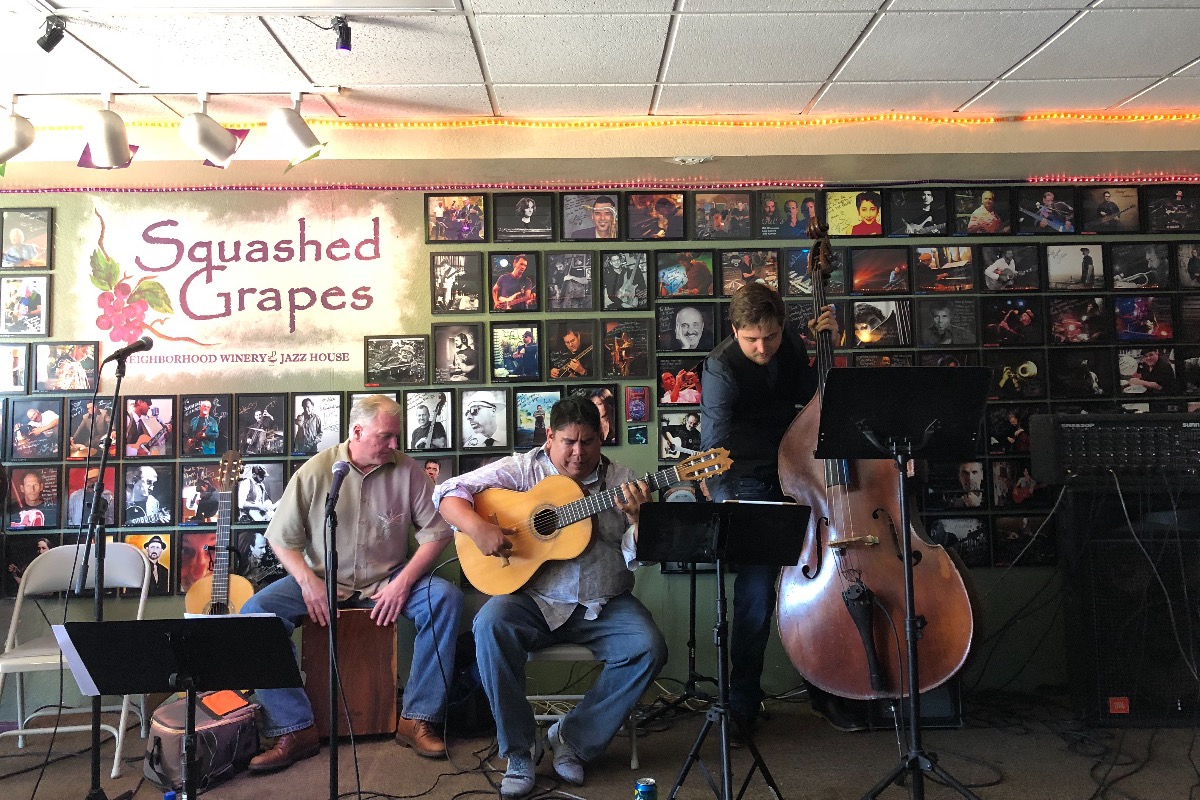 (Tony Ybarra jams out in front of the Wall of Fame.)
Despite the influx of high-quality musicians and the deepening ties with the community, The Grape's wine-centric business model is not financially sustainable in the long term. Simply put, there is not enough money in the (affordably priced) wine business alone to continue attracting world-class musicians or support its current staff with a viable standard of living. In order to keep the doors open while keeping prices affordable for the community, The Grape needed to revamp its business model, which it seeks to do with the introduction of the new liquor license.
However, the introduction of a new license means that legally, The Grape needs to open a jazz club in a location separate from the winery. So in April 2018, Adam and Josh closed the old club with the intention of reopening at new locations -- a winery off of Market Street and a jazz bar still on Main Street -- within a few months.
What will the funds be used for?

The Thomas Fire, which ripped through Ventura at the end of 2017, has thrown the mother of all wrenches into The Grape's reopening schedule.
Understandably, the city's system for issuing building permits has become backed up while victims of the fire try to piece their lives back together. The Grape's permits and build-out plans, deemed a lower priority, have therefore sunk to the bottom of the pile. And it's not just local government that is working to deal with the increased load; private architects and contractors have also been hit with a sudden influx of new clients, bringing an additional layer of challenge to an already difficult transition. 
Adam and Josh's two new locations cannot conduct any business -- and in some cases cannot make any design improvements -- while they wait for contractors to create and then officials to approve paperwork. This has increased their incidental costs well beyond what they could've foreseen or planned for.
(Barrels of wine at the new winery on Market Street.)
In all of this, there's good news. Once the permits are approved, the winery location on Market Street is almost ready to open. That means that you could be able to enjoy the wine, music, and people you love as soon as January 2019.
Once the Main Street jazz club's build plans are approved, then The Grape will be scheduled for a public hearing -- but still four months later. (This is standard protocol for a location that plans to serve liquor.) After that, total build-out on the jazz club can happen.  We already have the necessary investment set aside for a total build-out, but we'll still need to wait until contractors are available to come in and finish the job. 
Adam and Josh just need a little help covering incidentals to make it across the finish line. Your donation makes it possible for them to fully devote themselves and their time to making these community hubs a reality.
From our Grape Family to yours

If you've ever been to The Grape, you know it's more than a bar or a club -- it's a family.
Adam Randall dedicates himself full-time to offering this second home for jazz fans and musicians. He pours an untold number of hours and manual labor into making sure the winery and club are safe, beautiful spaces for the community to congregate.
Josh McNutt has been devoted to The Grape since the very beginning. His passion for good food, good drinks, and good company has created the inclusive, hospitable environment that many Grapers have come to know and love.
Both of them are committed to providing an accessible, affordable place in the neighborhood that preserves and stimulates jazz music. From the bottom of their hearts, they're truly grateful for the community's years of support and all the support yet to come.
Donations

Organizer
#1 fundraising platform

People have raised more money on GoFundMe than anywhere else. Learn more

GoFundMe Guarantee

In the rare case that something isn't right, we will refund your donation. Learn more

Expert advice, 24/7

Contact us with your questions and we'll answer, day or night. Learn more