Latest updates located here and also on the "updates" page on Peanut's journey.
Mahalo everyone from our hearts to yours...
September 28, 2020: Peanut is doing well and coming up soon on the anniversary of his 2 year battle with cancer.
He's currently on 2 types of chemotherapy. One is a liquid (Piroxicam ) that he takes every day and the other is a pill (palladia) that he takes 3x a week. His spirits are up and still uses the doggie door, although the last few weeks he's had difficulty because his eyesight is going :(  Please say a prayer, send healing vibes and thoughts his way. He's a fighter and still manages to make our family smile with his silliness.
Mahalo to the loving staff at VCA O'ahu Veterinary Hospital and the doctors that take care of Peanut, Dr. White and Dr. Lam.
They are truly the best.
Next update will be soon. 
Aloha and please stay safe and well.
Michi
*******************************************
August 8, 2019
Aloha everyone, It's been a while since our last update on our dear Peanut.  Our family has been going through a lot of changes and our fight for Peanut's life continues.
He just completed his 3rd chemotherapy treatment and has 2 more to go. We appreciate anything you can do to help with these rising costs of chemotherapy, x-rays, blood-work and more including the most precious of prayers and well-wishes. 
We humbly accept donations through this website or you mail mail or call in your donation to Peanut's physician and doctors. 
His information is as follows:
Peanut Moore / Michele Moore (Mommy)
Peanut's Oncologist: Dr. Carrie White - [phone redacted]
VCA Family and Oahu Veterinary Specialty Center 
98-1254 Kaahumanu Street
Pearl City, HI 96782
Specialty Center Phone number: [phone redacted]
Secondary phone: [phone redacted]
Business website: www.vcahospitals.com/family
———————————————-
January 6, 2019
Thank you for taking the time to hear my story about loving boy, Peanut. 
My  9 year-old who rescued my life, was diagnosed with Squamous Cell Carcinoma in his mouth.  There is a huge growth in his mouth that has dislocated his jaw and he will need to have a CT scan, surgery, cancer treatment and follow-ups.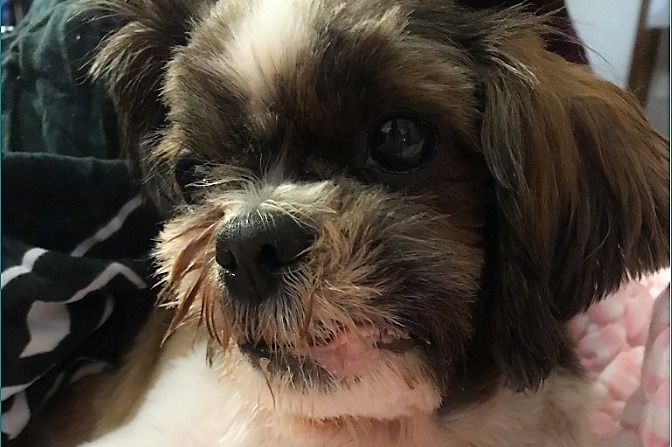 I rescued Peanut and his 3 siblings as they were abandoned by their owner when they moved from Hawaii to the mainland.   They were with me since the day they were born.  I adopted one out to one of my best friends and his siblings are here with me (Tazzy-Boy and Lola) and will be 10 years old in March.
At this time in my life, I was volunteering as a dog rescuer and rehoming abandoned dogs to forever homes. 
After seeing Doctor Miyasaki at VCA Pet Clinic in Pearl City, HI due to his tongue hanging out constantly and loss of appetite, an X-Ray and a procedure of sucking cells from the area is his mouth was performed and the sample was sent to the mainland. With those results along with the X-ray, the diagnosis was cancer.
On December 30, Dr. Miyasaki called and said that Peanut has Squamous Cell Carcinoma and recommended I see their surgeon, Dr. Nathaniel Lam.  I called the VCA Specialty Center and the only appointment available was Feb. 5. 
Seeing my typically joyful and bouncy boy lose about 2 lbs and getting lighter with no energy each day, I decided to put my heart out there on Facebook and asked for assistance from the Facebook ohana if they knew Dr. Lam.  My friend Beatriz responded and connected me immediately with her friend, Dr. Lam who answered within minutes on Facebook messenger and discussed Peanuts condition with me. 
Dr. Lam told me to call his office tomorrow to see about getting Peanut in earlier.  By this time in the few conversations by text throughout the evening, he'd seen Peanut's  x-ray and tests and knows what we're up against.
Dr. Lam did say that Peanut would absolutely need surgery. We don't know anything else until he gets that CT scan.
As far as radiation or chemotherapy, that is unknown right now but is a high probability.    :(   
Currently, Peanut is on pain medicine and being fed by syringe along with some Pedialyte to keep his strength up.
Doing something like this is not in my nature, but my dogs are my children and I feel helpless not being as prepared - this is my call for help.
His CT scan  is $1,700.00 and Surgery  is estimated to be from  $4,727.43 to $5,909.29
 A prayer, healing vibes and love toward my baby Peanut would be so appreciated too.
** I will be updating here next after Peanut's appointment with Dr. Lam.
This is where Peanut Moore will be treated:
VCA Family and Oahu Veterinary Specialty Center
98-1254 Kaahumanu Street, Pearl City, HI, 96782
Website: 
VCA Hospital ~ Pearl City, Hawaii
(Peanut's Vet)   Dr. Miyasaki  -  Phone:  [phone redacted]
(Peanut's Surgeon)   Dr. Lam  -  Phone:  [phone redacted]
Mahalo everyone!
Organizer
Michiko Moore
Organizer
Aiea, HI