Patricia Tagliamonte and Dave Sabatino were very much in love and had many plans for the future, those plans were halted on a frigid November night to be specific November 10, 2012.  Patty and Dave were involved in a horrific motorcycle accident near the extremely dangerous Rainbow curve in Las Vegas, Nevada.  Dave unfortunately lost his life instantly and Patty was thrown off the back of the motorcycle and was near death several times, she had a 1% chance of surviving and spent months in University Medical Center (UMC) in a coma and also with devastating injuries that left her to this day in severe pain, having to indure several surgeries, infections and physical and mental duress.  Patty's injuries have left her disabled and  she is in a financially difficult situtation.  She has many medical bills, co-payment's, medication expenses and now requires help in moving her mobile home to a less expensive mobile home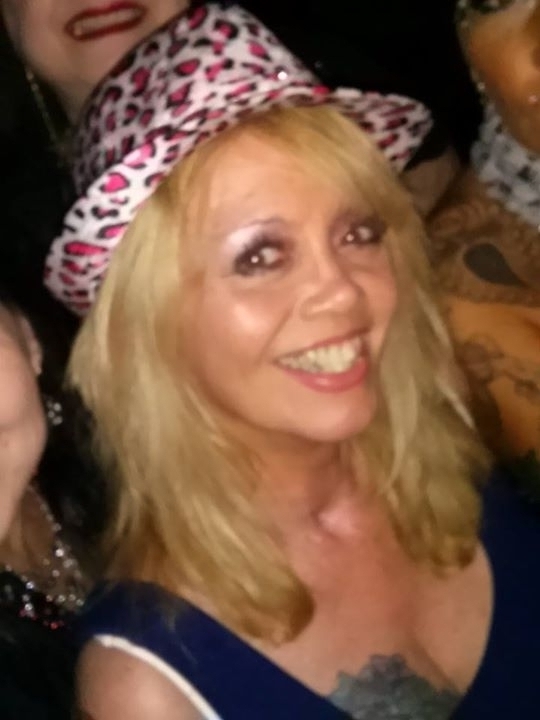 park.   The park she is at now is raising her space rent to a rate that is unrealistic for someone on a fixed income to pay, please help her with whatever you can afford to get her moved to a less expensive park.   She has made calls to several moving companies and they are quoting her prices from $10,000 to $15,000 to move her home.  The move will take place next year after her birthday in February, any amount will be greatly appreciated!  Patty is truly "our" miracle girl, she really is striving to live a normal life again someday!
Jan. 16, 2013 Patty: Nov. 10th 2012 started like any day we got up we made our plans for the weekend, Zito was playing at Vamp'd so we decided that I would drop him off at Vamp'd and then I would stop by Armeda's birthday party for a little while.  He kept scolding me about drinking and not to get too drunk at her party, ha-ha sober ex-drinkers are the worst!  On the way there right in that terrible intersection of Rainbow and the 95, I cut someone off and almost got into an accident, I couldn't see them there was a blindspot because of the way the lanes shift.  I was thinking just great, not another fender bender!  I got to the party there was quite a few people there and lots of food, I decided to have a jello shot which went right to my head!  I was talking to Liz (Ox's ex-wife) when all of a sudden there was alot of noise and commotion, ha-ha it was Nick, Tanya, Dave, Patty and about eight others!  I was thinking "Wow I didn't know you guys knew Armeda and Brian" and of course I was so happy to see you guys!  I immediately hugged you and Dave and everyone else!  Dave starting going on to me about how much he loves Zito and on and on and on and on........ha-ha!  We talked and laughed for quite awhile, again Dave was talking about Zito and other people at the party (that didn't know Zito) were looking around like who is this Zito!  Ha-ha.  When Dave was talking about Zito to me, I said "Zito, he's an asshole"  Dave didn't like that!   You and I started to laugh, then Dave started kissing your face probably about 20 times and telling you "I love you" you started to roll your eyes and you and I started to laugh.  I hugged you both and said that I would see you at Vamp'd.   I left the party and went to Vamp'd, I was waiting for you guys to get there and was really excited to hang out with you!  Jacque and I were setting up the t-shirts up front when Danny Robert gave us the news.  I was frozen and in shock I could not believe it, we stopped everything.  I went to find Diane to tell her and she kept saying no, I'm calling Patty right now!  She kept calling your cell phone to see if you would answer.  Zito77 kept playing and they did not know what happened but could sense the gloom in the air.  Zito said he could tell by my face that something was wrong, he knew something was up with me and thought I was fighting with a girl in the crowd.  Once they finished we all when into the green room to tell them, everyone was in complete shock and disbelief.  We immediately piled into Danny's Caddy and drove to UMC to be there for our beautiful "Patty".   Danny and Nick both said beautiful prayers in the chapel while you were fighting for your life in trauma.   I went the next day to see you, it didn't look like you but when I saw your cute lil' nose I knew it was you.  I tried to visit you as much as I could and each time that I went you got better and better, I never gave up hope and continued to prayer for you and I had my family and friends praying for you also.  When I got back from Cleveland I saw you the day before we almost lost you and you kept looking at me with your eyes as if to say please tell me where Dave is.  The next time I saw you in medical intensive care I remember telling you about crazy me trying to play Stoney's foot pedal cake at their wedding, you started to laugh!   The best day of all was a week ago Monday when you woke up and Tanya called me to tell you that you were AWAKE, I was so happy I cried tears of joy!  It was so great to see you on Saturday and I am so glad that Zito77 was able to sing to you and give you a private show!   You have been a staple at Vamp'd (Feelgoods) since day one and I remember always seeing you there before Diane introduced us, we immediately became good friends after that day!  I want you to know that Zito wrote a song for Dave called "Burning Bright"  I like to call the song "Sapphire Son" (which is one of the birthstones for December).   I love you Patty and I am here for you whenever you need me!!  It is amazing that everyone has pulled together during this tragedy and I have made many new friends because of you!   You are a tough cookie and our living proof that miracles do happen!!! Patricia Ann Tagliamonte I found the letter I wrote to you when you were in UMC.
Organizer and beneficiary
Kim Pizzoferrato
Organizer
Las Vegas, NV
Patricia Tagliamonte
Beneficiary