Patrick Cooney Needs Help!
As some of you know, the week of Thanksgiving Patrick Cooney collapsed in seizures while playing video games online. Thanks to the heroic efforts of a friend in Georgia who heard him over their headset, they were able to track down his location and send the police to check on him. He survived the night, but was ultimately diagnosed with a stage 4 brain tumor, and pneumonia.
Patrick after his first surgery
Patrick had his first brain surgery that week to remove as much of the tumor as possible. He was told that in two weeks his brain would be ready to start chemo and radiation. So, the week before Christmas he and our mother, Carmen Cooney went down to Houston to meet with experts at MD Anderson and start working out a treatment plan. At the hospital, he once again began having seizures. It was discovered that he had developed a massive brain infection, it had gone sepsis, and that his pneumonia had gotten significantly worse. He had his second emergency brain surgery the Friday before Christmas.
Patrick recovering at Harris
and charming the staff
This surgery was a lot harder on him. The infection and second surgery, so soon, did alot of damage. Part of his skull had to be removed and replaced with titanium mesh. Recovery from this surgery has been long and difficult. Speech and motor control did not return to him as quickly as after the first surgery. He and our mother were stuck in Houston for nearly a month, away from friends and family, and any of the love and support they needed. 
Patrick is home now but he is still on iv antibiotics, and will be for the next month. He's still recovering, and working with speech therapist, but thankfully home and family seems to be making the recovery go more smoothly. But this is only the beginning of his journey. When he is ready, he will still start cancer treatment in Houston at MD Anderson, which is not fully covered by his insurance. That will be another 6 weeks of boarding costs on top of treatment costs. And Hurricane Harvey has made MD Anderson  boarding scarce.
Patrick after his second surgery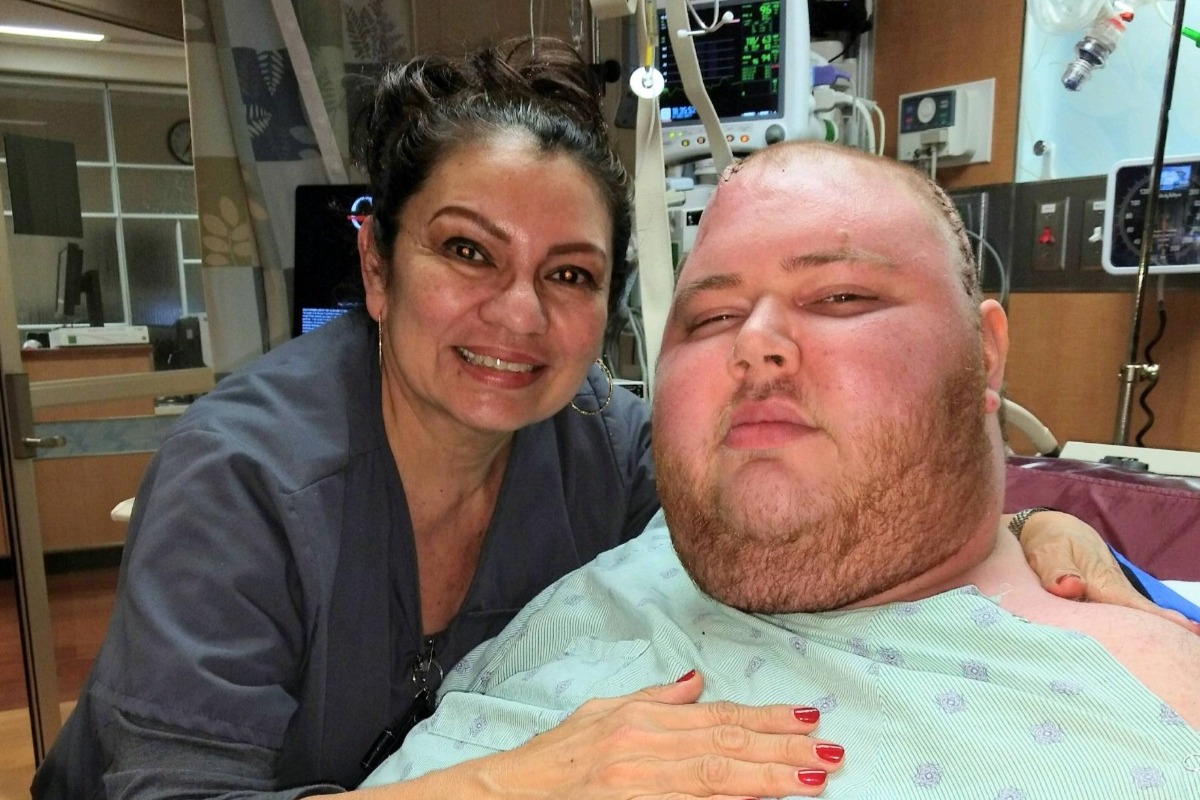 Keeping warm with the prayer blanket a good family friend gave him
walking for the first time after his second surgery
Needless to say all of this has been very expensive and will continue to be. As is, he's already incurred thousands of dollars in deductibles, not to mention what it cost our mother to stay in a motel for a month in Houston. $5,000 barely scratches the surface but it's a goal we hope we can meet.
Patrick needs your help.  As his family and caretakers, so do our parents. As you all know the price of serious illness isn't just incurred mentally and spiritually, but it puts serious financial strain on everyone. Everything from refitting the bathroom to make it safe, to hospital bills, and iv unit rental. If you can help them financially, please do. If you can't, I get it, times are rough for a lot of us. But repost this, so maybe more people can see it.

Organizer and beneficiary