ParaSportsLive: Adaptive Sports TV
ParaSportsLive: Creating a World-Wide Network for Adaptive Sports
ParaSportsLive will deliver the adaptive sports experience to you.  Adaptive sports athletes train hard and display amazing feats of strength, discipline and commitment to excellence.  We will give you the opportunity to see these athletes for yourself.
Why support ParaSportsLive?
Imagine being able to watch your friends and loved ones compete, from home, or anywhere on your mobile device.  Imagine that you are an athlete and the people who support you at home can now see you compete…as it happens, no matter where you are.
The demand for both adaptive sports and online video streaming is on the rise.  Family members, friends, and general sports fans want to see these competitions. 
·         According to Disabled Athletes USA, there are over 60,000 adaptive sports athletes in the United States.  Imagine how many more there are around the world!
·         For the 2012 London Paralympics, nearly 2 million people visited www.paralympic.org - which broadcast over 780 hours of live action.
·         Website visitors increased nearly 2X during Rio 2016.
·         The Rio 2016 Games were the most broadcast in the history of the Paralympics, shown in a record 154 countries.
·         81% of internet and mobile audiences watched more live video in 2016 than in 2015.
·         Live video is outpacing the growth of other types of online video, with a 113% increase in ad growth yearly.
With the 2020 Tokyo Paralympics on the horizon, these upward trends will continue.
The Starting Lineup for ParaSportsLive
Tony Jackson is a 2007 graduate of the Walter Cronkite School of Journalism, where he worked at the university radio station, broadcasting college athletics.  He has been a power soccer athlete since 2009.  Power Soccer is the first competitive team sport designed and developed specifically for power wheelchair users. (
www.powersoccerusa.org
)
In 2013, Tony was asked to provide play-by-play commentary at the US Power Soccer Association national tournament.  Since then, he has traveled globally to broadcast power soccer.  Now, with the launch of his new company, ParaSportsLive, Tony is taking his passion for sports, coupled with his experience and knowledge, to deliver broadcasts of other adaptive sports to a global audience.
Please Join the ParaSportsLive Supporters Club
·         Getting ParaSportsLive up and running for the first year will cost $30,000.  Half of these costs are for the equipment to internet-broadcast live streams of high-quality, professional productions from the sites of these competitions.  To make the magic happen, ParaSportsLive needs to acquire:
§  3 Cameras and tripods
·         Canon XA30 Professional Camcorder
·         Magnus VT-4000 Tripod System with Fluid Head
§  1 Teradek Bond (for sending the webcast online, either indoors or outdoors)
§  2 Headsets
·         Sennheiser HMD 280-XQ Dual-Ear Headset
§  1 Livestream Premium account
§  1 Livestream CORE account
§  1 Audio mixer
·         Soundcraft EPM 6 - 6 Mono + 2 Stereo Audio Console
§  Microphone(s)
·         1 AKG WMS40 Mini Vocal Set Wireless Microphone System
·         2 Azden SGM-1X Professional Shotgun Microphone
§  Video switcher
·         Blackmagic Design ATEM Television Studio HD
§  SDI to HDMI converter
·         KanexPro 3G/HD/SD-SDI to HDMI Converter
§  Laptop computer for production software
§  Cellular data plans
·         Wireless modems
§  Cables, cases, other supplies...
·         The remaining funds will help to support administrative and first year operating costs.  We need to pay the production crew, and cover related expenses for people and services to launch the business.
Join the ParaSportsLive Supporters Club!
As a member, you will receive the following rewards:
o   $10 – 6" x 2" ParaSportsLive Sticker
o   $25 – 11" x 17 " ParaSportsLive Poster
o   $50 – Exclusive "Supporters Club" Drawstring Gym Bag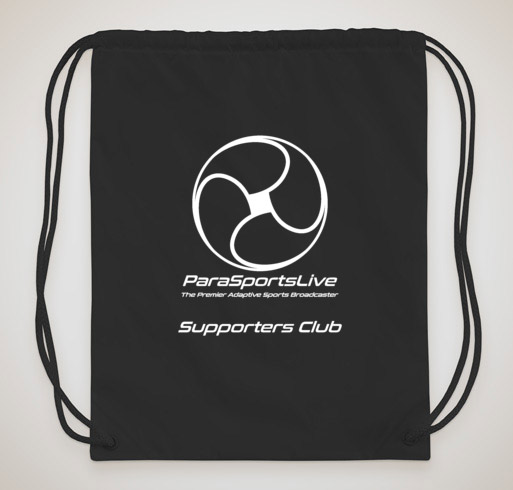 o   $100 – Exclusive "Supporters Club" Aluminum Water Bottle
o   $250 – Live On-Air "Thank You"
o   $500 – Personalized Video Thank You
o   Supporters Club members will receive their rewards, as well as all rewards for the lower contribution levels
What's the Game Plan?
How will ParaSportsLive sustain its operations after this crowdfunding campaign?  ParaSportsLive will generate revenue through advertising and broadcasting fees.  In our first year, we are working to bring you at least four events from around the country.  As we grow, we will add new events each year.  Our business plan is to become profitable in our first year of operation.
What's the Downside Risk?
What happens if we don't raise enough money in this Crowdfunding campaign?  The equipment listed above will allow ParaSportsLive to deliver a high-quality production from the start.  If we fall short of the fundraising goal, we will start broadcasting with what we can afford, with minimal or borrowed equipment. 
Change the Game
The Paralympic Games have contributed greatly to the rise in popularity of adaptive sports.  By supporting ParaSportsLive, you will help adaptive sports and their athletes showcase their competitions year-round, not just every four years.  You will also provide broadcasting opportunities to highly-talented individuals with disabilities.
Thank you for your support!
Tony Jackson, Founder
ParaSportsLive website

Organizer