Paige Spencer's Fight To Survive!
My name is Paige Spencer, I'm 23 years old and have been battling
aggressive late stage Lyme disease and 3 chronic infections for 20 years
. I also suffer from other painful disorders and illnesses. I was
misdiagnosed for 15 years
 in Ontario and has resulted my illness to become very chronic.
I have been on multiple agressive treatments for over 4 years
. The first 2 1/2 years I was forced to seek treatment in the USA and my family had to pay up to $5000 a month in treatment cost. I would travel once a week or once every 2 weeks to a doctor there. I even had a PICC line that went to my heart, I did IVs at home daily for 2 1/2 years. I now see a few doctors here in Canada.
The past 4 years has been a fight for my life.
Unfortunately my illnesses have become more aggressive and my battle has become more complex.
The past 3 months I have been bedridden due to unimaginable, debilitating pain
. I have been bed ridden many times throughout My treatment, but the past year has been a terrifying, debilitating fight. My days mostly spent in my bed unable to walk very far without crying in pain. Everyday is a nightmare for my family and I.
My evenings and nights are filled with screaming and crying,
begging God for mercy. My parents watch helplessly, I hear them crying in another room, they are trying to be strong for me and trying everything they can do help.. but there is nothing much they can do. Imagine watching your child every night, thrashing around in pain. My hands and feet curl up in pain and freeze, I lay there gasping for air. My body spasms uncontrollably. Unable to move and at times talk because the pain takes complete control over every part of my body and every function.
I feel pain in every organ, every joint, muscle, nerve, fingers, toes, my brain, my heart, my face; there isn't a place I don't have pain
. I feel like I've been hit by a car, beaten badly with a bat and crushed by a steam roller.
The pain is extraordinarily excruciating.
I have done over 30 different medications, treatments, therapies, surgeries and injections just for pain  control ; sadly nothing is helping my suffering. I'm forced to take high doses of opioids to help me from screaming in pain and keep me out of the hospitals. I have been in and out of hospitals so many times that I have a box full of hospital bracelets.
The worst part is I am
discriminated
against for my tick borne illnesses.
Our health care is very uneducated about tick borne diseases. They have not put the funding into the proper research. So they follow the old ways of how to recognize and treat them. Their lack of education is why I went misdiagnosed for 15 years. This has resulted in mental, emotional and yes, physical abuse from nurses, doctors and surgeons. No matter how polite and kind I am, most of the time I'm treated inhumanely. They don't understand my late staged complex diseases and most of them have been extremely ignorant and very unprofessional. I've been mocked, yelled at, made fun of, abused, berated and embarrassed in front of other patients.
I now suffer from PTSD, both from my traumatic experiences my illnesses have caused and from the ongoing abuse from medical professionals.
I'm not the only one with these illnesses who is treated this way.
May 2017, I was admitted for 3 weeks to critical care due to severe spinal flare, they had me on 700mg of morphine, they were shocked and terrified that I was going through such severe pain. I didn't think I would make it out of there. Since then my health has gone only downhill. Everyday feels like a year.
My days are long, laying in bed in horrendous pain,
spending time praying that the pain will calm so I can do treatment.
The pain can go from a 3-10 in seconds.
I always walk with a cane, it helps my stability with walking and my pain in my legs. When a flare starts my cane helps me get to a place without collapsing. This is why it's hard to leave My home. When I have I'm terrified. Many times I have collapsed in stores or go into a flare at social events.
My entire body feels pain 24 hours a day.
I suffer from extreme pain in my back, spine, legs, feet, hands, neck . I cannot add up how many different symptoms I suffer with. Everything from chronic body pain, migraines, air hunger, neurological and psychological issues.
My illnesses effect very inch of my body.
It's hard walking up everyday knowing what to expect; debilitating, unimaginable, relentless pain. Before My eyes open in the morning I'm already moaning in pain. My family is watching me slip away. I'm so sick I can barely make it across the street to visit my grandparents, they are everything to me. I pray this treatment will help so I can get back to being in their home.
My illness has become very aggressive and my opioids are no longer working, they are just causing more damage, we have tried everything.
Our last option is to do this treatment * Ketamine Infusions* that will help me get away from these horrible pills, it will help repair my "pain receptors" which have been damaged from opioids, help this horrendous suffer and will help me survive.
The reason I say this is, if I cannot receive this help and I have to continue this suffering.. I don't know if I could live my life suffering like this. I don't want to be another statistic.
If I don't do this Ketamine infusion i cannot do my treatment, my illnesses can become fatal.
  I must do this treatment because I have been forced to stop treatment for my chronic Lyme disease and tick borne infections, my body is too week to handle the treatment.
This *ketamine infusion* could save my life.
It will help stop this daily suffering and get back on treatment and keep fighting for my life.
The past 4 years my family has spent over
$350,000
. We have had to remortgage our home. My dad was suppose to retire 4 years ago, yet is still working a ton to try and pay off medical debts and still paying for ongoing testing and treatment. My mother is on long term leave due to my medical situation. My mom is my caregiver and looks after me everyday. On my really bad days she helps me with simple thinks like helping get dressed, feed me, help write things for me. Some nights she stays in my room because i'll be up till 4am in a horrendous flare and I wake up a lot screaming in pain. She takes me to all my appointment and helps me get around when I'm in my
wheelchair
.
The doctors here have
REFUSED
to do this infusion. They do it on all kinds of patients with all types of disorders, disabilities, illnesses and chronic pain; because they don't understand my "complex illnesses" they refuse to help.
I am devastated.
I'm so depressed that I am still being discriminated against because of my illnesses that I got in my own country.
I now have to seek medical refuge
AGAIN
in The United States of America. I was suppose to do this treatment in Calgary but I am way too sick to fly. We will be driving to Michigan. The drive is going to be very painful. They are a wonderful, professional clinic who managed to get me in ax quickly as possible  because of the severity of my case . I will be staying in a hotel close by and
receive treatment for 5 days.
We may be forced to stay 6 days if my body needs the rest from the therapy.
*The treatment is $7500 American.*
This does not include the cost of my two IVs that I get before and after this treatment and it does not include our travel, our hotel and food costs.
If there is any extra money raised it will go towards testing that I haven't been able to afford to do the past 2 years because we are very financially tight. We believe my body has other complex infections, environmental toxins and mold toxins. We believe this is why my treatment has not been fully successful. It would be a miracle if i could afford to get more testing done to find out the whole truth of what is happening to my body.
My family is in
desperate
need of financial help.
I am so scared my family will end up loosing our home to pay off these medical bills
.. I couldn't handle that guilt. They have lost so much because of me. I'm trying so hard to fight for my life, they say wealth doesn't buy you good health, but it can help pay for treatments to save someone's life.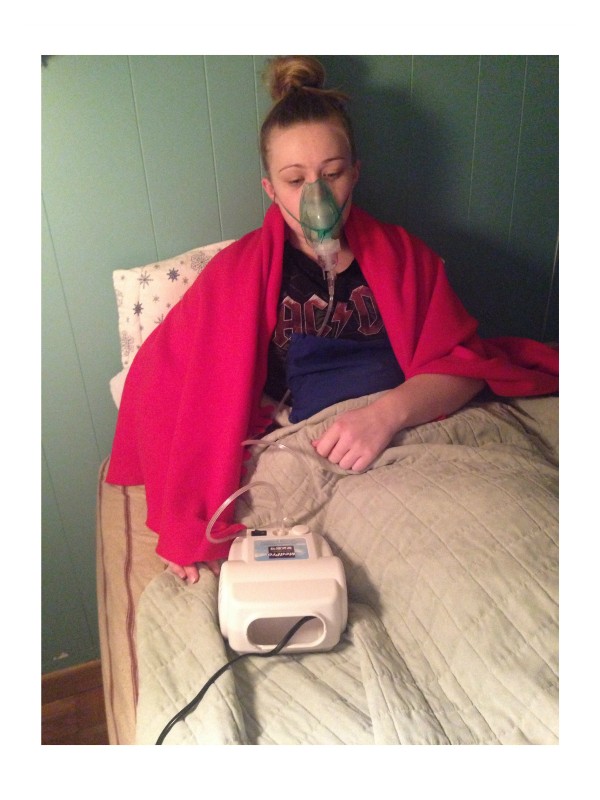 The past 4 years I have been a very
strong advocate
for Lyme disease and tick borne infections. I am fighting for everyone who battles invisible illnesses. I've helped hundreds of beautiful souls who have needed help getting treatment, finding help and doctors, getting testing, supporting those who are in crisis and help support them through their medical journey . I have worked with doctors, politicians and advocates to make change in our Ontario medical system. I have had 2 meetings with the Minister Eric Hoskins regarding the topic of Lyme and tick borne illnesses, I spoke on behalf of all those who are suffering and to help prevent others from suffering. I have been apart of a huge process to getting the medical system to recognize tick borne diseases and to create change on how the providence educates, tests and treats these tick borne diseases. I have fought very hard and I'm glad to see things are now starting to move forward. Still have a long way to go. I've gotten many people to take part in the Lyme Disease Challenege, I was honoured when Mayor John Tory did the challenge on my behalf.
Now that I have become so
debilitated
I haven't been able to advocate or help others, this has been very difficult on me. I know everything happens for a reason, I got this horrible illness to help others. I will not give up. I want to get better so I can get back to helping, advocating and supporting others.
I am a fighter
. Not just for me but for everyone who is fighting a painful battle. I want to get better so I can help save someone from going through this hell I live in everyday.
Any donation big or small is
extremely appreciated.
I promise that
every cent
goes towards my treatment, in hopes that I can fight back at this debilitating pain, that I can get back on my treatment and win this fight. My love and gratitude is with
each and every person
who is able to
donate
or
share
this campaign. If you are unable to donate, sharing and
prayers
are
greatly
appreciated
.
It is crucial I raise money as quickly as possible, it takes a few days to receive the money and my appointment is December 4th. If I cannot raise all the money we will have to do a loan and what ever funds come in after I will pay it off with. If more money is raised then the goal, every cent will go to further testing and treatment that I am unable to afford.

All of my family thanks you for the love and support. My blessings are with all of you.
Let's beat this together ❤
Paige's Instagram: ps_blue_eyes
*Thank you to my wonderful friends who did this Lyme disease video and released it in May for Lyme awareness. Unfortunately my health has severely declined since the taking.*
**If you cannot make a donation by Go Fund Me, i have an account with
TD bank
, where you can transfer or deposit a donation.
The information below:
Customer name: Paige Spencer Transit No. 15842
Inst. No. 004
Account No. 6654975  
    
Toronto Sun Article 2017
‌      
Toronto Sun Article 2016
‌   
Toronto Sun Article 2015
‌
Organizer
Paige Spencer
Organizer
Scarborough, ON