We have raised, from GoFundMe and cash donations $105,000. We only have $45,000 to go!!

HELP PAIGE LYON TREAT SCOLIOSIS
Paige was born in 2003 and is currently 14 years old. She was very healthy and active all her life. As a child she loved dancing and was in dance classes for many years. When she was 12 years old, at a routine check-up, the doctor noticed a slight curve in her back. It was a very slight curve at the time but the doctor recommended Paige see a scoliosis specialist at Shriners Hospital just to be sure. Our first appointment revealed that Paige had a 32 degree thoracic curve and a 28 degree lumbar curve. The treatment was bracing. She needed to wear the brace for 18-23 hours per day. Paige was devastated and very frightened about the unknowns of this disease. Her condition extremely affected her self esteem and self confidence. She stopped dancing and battled the physical, emotional and social struggles that come with scoliosis.
Paige wore the brace for months but her thoracic curve continued to progress to 70-73 degree and her spine twisted causing a hump in her rib cage. Her curve has progressed to "severe scoliosis." We sent her to an intense physical therapy clinic that specializes in scoliosis in Green Bay, Wisconsin and continued with home exercises for several months. Her curve held at 73 degree.

Still concerned about the future of Paige's health, we contacted several doctors regarding the VBT (Vertebral Body Tethering) procedure, including doctors in California.
All the doctors were uncomfortable doing the VBT because of Paige's skeletal maturity and the degree of her curve except for one group of surgeons in New York, Dr. Antanocci, Dr. Betz and Dr. Cuddihy, also known as Drs. ABC, at the Institute of Spine and Scoliosis.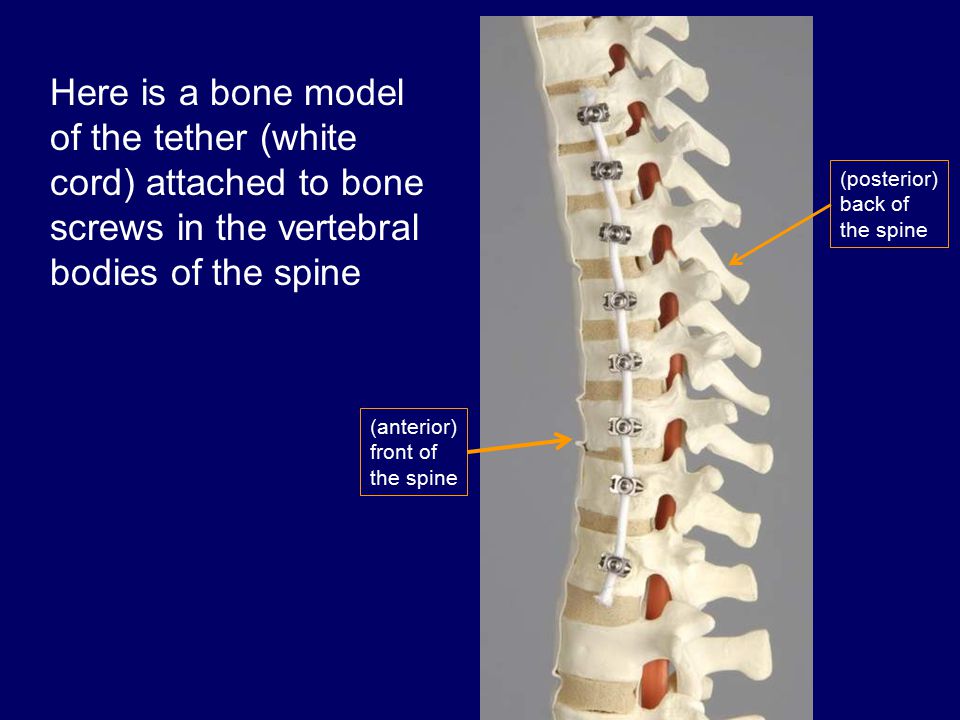 These doctors are the ones who pioneered the VBT procedure over 15 years ago. They have perfected the procedure and have had incredible success treating similar cases of severe scoliosis. They now call the procedure Anterior Scoliosis Correction (ASC).
We flew out to New York to meet with Drs. ABC. All the doctors examined Paige as a team. They were very confident that they could do surgery on her and felt Paige would be a great candidate for the ASC procedure. This procedure will straighten Paige's back and still give her mobility.
Our hearts filled with hope when we learned that these doctors could help Paige. Hearing so many no's from other doctors made it seem like we were fighting an impossible battle. The road up to this point has been full of struggles but knowing that this surgery is available for Paige has given us light at the end of what was a seemingly hopeless tunnel.
Drs. ABC are Paige's only option for the ASC/VBT procedure. Paige's insurance only covers medical services in California. The ASC procedure, performed by Dr. Antonocci and his team from the Institute of Spine and Scoliosis, can only be done in New York and New Jersey. They are the only doctors who can treat severe cases of scoliosis. As a result, all expenses, including surgeons, hospital, anesthesiologist and hardware fees will be out of pocket. Both the surgeon fees and hospital fees must be pre-paid for the procedure to occur. By doing the surgery as soon as possible, her remaining growth will help reform her muscles and bones.
Time is of the essence.
We are asking for your donations to help with the expenses. We can't do this without reaching out and asking for donations. Please help Paige live a healthy and full life. This surgery will give her a chance.
100% of all donations will be directly used to pay for the surgeon fees and hospital fees (including anesthesiologist, radiologist and hardware fees).
Paige Lyon's GoFundMe account has been set up by her parents and extended family residing in Nevada County, CA (Grass Valley/Nevada City).
Thank you so very much. Please share and help spread the word.
Sincerely,
Paige, Family and Friends
If you prefer donating by check or money order
, please make check out to Paige Lyon and send to:
11755 Tree Top Circle
Nevada City, CA 95959
If you have any questions, please feel free to contact us at:
[email redacted]
Cost Break Down
$50,000 - $65,000 = Surgeon Fees (including hardware fees)
$75,000 - $85,000 = Hospital Fees (including anesthesiologist fees)
PROJECTED COST = $150,000

For more information, please visit Paige's website:
www.helpingpaigelyon.com



Become the first supporter
Your donation matters
Organizer and beneficiary
Paige Lyon
Organizer
Nevada City, CA