A Gravestone for Saad Muhammad
$6,020
of $5,000 goal
Raised by
75
people in 52 months
Many of the great heroes of Philly Boxing History currently lie in unmarked graves all around the Philadelphia area. 

PhillyBoxingHistory.com is on a mission to provide gravestone memorials for these fighting men and women who gave so much to so many boxing fans.  

In recent years, we have completed four such projects, placing gravestones for Philly legends Tyrone Everett, Gypsy Joe Harris, Garnet "Sugar" Hart and Jimmy & Eddie Cool.  Each of these men were outstanding boxers during their time and provided fans with some of the greatest and most memorable ring action in history. 

They gave us everything they had, and fans remembered them long after they were gone by helping us provide each with a gravestone to mark their final resting place.   

We now embark our fifth gravestone project effort.  The recipient of this one is perhaps the most exciting boxer in the history of the sport.  Matthew Saad Muhammad was a hard-hitting thrill machine who staged one ring war after another during his Hall of Fame career.  

Saad Muhammad began making history at the legendary Spectrum in South Philadelphia, and went on to become the WBC light heavyweight champion of the world. After winning the crown, he successfully defended it eight times. His fights were savage works of art against the very best of his era.  Saad Muhammad gave us indelible memories to cherish and relive for the rest of our lives.  

Now it is time for us to return the favor.

Matthew Saad Muhammad passed away on May 25, 2014 at age 59, and currently rests at Ivy Hill Cemetery in Philadelphia.  

Please help us purchase a gravestone for this ring hero. He was a world champ, a boxing giant, and a favorite warrior to countless fans.  He was also an approachable and ever-friendly icon outside of the ring.  

The monument chosen by the family of Saad Muhammad is a sizable black granite stone that features a beautiful image of Matthew draped in his championship belt, and with his nickname, "Miracle Matthew", engraved beneath it.  This will indeed be a monument appropriate for such an all-time great.  

But we can only do it with your support!  Please help us with this important project and be part of a wonderful tribute.  

Everyone who donates to our cause will receive a limited edition Matthew Saad Muhammad boxing card. If your contribution is $100 or more, you will receive a 16" x 20" photo of Saad Muhammad (plus the boxing card).  Donate $200 or more and receive a special Matthew Saad Muhammad tee shirt (plus the photo and the boxing card).  If your contribution is $500 or more, you will receive an original 9" x 12" oil pastel painting of Saad Muhammad by Philadelphia artist Lou Baker (plus the tee shirt, the photo, and the boxing card).  These special keepsake gifts are our way of saying 'thank you' to everyone who helps us reach our goal.  (Note: All gifts will be mailed at the end of the campaign, after we reach our goal.)

Please consider getting involved.  No donation is too small (or too large!).  

The amount we seek will cover all costs and fees connected to the gravestone for Matthew Saad Muhammad.  We are not asking for anything more than the amount we need for this specific project. However, if any additional funds are raised during this campaign, those dollars will be used for future gravestones placed by the Philly Boxing History Gravestone Program.  

We have a long list of other boxers currently resting in unmarked plots.  Matthew Saad Muhammad will be our fifth gravestone, but we look forward to placing many more.  

Thank you for your support!
+ Read More
Update 2
44 months ago
Share
I'm happy to announce that the gravestone for Matthew Saad Muhammad has been finished and placed at Ivy Hill Cemetery in Philadelphia.

I went out to the grave site on Saturday (11/14/15) to see it for myself and to take these photos. I'm very happy with how it turned out and so is Matthew's family.

I want to thank everyone for their support. Obviously this tribute to Matthew could not have been done without your generous donations and your commitment to honoring and remembering this great champion.

Once again, thanks to everyone who got involved.

This was the fifth gravestone I've placed for a Philly boxer (Tyrone Everett, Gypsy Joe Harris, Garnet 'Sugar' Hart, Eddie Cool (& Jimmy Cool), and Matthew Saad Muhammad.

There are many more fighters to honor in this way. So many of our heroes currently rest in unmarked graves. PhillyBoxingHistory.com will continue to remember them. I hope you will continue to support this project. Your help is really appreciated.

Thanks,
John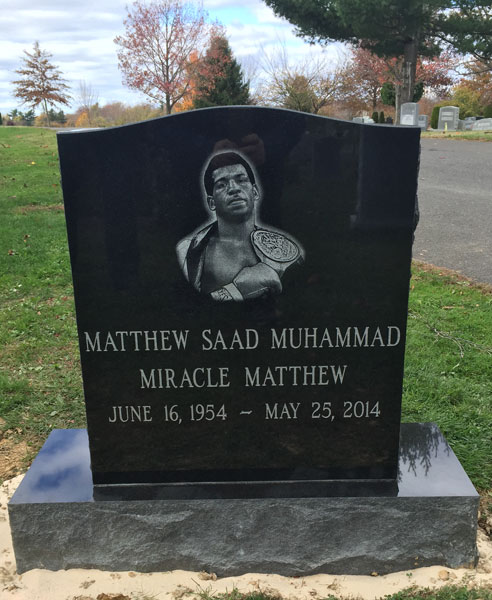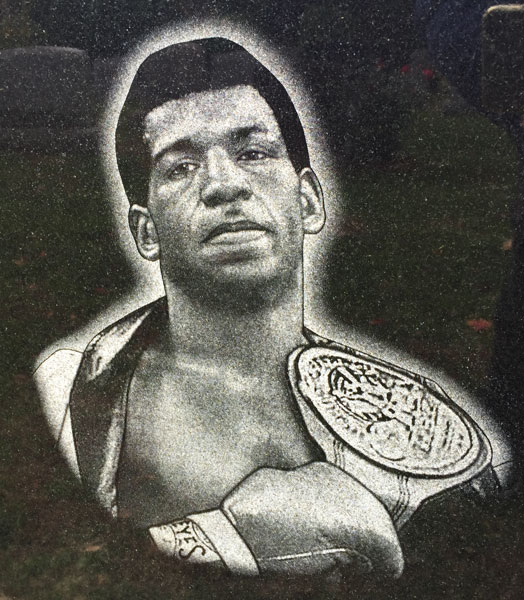 + Read More
Update 1
52 months ago
Share
After about 24 hours, we passed the $400 mark. Thanks to everyone who donated.

We need to raise a total $5,000 for Matthew Saad Muhammad's gravestone.

Saad Muhammad had millions of fans. If we can get 92 more fans to donate $50, we will hit our goal.

Please give whatever you can and also help to spread the word.

Thank you!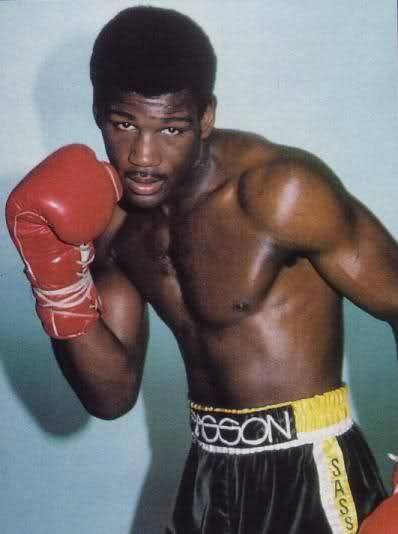 + Read More
Read a Previous Update