Our puppy Särö needs heart surgery
Meet our little girl Särö, a Welsh Corgi Pembroke who turns soon 1 year and 2 months old. When she was a little puppy and had her 12-week medical check, our vet noticed a heart murmur that shouldn't be there. She told that it is quite usual for little puppies to have sidetones and that they usually disappear when the dog grows up. So we didn't think much of it since Särö was otherwise a healthy little pupper so we did what our vet recommended us and decided to wait to the 1-year-old checkup to see if the murmur would disappear as Särö grows up.
This 1st of June Särö turned 1 year old and soon after we had her yearly check. The heart murmur was still there so we were advised to book a time to a cardiologist. So we went to see a recommended cardiologist who took ultrasound of Särö's heart and the news weren't good; Särö was diagnosed with Patent Ductus Arteriosus (PDA) which basically means that she has a hole between two of her heart's major blood vessels and if it wouldn't be operated on she wouldn't last more than a year or two. Nevertheless the cardiologist said that Särö's case was one of the very promising ones and if her heart was operated on soon she would be able to live a full long life (corgi life spans are usually 12-14 years).
So we were relieved for the news that if operated, Särö would be alright. We got in touch with another vet that specializes in heart surgery and booked an appointment. At the same time we filed Särö's case to our insurance company and thought that all was well since we had (or thought we had) a very good insurance. The very next day everything changed when the insurance company contacted us. They told us that they would pay their share of Särö's first ultrasound but that they wouldn't be paying for any follow-up procedures since in Särö's case her PDA was latent and congenital.
So now our insurance company has left us to take care of all the expenses on our own (luckily our breeder also offered to take part on some of the costs). We already filed one complaint to the insurance company but even after that they didn't change their final decision. Now we ask for your help and aid in covering the amount that our insurance company should have taken care of.
The expenses we are currently facing are: new health and heart examination, ultrasound and x-ray at the operating vet clinic before the surgery, the heart surgery itself, the stay at the intensive care unit at the operating vet clinic after the surgery and a follow-up health and heart examination including ultrasound and x-ray at our own vet clinic after the surgery. There might also be some later checkups too. If something goes wrong in the surgery, there might be even more expenses, but these are what we know of right now. We are still waiting for a surgery day but we are ought to get one for this August.
All in all the expenses will total approximately to 3 000 € and according to our insurance rules, our own part of the expenses would have been approx. 1 000 € and the insurance company's part would have been to take care of the remaining 2 000 €.
Now that we are left on our own with this we ask for your help and kindness; we are collecting funds for Särö to make up for the insurance company's part of the expenses. We the owners have both quite low incomes but we have always kept some money hidden under the mattress for Särö. We had always thought that if any trouble would come, our insurance company would help us to get through but it came as a total surprise that the insurance we've been paying a lot for wouldn't cover for anything on this.
Therefore we hope that you'd be able to help us to get Särö through the surgery in one, healthy piece so that she can live a long, playful life filled with love and treats.
With love,
Joonas, Isabella and most of all, Särö
PS For everyone who donates we promise to update Särö's process and when Särö's all fixed up we'll remember you with special little something :)
Särö right after she came to us
First naptime at new home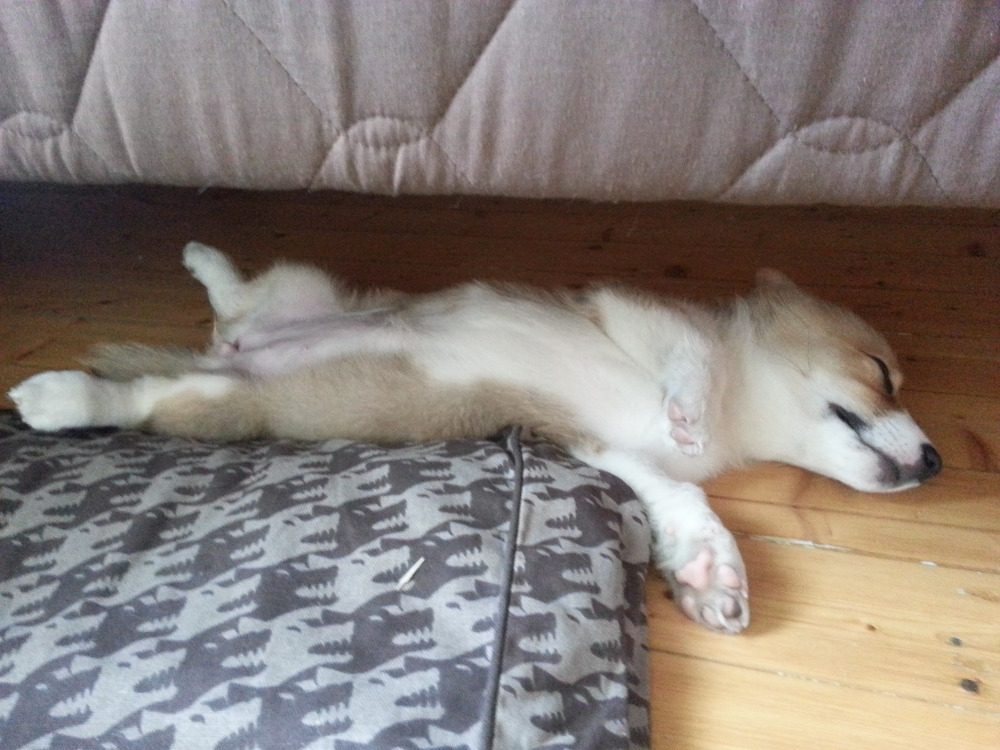 Taking it easy and enjoying a nap
Särö and her 1st stick, love at first sight
Särö with her gang (her name is the Finnish version for master Splinter :)
Enjoying her first winter
On a look-out for some fish
Särö grew up to be quite a small corgi with 7,6 kg
One happy dog
Dead-tired after the first ultrasound from about one week ago
Organizer
Joonas Niemi
Organizer
Helsinki