Support the Future of Orca Network
Support the Future of Orca Network
Saving NW Orcas through Preservation, Education, and Advocacy
An extended clan of orcas, known as the Southern Residents, have made the inland waters of Washington State and British Columbia their home for thousands of years. These beloved and iconic whales socialize and forage in the Salish Sea, living in tight-knit family groups their entire lives. But all is not well. Orcas need clean, uncontaminated water and plentiful fish. Chinook salmon, the Southern Residents' main food source, are in historic decline throughout the region. Lack of prey, habitat degradation, and other impacts of human activities are taking their toll on the orcas we have come to know and love. We are all intricately connected - salmon, orcas, rivers, streams, oceans, and human inhabitants. For more than two decades, Orca Network has been a leader in fostering appreciation for this interconnectedness, in connecting the people of the NW with the orcas in their midst, and in advocating for the preservation of Southern Resident orcas.
Orca Network co-founder Susan Berta notes that the release of the documentary Blackfish (which depicts the heart-wrenching world of orcas in captivity) has resulted in "a groundswell of public interest and engagement like we've never had in the past." This engagement, while heartening, has also created an extraordinary increase in the demands placed on the hard-working, grassroots staff at the Orca Network. 
Please donate now to help us meet our initial goal of $66,000 in critical funds, so Orca Network can continue its important work and respond to the increasing needs of the Southern Resident Orcas and the people who love them.
In the midst of that groundswell created by Blackfish, Orca Network opened their popular
Langley Whale Center
on Whidbey Island and began a Youth Activity Program at the Center. Taking on these additional programs and expanding their base of operations, along with the overall increase in interest from the "Blackfish Effect," resulted in significant demands on the time and budget of this small organization.  And, after only 18 months of operation, the Langley Whale Center has been so successful that it has required a move into a larger building in order to house new displays and have enough space to hold trainings, events, and presentations.
"We're so grateful for and humbled by the huge increase in interest we've experienced and are incredibly excited by the many possibilities it brings," Berta said.  "The move to this new space alone, though, will add an additional $2000/month to our operational costs.  Educating the public about the Southern Residents, bolstering our sightings network so that more people can see the orcas, particularly from the many land-based locations we've identified, continuing to provide advocacy for Tokitae, and modernizing our Langley Whale Center are all among our top priorities. In order to keep up with this amazing growth and allow us to effectively serve the orcas and those that love them, we 
need your support.
"
-
Friends that donate $30 or more will receive memberships to the Langley Whale Center as thanks for their support!  Additional membership levels below.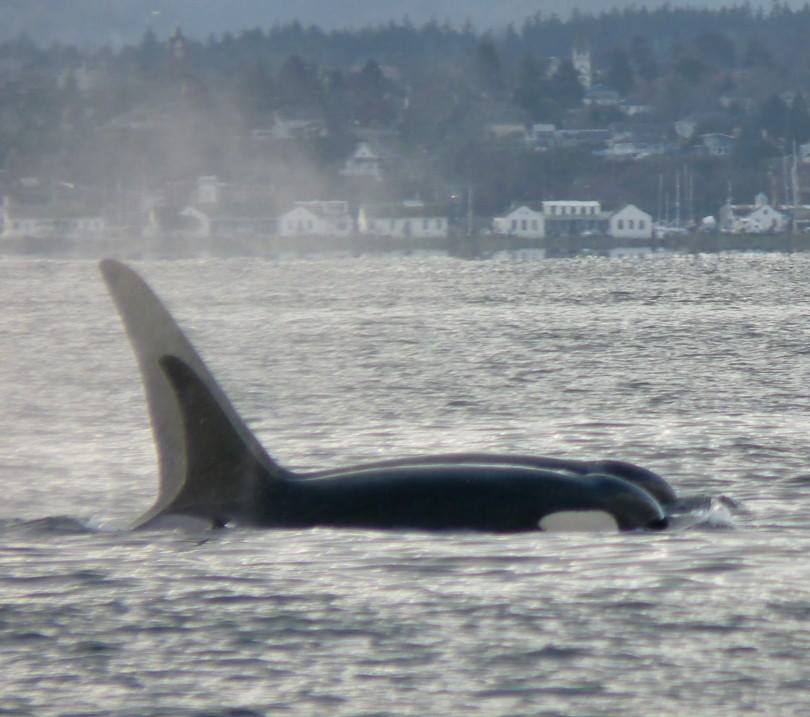 Learn More
Orca Network
 co-founders Howard Garrett and Susan Berta first began working together in the mid-1990s on the campaign
to retire Lolita, or Tokitae
, the orca at the Miami Seaquarium and sole survivor of all orcas captured in Puget Sound. As they worked to educate people on both coasts of the country about Lolita/Tokitae and why she should come home, they realized people needed to understand that Lolita had a family to come home to and began working to educate them about the social and cultural lives of the orcas.
To these ends, the Orca Network connects NW residents to opportunities to see orcas in their natural habitat via the
Whale Sighting Network
 - which provides whale reports, news and education about the Southern Resident orcas and other whales of the area. The reports provide valuable data for researchers and enable hundreds of people in the Salish Sea to watch whales in their native waters from many shoreline viewpoints.
They also coordinate the
Central Puget Sound Marine Mammal Stranding Network
, responding to marine mammal strandings and seal pups on beaches in Island, Skagit and N. Snohomish counties in Washington State. The stranding network works under the auspices of NOAA Fisheries NW Region, collecting important information on stranded marine mammals, which in turn provides information on the health of our oceans.
In March 2014, Orca Network opened the
Langley Whale Center
 on south Whidbey Island. With this addition, the tireless advocates of the Orca Network finally had a public facility from which to educate residents and visitors about the whales of the Salish Sea. The Langley Whale Center has been a wonderful way for Orca Network to reach out to those who feel a connection to Southern Resident orcas and local marine life, as well as to those who don't yet know how special these whales are.
In addition to these programs, Susan and Howard work to raise awareness and advocate for the needs of Southern Residents. In Howard's words, "We offer presentations and displays about orcas to civic groups, students and many other interested people, including journalists, educators, law-makers, policy-makers - people that can disseminate that information further. Informing people to know and understand orcas better can change their behavior, and that in turn can affect big decisions and actions by society as a whole."
Your Support for Orca Network Will Advance This Critical Work


- Since this interview originally aired, the Orca Network's reach and popularity have skyrocketed--along with their ability to do great things for the orcas and those that love them.  In order to do that, though, they need our help.
With your help
, Orca Network can continue and expand its efforts in preservation, education, and advocacy.
Please share your support today
.
"To me, orcas and other whales are the heart and soul of the Salish Sea. I have met so many people who are deeply touched by a special encounter with orcas - people whose lives are changed because of this connection and who now care deeply about taking care of our ocean planet not only for ourselves, but for our friends, the whales.
Through Orca Network, we hope to connect more people with the whales of the Salish Sea, so they will care and act to protect the whales and their habitat."  
~ Susan Berta, Orca Network co-founder
Consider
: 
The cost of
a latte a day
for one work week would fund an hour of tracking the orcas from land and relaying key information to researchers and the public. ($25)
The cost of a family of 5 to spend the
day at the Miami Seaquarium
would fund 500 miles of travel tracking the orcas from land, educating shore-based whale watchers, and relaying key information to researchers and the public. ($250)
The cost of two (average)
tickets to a Seahawks home game
would fund three days of the entire Whale Sighting Network and Education program! ($500)
____________________________________________________________
For more on Garrett, Berta and the fight to bring Lolita/Tokitae home, check out this comprehensive September 30th cover story in The Stranger: 
It's Time to Free Lolita, a Puget Sound Killer Whale That's Been Held Captive in Miami for 45 Years
Photo credits: Ray Pfortner, taken at Pt. Robinson on Vashon Island (top); Susan Berta, J-Pod in Admiralty Inlet.
Organizer

Registered nonprofit
Donations are typically 100% tax deductible in the US.