Operación urgente para mi padre
>>>>ESPAÑOL:
Mi nombre es Pedro Laviosa y mi papá el pasado 20 de febrero de 2019 tuvo un accidente de tránsito muy fuerte en el que estuvo a riesgo su vida.
El salió alrededor de las 12 del mediodía a buscar a mi hermana de clases, y a su vehículo le fallaron los frenos inesperadamente haciendo que perdiera el control y chocara.
Mi padre logró esquivar los peatones, mas no logró mantener el control del vehiculo e impactó a alta velocidad contra una defensa de concreto.
Sostuvo un trauma muy fuerte, fracturando su fémur izquierdo y 3 costillas, aparte una fisura en el pómulo izquierdo y numerosas cortadas en su rostro y cuerpo.
A pesar de esta inesperada tragedia, estamos agradecidos de que mi padre se encuentre con vida luego de un choque tan fuerte y se encuentre en condiciones estables en el Instituto de Clínicas y Urología Tamanaco ubicado en San Román (Urológico de San Román), en la ciudad de Caracas.
Sin embargo, ahora nos toca hacer frente a los costos de la operación de fémur necesaria para que mi papá pueda volver a caminar.
Para poder pagar esta operación mi familia necesita 15.000$ que es lo que nos está pidiendo la clínica para cubrir los costos de la cirugía, así como también los exámenes y tratamientos que se le están suministrando.
Esto, luego de que el servicio de seguro de salud que ha pagado por varios años no cubriera ni siquiera el servicio de ambulancia, debido a la pronunciada híper-inflación que sufre Venezuela.
Con el inmenso apoyo de nuestros familiares, pudimos ingresarlo a la clínica de emergencia y pagar la mayoría de los exámenes, pero ya el costo de la operación se nos hace demasiado grande y esperamos en que nuestros familiares y amigos puedan apoyarnos en este duro momento de prueba.
Toda cifra suma y cualquier aporte será sumamente agradecido.  
El monto que se vaya donando será retirado de mi cuenta personal y usado exclusivamente para rembolsar a las personas que han ido amablemente financiando el tratamiento requerido para la recuperación de mi padre.
Gracias de antemano por su apoyo.
>>>> ENGLISH:
My name is Pedro Laviosa and my father, this past February 20th 2019, had a severe car crash in which his life was quite at risk.
He left around noon to go pick up my sister from school, and his brake system failed unexpectedly, causing him to lose control and collide.
My father was able to dodge pedestrians, but couldn't keep control of the car and while going at a high speed, crashed against a concrete wall.
He sustained severe trauma, fracturing his left femur bone at hip level, 3 ribs, besides a fissure in his left cheekbone and numerous cuts on his face and body.
In spite of this unexpected tragedy, we are grateful that my father is alive and in stable condition at a Caracas clinic (Urológico de San Roman).
However, we must now face the high costs of the surgery to be performed on his femur, necessary for him in order to walk again.
To pay for this operation my family needs $15,000 USD which is what the clinic is charging to cover all costs of the surgery, necessary examinations, and treatments. This, after the health insurance service he has been paying for years failed to cover even the ambulance ride, due to hyper-inflation issues in Venezuela.
With immense help from relatives, we were able to get him into the ER and pay for most of the emergency examinations and ICU treatments, but total cost of surgery is out of our reach and we hope that our relatives and friends are able to support us in this extremely difficult moment of test.
Even the smallest amounts add up and all contributions will be greatly appreciated.
The amount donated will be withdrawn from my personal bank account and used exclusively to reimburse those friends and relatives that have kindly financed the treatment required for my father's recuperation.
Thank you for your kind help and support.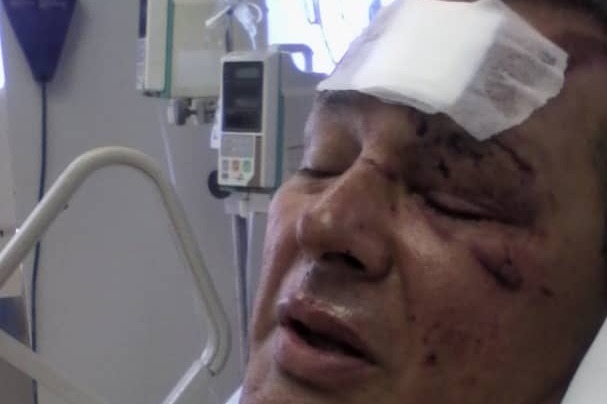 Organizer
Pedro Laviosa
Organizer
Mezzovico