Chris' Standing Lift Fund
I first want to say that this is extremely hard for me or Andrea to ask anyone for anymore help with all that everyone has offered and all of the things everyone has already done in the past for my family since I've been sick, but….and this is a big BUT…. I've come to the conclusion that I'm getting sick of just existing in my life and I want and need to start living again!
With the cancer gone I've now realized I've went too long without feeling like I have a purpose for being alive or wanting to get up walking again. Well, I've got a couple big purposes for living and the first is to be the best father and role model for my daughter Allison that I can be!! The way I've been lately is me not being a role model at all. I stay in bed so many days at a time that recently, I couldn't even tolerate the pain from stretching out my legs to go to Ally's last band concert this year, which also happened to be her 12th birthday!! I missed it and even seeing my sister Sarah and her family that drove all the way down from Blanchard to be there. I need to fight not being able to walk head on and I'm starting right now stronger and harder than ever! The other big purpose is so I can be the best friend and husband to Andrea that I can be and I'm somewhat failing at that at times!! With your help, I'm going to be able to get something called an Easy Stand 5000 glider or a similar model that will totally help in my rehab and my goal to be a better father and husband.
The Easy Stand machine will allow me to strap into and raise myself up like I'm standing. It will help my muscles stretch out and it'll help me to be able to put weight throughout my legs to help build strength back up and eventually walk again. This machine has so many benefits. It puts you in a standing position and it's a glider exercise machine. It also helps with UTI's and lung problems related to laying down and not being able to move around a lot.
 I'm now going to let everyone in on my story from roughly the start until now. Ok… In the Fall of 2011, I started getting a pain in my hip and thigh muscle areas and I just thought it was sore muscles from a lot of golfing and I do mean A LOT of golfing. Well, it continued through the early winter and I'm putting cream on it and massaging it with no relief.  At this point, I won't go to the doctor (I think it's a guy thing) and I'm starting to miss more hours of work than I'm working and it's starting to put a financial strain on us. Home was just not a fun place to be, but where else did I have to go? I was hiding the fact from Andrea that when I wasn't home, I was having to use crutches to get around and I was starting to be in more and more pain. It was bearable but annoying at the same time. I had also been trying to lose some weight, which I had been, and I was feeling good about myself because I was getting somewhat skinny for me. BUT… Then I'll never forget the day…. It was the day after the Super Bowl, Monday, February 12, 2012. I'm sitting in my chair that morning, with Allison at school and Andrea working at Nikkari.  I look out the window and Andrea is home. Then my mom pulls in. Then Andrea's dad pulls in and by now I'm freaking out! What are they all doing here anyway? They come in and they start to have an intervention of sorts by saying you are going to the doctor today or else!  Of course, I said no, but I finally said I'll go tomorrow.  By this point. I knew I needed help. My right leg was 3 inches shorter than the left at this point, and I still I thought it was a pulled muscle!! I called work to tell them what was going on and they told me good because they were going to have someone talk to me soon and make me see a doctor.
  So I go to the doctor which I hate going to the doctor. Those of you that know me well know that I have suffered from some severe anxiety and the doctor was a huge issue for me. So, my PA Lisa says let's get some X-rays, so we do.  As I'm still on the table she comes in and says when did you break your hip? Andrea and myself were like never and she says oh yes you did but it happened so long ago it had fused itself back together! It basically healed itself only the wrong length because I had continued to walk on it! So I go on crutches full time. I felt so happy and relieved thinking this is all it was! Not being that common of an injury or the procedure to fix it meant they had to search for a doctor who could help me and that took about month. By the time I could get an appointment it was April. So we go down to Gr Rapids to Dr. Bielema and he asks if I had been in a car accident or fell off a roof because of the severity of the break! Of course I said I have no idea how it happened. He said this doesn't just happen and recommended me to get admitted to the hospital that day so they could start a bunch of tests. I said NO!! My anxiety was so out of control at the time. I hadn't been taking my meds for it in a long time. Andrea and my mom were there and they could not convince me. So, then I start setting up appointments to take test after test, blood work, MRI, CT Scans and biopsies and still nothing and I'm still on crutches.
Dr. Bielema didn't really want to do surgery to fix my leg until we knew why it broke, so in the meantime, I'm actually getting weaker and weaker He finally says we just need to fix it so it was set for Monday, July 9. 2012 and it gets a week out from my date and they had to push me back to Wednesday, July 18. 2012 because, being a trauma reconstructive doctor, he had to make himself available for patients that needed his immediate attention. When I say I'm getting weaker and weaker, I mean I can't walk at all and I had to be rolled into the bathroom on a chair!!
July 18. 2012…………So Andrea, my mom and me go down too GR Spectrum Butterworth Hospital for surgery that morning not knowing how close to death I actually am. I get all ready for surgery and they roll me out and a few hours later I come out, what they had to do was take a saw and saw my bones apart and put in a titanium rod and lengthen my leg out and fuse it all together. The doctor told Andrea that he was able to take a huge amount of tissue to take a better biopsy, during this I guess I had lost a lot of blood so, when I came to I was still out of it and I needed a blood transfusion right away because my levels were so low. Also my doctor came in the next morning for rounds and realized I couldn't move the leg he fixed at all. He ordered an MRI while waiting for biopsy results. Physical therapy wants to get you up and going ASAP, so they tried to get me up and walking (remember I haven't walked since before February) I said no but they said you have to!. Well. they DROPPED me onto the bed and I used my left arm to brace the fall. BAD idea!
July 20, 2012………. This is Friday morning and after an X-Ray on my shoulder since it was hurting, I found out I broke my left shoulder and that wasn't even the worst part of my day!! Later that day they informed me that I had Stage 4 Non-Hodgkin's Lymphoma. It was all throughout my body and on my spine, lungs, spleen and liver.  Put it this way, they didn't even really care about my broken shoulder because they didn't know if I was going to even make it!! So they didn't pin my shoulder for I think a week so that must have meant I was going to get better!!
 I got moved up to the isolated cancer floor and started receiving chemotherapy every three weeks. Although I did really well with the chemo I always needed blood transfusions after and these special shots. This went on for a couple months and in the meantime my legs are just atrophying day by day and they're getting weaker and weaker from not using them. My body was also getting weaker and weaker every day. My body weight dropped from a high of around #315 and I would say an average weight of #290 to a low of #125 as you can imagine I looked horrible!  My ribs sticking out everywhere. Andrea said I looked like one of the concentration camp people (sorry for the reference)!!
Right before school started in 2012, it was time to get transferred to a rehab hospital but I can't really do anything because I have a screwed up right leg and a broken left hip!  I also started to develop pressure ulcers on my butt, so I couldn't sit on hard surfaces, Then with all that…. I come down with the chicken pox and had to transfer back to the hospital in isolation! I had them all over and I mean all over even on my eyes and under my eyelids and that freaking sucked! After that I transferred to another rehab but still couldn't do much because my pressure ulcer was getting way out of control I couldn't even sit up hardly and they weren't making anything better. That place was awful!!! They even forgot to give me a shot after chemo that I had to have and almost killed me that person was fired!! Then another time they didn't test my blood on time and I told Andrea and all hell broke loose!! She demanded I get tested right away lucky I did because probably another day and I would have died because my red blood count was so bad, meaning I needed a transfusion!! My chemo nurse said I was so close to going into cardiac arrest!
Right around November 1, 2012. I finally get released to go home and I still can't walk and I have to have home care every day and blood draws constantly.  I also need to use a catheter at this point. I'm getting into some personal stuff but I feel I need to so you know what I've been through. Well, the catheter without me knowing was wearing a hole in my urethra basically causing a bypass so that my urine wasn't making it into the catheter. It was seeping into my scrotum, which to put it bluntly, is my sack and then this caused it to expand to the point of splitting open! So every time I go pee it's just running out of me. I get that somewhat fixed and I now have a supra pubic catheter which is right below my belly button and not in my other place anymore. I needed a special air bed to get rid of my pressure ulcer along with having a wound vac on my ass for over a year. I also had osteomyelitis in my knee which required 2, 2 hour visits a day, every day, for 6 weeks (we spent Thanksgiving and Christmas there). I also had to go into a hyperbaric chamber and do 2 hrs a day Mon-Fri for the same area in addition to the daily hospital visits.
One of the main things I get with basically being paralyzed is UTI's all the time. I'm not technically paralyzed since I have some movement in my legs, but yet I am because my leg muscles have atrophied so bad. I need to work so hard to get the muscle back so I can get living again and not just existing!!  With this machine, I can because I can use it every day whereas with having to go to physical therapy some place I can't go every day because it gets costly (Medicare only covers 25 visits a year!!) My physical therapists and techs said if I could do something like this machine EVERYDAY, that I could see leaps and bounds of improvement just from everyday activity!! With all of your help this could be possible!  On another very personal note any extra funds we receive I'll be putting that towards getting my teeth fixed up!. Although chemotherapy helps in a lot of ways it also is very destructive in so many ways, in my case the chemo has caused my teeth to deteriorate to the point that what's left will need to be surgically taken out and I'll need to be fitted with dentures. It takes a lot for me to talk about that part because it's very embarrassing to me. I don't even smile anymore because of them!!
So, this is me!  Andrea always tells me that she runs into people that ask her how I am doing, and she never knows how to answer them. I am finally ready to share my story and tell you what my life has been about the last few yrs. With your help, I can get back to living and hanging out and golfing with family and friends. Whatever you can afford would be greatly appreciated and I'll honestly never know how to truly thank everyone. Once I am back on my feet and working again, I am going to Pay It Forward big-time! If you can't donate money, please maybe sign up to donate some blood at a blood bank or a blood drive (I am AB negative, which is the rarest kind! How lucky can a guy get?) I have such a rare type that it is much needed, but since my medical issues, I cannot donate it. Also, I'll take all the prayers I can get. Thank you!!  Chris ****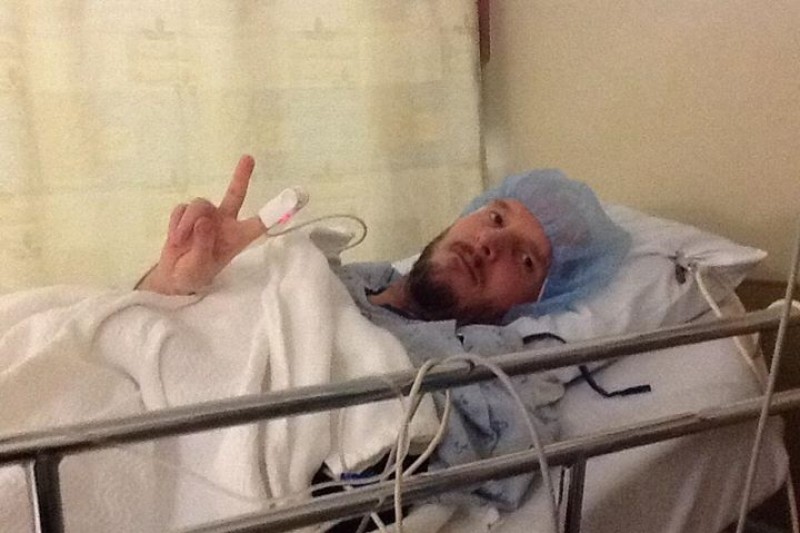 Organizer
Andrea Onstott
Organizer
Saint Louis, MI