Share the Artistic Journey
"Share the Artistic Journey: Support My Creative Adventure!"
日本語↓
Hello.
My name is Takashi Sonoda. I am a Japanese artist residing in Germany since 2018.
Artist: Takashi Sonoda
Since my arrival in Germany in 2015, I have been working with the technique of "self-transformation." The use of transformation was influenced by the fact that I couldn't speak the language at all in Germany, and it became a means of communication for me that didn't require words. In recent years, I have been using painting and installation to express the discoveries I have made through this experience.
Reason:
I have been producing and exhibiting my work at my own expense. However, I now have the opportunity to stay and work in three different locations - Norway, Kleineschoennach (Germany), and Arao (Japan) - from June 2023 to January 2024. Additionally, I am planning to organize an exhibition in Köln, Germany, in March 2024.
This project marks my first endeavor after graduation, and I would like to request some financial support to kick-start it. The funds raised here will be used for materials, transportation, and living expenses.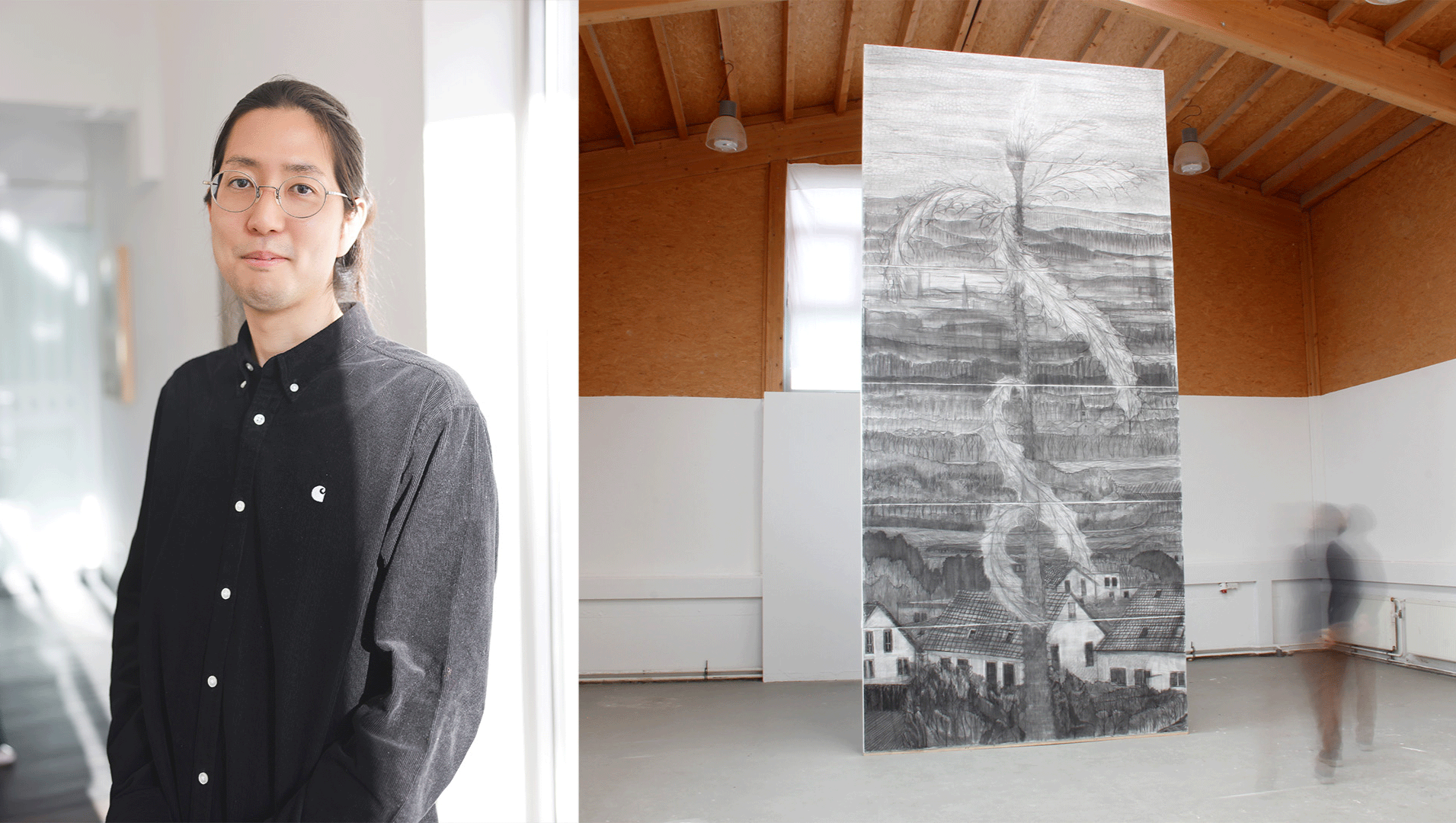 As a token of appreciation to those who support us, we have devised two options:
Option 1: €20
You will receive a newsletter at each milestone of the project. I will compile a PDF document detailing my experiences in each location and the artwork created. This document will be shared via email at the end of each stay.
Option 2: €50.
Sketch Postcard.
I will mail you a postcard featuring one of my sketches from my stay.
Option3: €200.
Sketch Book.
I will create a sketch diary during my stay. We will mail you a book containing all of them.
Rough Plan:
Juli/August.
Recherchen über Larvikit (Stein art von Norwegen), das aus Norwegen stammt, und die Entstehung des Werks.
Sept.
Kunsthalle Kleineschkönach
In der Zeit planen ich daran, die Geschichte der nahe gelegenen Stadt am Bodensee entwickelt
Nov-Jan.
Motomoto artist-in-residence, Japan.
Ich wird eine Arbeit über die Stadt Arao schaffen, die eine Geschichte des Kohlebergbaus hat.
March (2024)
Planning an exhibition in Cologne.
Expense content:
Research Travel Costs 300€ x 6 months = 1800€
Accommodation Costs 300€ x 2 months (in Norway) = 600€
Art Supplies Costs 600€ x 6 months = 3600€
Roundtrip Flight (Germany-Japan) 1600€
Communication Expenses 100€ x 6 months = 600€
Utilities Expenses 100€ x 6 months = 600€
Exhibition Room cost = 1400€
Exhibition advertisement cost = 600€
Total: 10800€ - two thirds: 7200€ (paying one's own expenses)"=3600€
Thank you for your support.
"美術作品制作の旅の共有と補助のお願い"
私はドイツのBonnを拠点に活動するアーティストです。
園田昂史とは
私は2015年にドイツに来てから"自己変容"という手法を用いて作品を作ってきました。変身を用いるのはドイツという言葉が全く通じない環境いたことも影響しており、変身は私にとって言葉を必要としないコミュニケーションの方法でもありました。 近年ではその体験を通して得た発見から、絵やインスタレーションを用いて表現しています。
理由
これまで私は自費で制作、発表を重ねてきましたが、2023年6月ー2024年1月の間、ノルウェー、Kleineschoennach(ドイツ),荒尾(日本)と3つの異なる場所での滞在制作の機会に恵まれました。さらに2024年の3月にはKöln(ドイツ)で展覧会の企画を予定しています。
これは私の卒業後初めてのプロジェクトでもあり、そのスタートアップを皆さんに応援していただきたいです。ここで集まった資金は、制作材料費、移動費、生活費として使用されます。
支援してくださった方々に、感謝を示すため二つのオプションを考えました
20€
プロジェクトの節目ごとのニュースレター。(私がそれぞれの場所でどんな体験をし、作品が出来上がって行くのかをPDFにまとめます。それを一つの滞在が終わり次第、メールにて共有します。)
50€
スケッチポストカード。
滞在中に描いたスケッチから、1枚をポストカードにして郵送します。
200€
スケッチ集
滞在期間中はスケッチ日記を描きます。それを本にしたものを郵送します。
大まかな計画
7、8月
ノルウェーが原産地の石(Larvikite) についてのリサーチ、作品制作。
9月
Kunsthalle Kleineschcoennach
会場近くにあるボーデン湖の歴史をテーマに作品制作、展示。
11ー1月
Motomotoアーティストインレジデンス。japan
炭鉱の歴史のある荒尾市についてのリサーチ、作品制作、展示
3月
ケルンでグループ展の企画、運営、展示。
費用の内容
リサーチ移動費300€×6ヶ月 =1800€
泊費300€×2ヶ月(in der Norway) =600€
作品材料費600€×6ヶ月 =3600€
飛行機往復(ドイツー日本) 1600€
通信費100€×6ヶ月 =600€
光熱費100€×6ヶ月 =600€
展覧会会場費=1400€
展覧会広告費=600€
合計10800€ − 7200€ (3分の2 自己負担) = 3600€
あなたのサポートに感謝します。
Donations (2)
Become an early supporter
Your donation matters
Organizer
Takashi Sonoda
Organizer
Alfter