OMC! Kitties Need Your Help!
Only Maine Coons Rescue is always caring for kitties that need medical care. We are in need of help from you our supporters. Any donation amount is welcome. Here are our current kitties, more will be added in a few days as we are awaiting the arrival of a few in the coming days. 
~~~~~~~~~~~~~~~~~~~~~~~~~~~~~~~~~~~~~~~~
Rizzo
 we pulled him from NYCACC, He was suffering from diarrhea and being severely underweight. He has been under a doctors care since his arrival. He has gained some weight but we are getting nowhere with his current treatment for the diarrhea, so the doctor is recommending he see a specialist as soon as possible to rule out either IBS or lymphoma. Please keep him your thoughts and prayers.
Willy and Otto
both had their dental surgery, and are doing well. The cost was well over $3000. We could use your help with the bills. 
Willy
has been sick but is on the mend. He needs to see a dental specialist asap, he has some serious dental needs. We think he was injured and the jaw healed the way it did, he also has the majority of his lower front teeth broken off at the gumline. 
He has an appointment next week to see the specialist and hopefully we can get him fixed up and ready for adoption. Please help if you can we are in great  need for funds. This visit will cost us a great deal of our precious funds.  
Update ( We lost Willy to pancreatic cancer, but not until after he was adopted and loved by his new dad)


OTTO 
Was recently diagnosed with sever arthritis. He will need a life long treatment plan of medications and vitamins for pain management. Otto also needs to see a specialist for his dental treatment. We are not sure what this will cost but  estimate it to be over $1200 for both.
We need your help as we have had three sick kitties back and forth to the vet which cost us over $1500 for all three.  Please donate what you can to help these beautiful kitties. 


Bella
Came to us in pretty bad shape, her left eye had a cornial rupture and  her right eye had scarring. She is blind in her left eye, but thankfully after taking her to a specialist and getting her treated she has partial sight in her right eye.  Bella is growing up to be a beautiful and funny kitty. She is ready for her forever home, but has not had much  interest.  Im guessing it is becaue of her slight handicap, which is really NOT a handicap! She plays as hard as any sighted kitty. Plus she needs to be the only kitty or with a kitty that has the virus that caused this condition, Feline Herpes Virus.  (Bella has been adopted! ) 



Buffy  
Our lil Buffy has taken ill on us, she was in the hospital on Saturday night for uncontrollable vomiting and vomiting blood. It was determined that has Pancreatitis. She is being treated and is home with me. Buffy still has a way to go to fully recover. Hopefully her meds and new diet will help her get there sooner than later. Keep this precious gal in your thoughts and prayers. Her bill was over $600  for the emergency visit and we would use some help with it. Please consider donating to help! 
Update 10/02/2015: Buffy has been diagnosed with stage two kidney disease, she needs fluids 2 x's a day and a special diet. She is a Senior and will be probably be a life long resident of OMC as there are not many adopters out there willing to give a senior cat the kind of care she needs. 
Socrates Update
 Now that we have a handle on his weight we can focus on his dental. He has severe gingivitis and needs extractions.  We are getting him set up with a specialist so we can get his dental issues addressed. We are looking at 4 to 5 hundred dollars depending on extractions. 
Update: He was adopted and is being care for by a loving couple. 
Socrates
Bella aka Fuzz 
came into our rescue with two ruptured corneas and what we thought totally blind. We took her to a specialist and found out that she is indeed totally blind in her left eye and has some vision in her right. She will be on special eye drops for the next two months, this will help reduce inflammation in he right eye, hopefully allowing her to see a little better. She will go back to see the specialist in a month and a half for a follow up appointment. Hopefully she will be cleared for adoption at that time. Your donations are helping with her care, thank you!
Bella aka Fuzz
Marylyn
is currently being treated for kidney disease and a grade 3 heart murmur. She needs dental but under the advisement of our vet we will not be doing any procedures that require anesthesia.
The vet chipped away some tarter so hopefully she will feel better She will be going on some meds and her diet will need to change. She's only 9 lbs., We will monitor her food and water intake carefully and take her back for another blood work panel in 6 months.
Marylin
Socrates
is currently being treated for starvation and malnutrition. He is slowly gaining weight. But will need another visit with more blood work to see how he is progressing with blood levels like kidney and liver function. There are concerns that his weight gain is so slow, that we may need to take some x-rays or do an ultra sound to check for any internal issues.  We will know more on his next visit upcoming this week.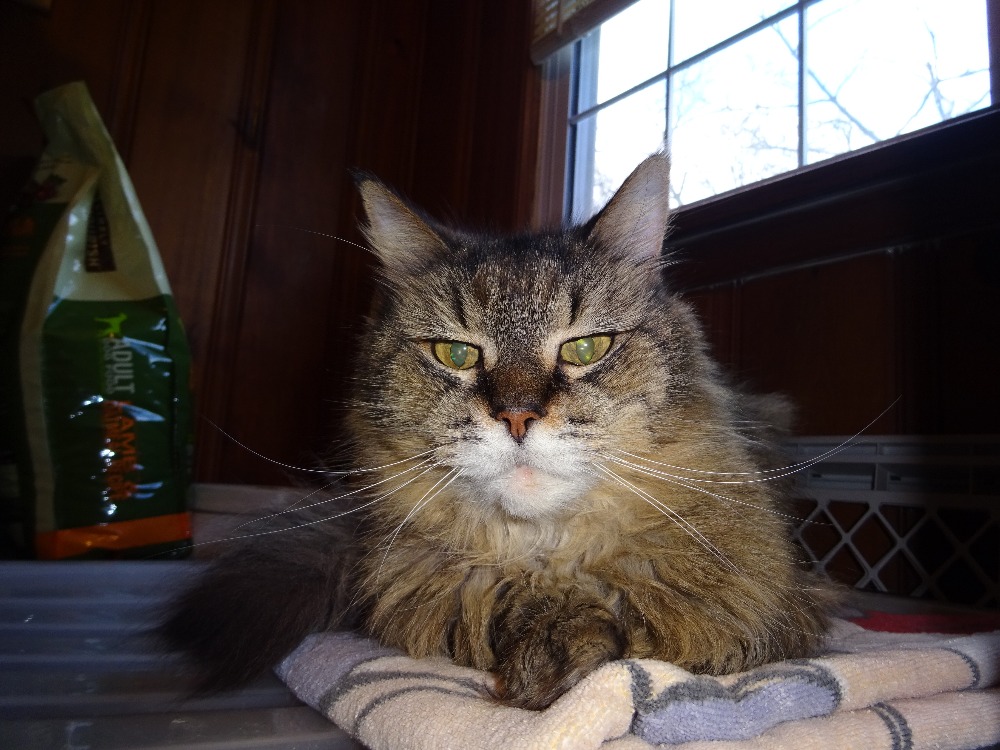 Socrates
King
was adopted!! Those of you that remember King, he was tossed from a high rise building in NYC. After palate repair surgery and months of recuperation he finally  was healthy and cleared medically. He is being loved by a wonderful mom in NJ.  
King and his newMom

Organizer

Registered nonprofit
Donations are typically 100% tax deductible in the US.
Learn more
#1 fundraising platform

More people start fundraisers on GoFundMe than on any other platform. Learn more

Expert advice, 24/7

Contact us with your questions and we'll answer, day or night. Learn more