Ohio Save a Hero: Coronavirus Healthcare PPE Fund
COVID 19 Resources
For up to date and accurate information about COVID safety, visit the CDC or WHO websites.
Healthcare workers take care of us. Now we need to help take care of them.
Support Ohio Save a Hero: Ohio's Frontline Healthcare Workers Coronavirus PPE Fund.
*Need PPE ASAP? Please complete our online request form https://airtable.com/shrXq9IIMEi2B5gP5 



This is a story about community and creativity. It's a story about makers and do-ers with big brains and big hearts committed to making a difference.

It all started as a text between neighbors: "We need help to make PPE."  

That simple message between a doctor and a fashion designer has grown into a grassroots group of Ohio makers and creatives who have come together to help solve an urgent crisis: supplying personal protective equipment (PPE) to health care workers. 

Your support of Ohio Save a Hero will buy supplies to:

- Make gowns made of waterproof fabric that can be laundered and reused 
- Create reusable face shields using 3-D printers 
- Source lifesaving PPE gear from a network of regional suppliers and getting it into the hands of the health care workers that need it most.


All right here in Central Ohio. 

OUR STORY

The original text message between Cara, the doctor, and Sarah, the fashion designer, set in motion an incredible series of events fueled by both creativity and coincidence. 

Sarah immediately went to work doing what she does best: design. Within days, she designed a reusable gown and modified the pattern to address the needs of specific health care environments. The only problem: the ideal fabric was overseas. Undaunted, she used her connections in the fashion industry to find a U.S. source for the scarce waterproof fabric. Simultaneously and unbeknownst to Sarah, a colleague, Jess, was also working on a similar project. The two joined forces to not only find the fabric, but also find skilled craftspeople to cut the patterns and make the gowns in Ohio. What normally would have taken months to turn around took just days. 

Meanwhile, Cara reached out to another neighbor to ask: "Do you know anyone with access to 3-D printers?" Her neighbor, Susan, immediately started reaching out to contacts in the community to find a fleet of 3-D printers, filter media and elastic (incidentally, supplied by another neighbor). Now, a team is testing and adapting 3D printable mask and face shield designs. They are ready to produce these PPE items to meet the unique needs of frontline healthcare workers.

"Each and everyone of us can do some part of this massive puzzle piece."

--Ohio Department of Health Director, Dr. Amy Acton

The volunteer team now includes physicians, EMS leaders, teachers, engineers, community organizers, 3D printing experts, and Ohio State University medical students. 

The group has worked collaboratively and creatively to design, test and modify the masks, face shields, and gowns to meet the urgent needs of the local health care community.


OUR WHY

Ohio health care facilities are running low on Personal Protective Equipment (PPE) supplies for frontline healthcare workers. Hospitals, urgent care centers, EMS providers, and clinics across Ohio are desperately seeking alternative methods of disposable PPE and are turning to reusable sources. Reusable PPE is significantly more expensive, and it has become difficult for many agencies to not only locate, but to also purchase PPE.

"It should be no secret to anyone that we have a real, real shortage. We're talking about masks, we're talking about goggles, gloves, gowns, face shields, other essential items that are essential to keep people at the front line, the real heroes of this story, who are out there every single day." 
 -- Governor Mike DeWine

In Italy, 1 in every 10 Coronavirus cases are healthcare workers. The head of Italy's medical association died of Coronavirus on March 10th, 2020, because he had to continue to see infected patients without a mask. We must not let what is happening in Italy happen to our healthcare workers. 

We already have healthcare workers waiting for the PPE all over the state of Ohio. Their current supply of gowns, masks, and face shields is very limited, so time is of the essence as we prepare for the surge of COVID-19 patients here in Ohio.

As Ohioans, we can't just sit around and watch -- we're fighters, we're buckeyes!  



OUR GOAL

Ohio is a leader and a beacon of light for our nation in fighting the COVID-19 Pandemic. It is no secret that our PPE supply is dangerously low, with no end of the shortage in sight. Hospitals, Urgent Care centers, EMS providers, and clinics across Ohio are desperately seeking alternative methods of disposable PPE and are turning to reusable sources. With reusable PPE being vastly more expensive, this has become difficult for many agencies to not only locate, but also purchase.

Our goal is to manufacture and distribute reusable gowns, face shields, and masks to our frontline healthcare workers all across the state of Ohio to keep our heroes safe!

If we surpass our goal, we will acquire additional masks, shields, and PPE for heroes until every last penny is spent.



OUR COMMITMENT

We will be posting stories and photos of our manufacturing, donations, drop-offs, and the doctors and heroes you are saving on our Twitter (@ohiosaveahero ) and Instagram (@ohiosaveahero ).

WHO WE ARE

Sarah Marks is a designer by profession. She has 17 years of experience with national retailers. As a mother to a 7-year-old son and a British expat, she has a deep-rooted love of the state of Ohio, which she has called home for the past 17 years. She is super passionate about protecting our frontline workers (her neighbors!) in any way she can!

Jess Audey is a patternmaker with 18 years of industry experience ranging from small businesses to her own dress business, to large corporations. You can tell she's from Cleveland once she starts saying anything with a slightly nasal "a." She's passionate about helping others and honored to be working alongside so many inspiring women to serve the need of our medical community.

Anita Gastaldo is the owner of Sew To Speak, a Worthington-based community of crafters. She and her customers want to use their sewing talents to help save lives. Anita is a native Ohioan, wife, mother, grandmother, and former nurse. 

Susan King has a background in environmental policy and nonprofit management and currently serves as the digital content director for Floret. She's a proud Ohio native, Returned Peace Corps Volunteer and neighbor to Sarah and Cara in Granville. 

Joanna Ewing is a Creative Director and marketing executive who is passionate about using the tools of creativity, digital media, and grassroots marketing to generate positive social impact in our local communities and beyond. She lives in Clintonville with her pet poodle, Sonny.

Jeff Fishel is the Director and Chief of EMS for Delaware County in Ohio. He has 15 years experience in the EMS industry and dedicates countless hours to make sure his EMS first responders are protected with proper PPE. He believes in a proactive approach to respond to COVID-19 by utilizing alternative and reusable PPE.

Cara Harasaki is a pediatric physician and mother who works in Columbus, Ohio. She learned the power of pooling complementary talents and limited resources as a HIV/AIDS Nutrition Advisor for the US Peace Corps in Lesotho.

Ashish Panchal is an emergency medicine physician and the medical director for Delaware County EMS. He is dedicated to improving health outcomes for the community in the prehospital setting by EMS and dispatch communicators.

Jan Westphal is a family medicine physician and mother of three. She is a networking extraordinaire and utilizes her talents to spark collaboration between health organizations and providers in Central Ohio.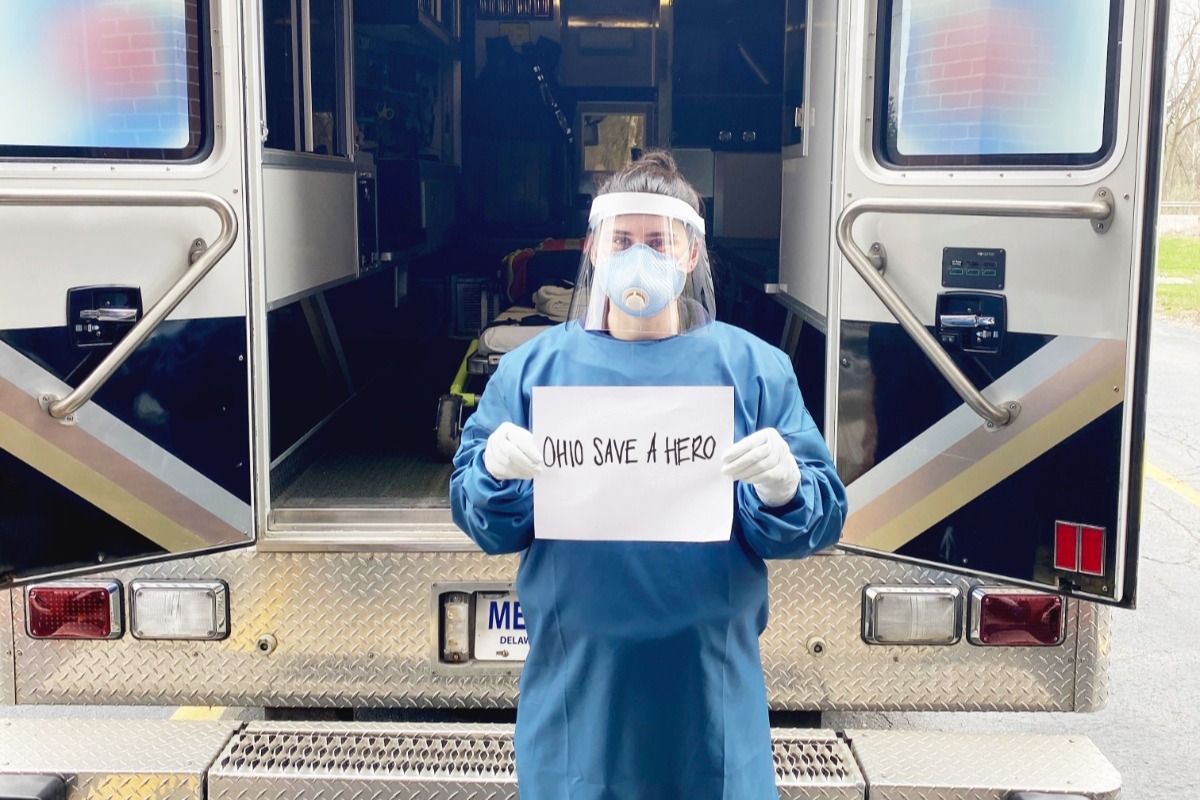 FAQ

What does success look like? 
If we can save one healthcare worker from being infected, we already consider ourselves successful. If a healthcare worker is infected, that means they will call-in sick, which reduces a hospital's capacity to properly take care of its patients. This is what has happened in NYC and has already begun happening in Ohio. 

Our current primary goal is to get as many gowns, face shields, and masks into the hands of frontline healthcare workers as fast as possible. Speed is crucial. This is a nationwide problem in addition to here in Ohio, and we are already hearing from our healthcare neighbors of the looming crisis.

How will the funds be used? 
100% of donations will go directly into the acquisition of raw materials to make PPE. We already have healthcare workers waiting for these reusable gowns, face shields, and masks throughout the state of Ohio. Time is of the essence as we prepare for the surge in patients.

What have you accomplished so far?
(1) We've figured out the entire supply chain: from sourcing a non-permeable fabric, to pattern development and cutting, to volunteer sewers, to delivery of PPE by OSU medical students.

(2) We have direct relationships with nearly every major hospital system in the Central Ohio area as well as Emergency Medical Services (EMS). We are in touch with physicians and EMS leaders to continuously assess their PPE needs.

(3) We have partnered with Anita Gastaldo. She is the owner of a wonderful local store, Sew to Speak. She has called to action her sewing community and is sewing 475 gowns to date.

How do you prioritize who receives the PPE? 
We will prioritize providing PPE to organizations providing direct patient care within a one hour driving radius of Columbus, Ohio in order to maximize efficient distribution of gowns, face shields, and masks since they are being produced in Columbus, Ohio. Ohio EMS providers will also be prioritized as we know that their PPE supply chains are currently disrupted.

Are donations tax-deductible? 
Currently, donations are not tax-deductible. If you know of a 501(c)3 charity in this space that would like to sponsor our effort, we would love to partner with them. Until then, we have realized that the need is so urgent that we must move forward and hope that you will donate. 

I am an ER/ICU healthcare professional at an OHIO hospital that is currently treating COVID-19 patients. We are short on masks. How do we request PPE? 
Please complete our online PPE request form: https://airtable.com/shrXq9IIMEi2B5gP5 

I am a frontline healthcare worker interested in getting PPE through Ohio Save a Hero. How do I request PPE?
Please have a clinical leader at your organization complete the online PPE request form:
https://airtable.com/shrXq9IIMEi2B5gP5 

Aside from donations, how can we help? 
If you are a sewing manufacturer and would like to donate your business's resources to help make gowns you can email us with a subject headline " Volunteer: Sewing Manufacturing" at [email redacted]

Is your PPE FDA approved?
While our gowns were designed in collaboration with healthcare professionals and are made from water-resistant, durable, and reusable fabric, we want to provide as much safety and transparency as possible by including a legal disclaimer. Gowns provided through Ohio Save a Hero are intended to assist the general public and healthcare workers during the current global pandemic related to COVID-19 and the related nationwide shortage of personal protective equipment. Please be aware that gowns provided by Ohio Save a Hero are not FDA or NIOSH approved. They should not replace standard FDA approved isolation gowns when that equipment is available. The use of the gowns provided by Ohio Save a Hero have not been tested and have not been approved by federal or state authorities. Ohio Save a Hero and anyone associated with the Ohio Save a Hero effort assume no liability and make no representations, warranties, or guarantees regarding the safety, efficacy, or appropriate use of these gowns in any particular situation. Please refer to CDC guidelines regarding Strategies for Optimizing the Supply of Isolation Gowns at https://www.cdc.gov/coronavirus/2019-ncov/hcp/ppe-strategy/isolation-gowns.html

If you would like to donate your time to personally sew some gowns email us with a subject headline " Volunteer: Sewing" at [email redacted]** Please note that time and raw materials are precious so please only volunteer if you have immediate time free to sew. Thank you!

If you are a volunteer who wants to help with OHIO distribution you can email us with the subject headline "PPE Delivery Help."

Follow us: 
Twitter: @ohiosaveahero 
Instagram: @ohiosaveahero 
Hashtag: #ohiosaveahero

Together, as Ohioans, we can face this crisis by supporting those who care for us even in the darkest of times. We must unite and take action now to protect our healthcare workers, families, and the future of our communities.
Please help us save a hero today!