Octavia Butler Conference Fund
Octavia E. Butler Legacy Network
 needs your help! We hope to raise at least $5000:
·         To cover the cost of an event of 10 years of Octavia's passing including the free public
Radio Imagination
 launch party.
·         Funds to pay DJ Lynnee Denise to spin at the
launch party
 (click the link to r.s.v.p).
·         Any funds raised beyond our initial goal will help to make OEBLegacy more sustainable in the coming year and beyond.
Beginning in 2016, we will be engaging in more partnerships, editing a special issue of Palimpsest Journal, offering more content on our webpage, via social media, and more. We'll also expand opportunities for face-to-face gatherings, create curriculum, and offer ways to do more in-depth study of OEB's life and work. 
We've also got some cool perks for you to enjoy when making your donation: Brand new Octavia portraits by
John Jennings
, totes, bookmarks, private archival geekout sessions, and OebLegacy tours of LA/Pasadena are all available!
ABOUT US
The
Octavia E. Butler Legacy Network
is a community hub that showcases the individual, community, social justice, and environmental justice work that continues to be inspired by Octavia E. Butler and aligned with her work. You've seen some of our work on the planning and execution of the
Ferguson is the Future Symposium
 at Princeton. We've also shared many other labors of love throughout the years since our founding in 2011.
2016 is a special year for OEB fans. It marks ten years after her untimely passing. 2016 is also a time when OEBLegacy Network will continue to grow the network on a larger scale. The first way we'll do this is by hosting a weekend gathering to commemorate her life.
As you and your loved ones prepare for the holiday season, what better way to show your love than by supporting the visioning of an afrofuturistic world we want! Up until now, all of our efforts have been offered for free without ads, membership fees, or donations. As much as we love what we do, we can't reach the next level of OEBLegacy's potential without your support.
Your donation will support a gathering of people working in the tradition of Octavia Butler's legacy and projects that support a radical reimagining of our current world. We will use funds to support lodging and food for a cadre of Octavia Butler Futurists, artists, writers constructing the new worlds that we want, and visual storytellers, changing who and what we see on screen.
We'd be so grateful for your assistance in making this gathering happen and knowing that your sustained support encourages our ongoing efforts.
Many Thanks,
Ayana Jamieson, founder of OEBLegacy
and 
Moya Bailey, Digital Alchemist of OEBLegacy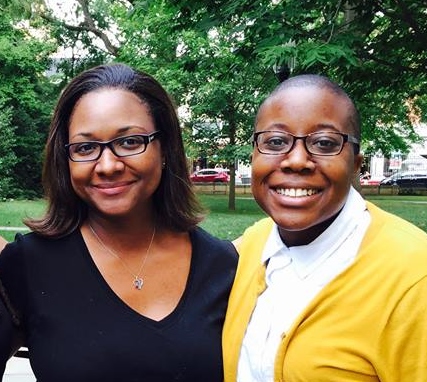 **Contact us at [email redacted] [dot] com if you need other ways to donate.