Make the Easter Party Free for All!
It's hard to believe that it's already time to prepare for the 4th Annual Easter Eggstravaganza with the Ducks! This annual Easter party provides the opportunity for the children of Detroit and surrounding metro area to engage in creative activities, participate in an egg hunt, learn about animals and nature, and HAVE THEIR PICTURE TAKEN WITH A DUCKLING!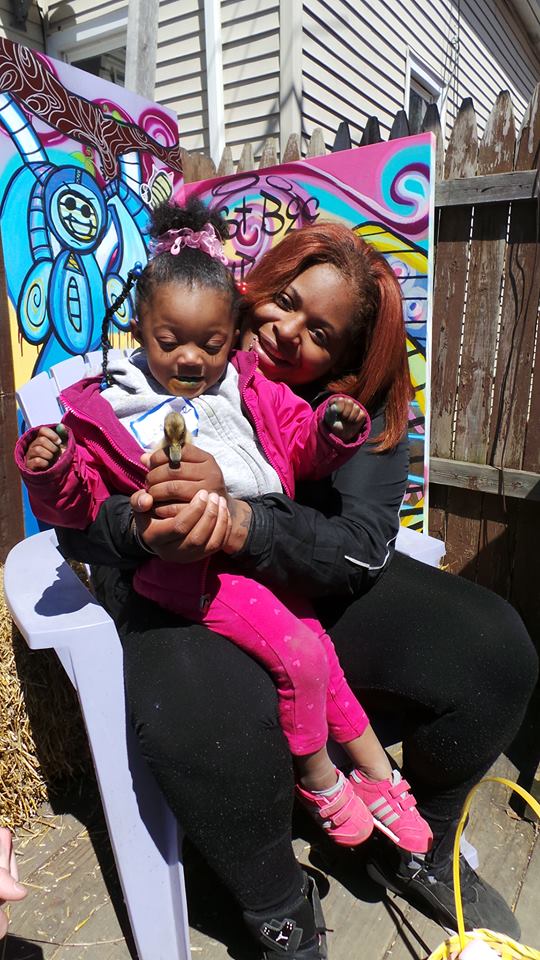 Although this party was originally intended to be about learning and activities, every year we found more and more kids were arriving hungry, not having eaten yet that day.
Last year we provided a healthy snack table which proved to be very popular. Kids were filling their Easter baskets with fruit and peanut butter and jelly sandwiches for themselves and for family back home.
This year we will do an even better job of addressing the hunger  by providing a catered meal of roasted veggies, tortellini salad, green beans with almonds, fresh veggie salad, and grilled chicken patties or black bean burgers. Every guest and every volunteer who arrives hungry will go home happy and satisfied after enjoying this delicious meal!
Other funds will be used to for activities such as egg decorating, cookie decorating, and of course, the egg hunt. Each child will go home with their own Easter basket.
People who donate $50 or more will get this awesome Duck-N-Roll Inn "Detroit Inn-cludes Everybody" t-shirt.
Every year this event has been a success because of the generosity of patrons and the hard work of volunteers. Every year I am blown away by the kindness and enthusiasm of every person who participates. Now ALL year the kids are asking, "When is the Easter party?" and I laugh and tell them, "Easter!"
But seriously, it will be Saturday, April 4, from noon until 3pm at the Duck-N-Roll Inn. Hope to see you there!

Organizer
Suzanne Scoville
Organizer
Detroit, MI