Juli Cela's Prosthetic Legs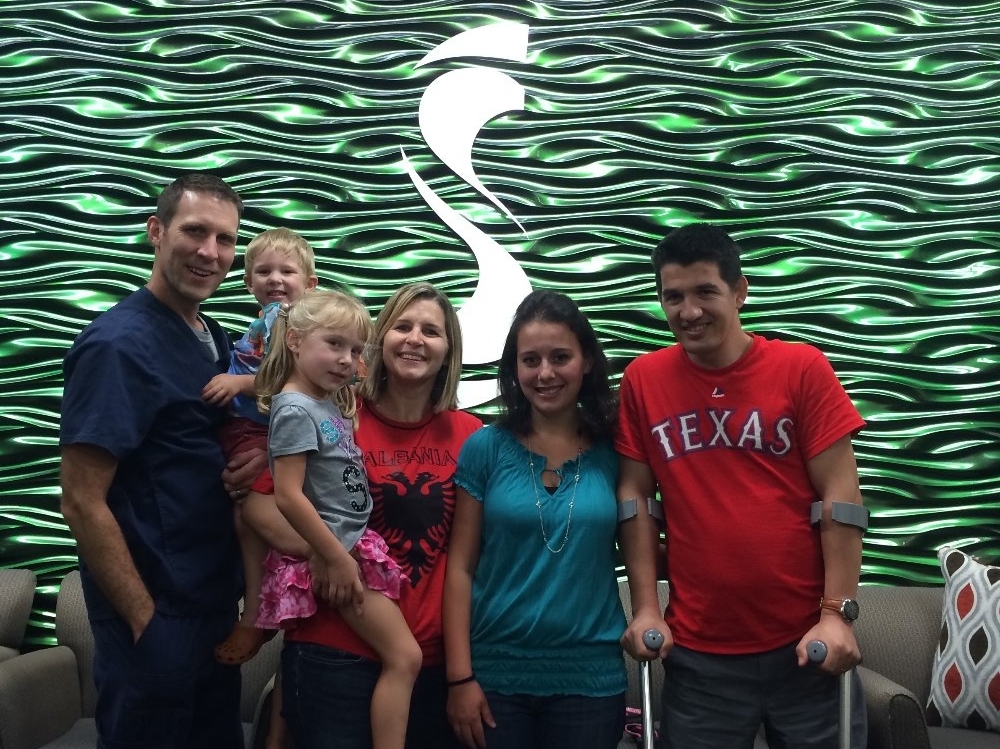 My name is Sally Williams. I had the privilege of meeting Juli and Erjola Cela in the summer of 2014.  Juli and Erjola are both former Albanian Muslims who converted to Christianity when they were teenagers.  Since converting to Christianity they knew they wanted to spend their lives sharing the good news of Christ. 
In February 2014, shortly after their first child was born, their lives were changed forever. The day started out like any other.  Shortly after arriving at work, a bomb intended to target his boss, exploded right next to where he was standing.  While he escaped with his life, he lost both legs in the explosion.  Unfortunately, the country of Albania does not have any sort of prosthetics industry.  Through God's amazing providence and provision Juli and my husband, Scott, have some mutual friends  who live in the neighboring country of Macedonia.  Our friend wanted to know if Scott would be able to help since he is a prosthetist (someone who builds artificial legs).  The body of Christ came together in a huge way and people donated money for their plane ticket, lodging, and food.  Scott was able to donate his time and talents, and the company where Scott worked donated the materials for the prostheses.  Within the first week in Dallas, Juli was able to stand on a pair of prosthetic legs.  That was the first time he stood in 5 months. By the end of the second week he was able to walk without assistance.  It was an amazing transformation to witness.
When they returned to Albania, people remembered the bomb explosions and were amazed to see him walking down the street on prosthetic legs. The loss of his legs has opened the door for many to hear the gospel.  He and Erjola have been invited to speak about their lives, been featured in magazines, and were even guests on a popular Albanian talk show. Many people heard them share their testimony of God's faithfulness and love. 
Currently, Juli has been walking on the same pair of prosthetic legs for almost 2 years.  He has not had any new supplies, and his residual limbs have changed significantly. With these changes it is becoming increasingly difficult for him to continue walking on his prosthetic legs.  It has come to our realization and theirs that it is time for another extended trip to the United States for new prostheses. They are scheduled to be in the Dallas area from May 4th-June 20th.  While here they will need money for food, medical bills, prosthetic supplies, and other expenses that may occur.  We have estimated their expenses as follows: Gas - $500, Food - $800, Prosthetics $8,000.  The most expensive components of his prostheses are two feet, and one knee. We are also asking people to consider donating to their needs, and pray with us for their safe travel, good health, provisions, and that the prostheses would be able to be completed easily within the 6 weeks they are here. Thank you for taking the time to consider their needs.
Organizer