Nova's Life-Saving Surgery
Nova has often been called "the friendliest dog in the world".  She is sweet, playful, and loves to cuddle.
Nova is a 7.5 yr old Boxer/Lab mix with the sweetest personality.
She is a gentle, loving, and emotional dog.
She will be the first to cuddle with you and lick your tears.
And every time I return home, she gets excited like I've been gone for years.
She is my best friend, we are attached at the hip, and I cannot imagine my life without her.
I would anything possible to save her life.
About three weeks ago, Nova started to sneeze, and her nose was dripping with snot.
I took her to the vet to get an exam and some meds, and thought that would be the end of it. 
First Vet Bill: $405.10
A week later, after her medication was finished, the sneezing got worse.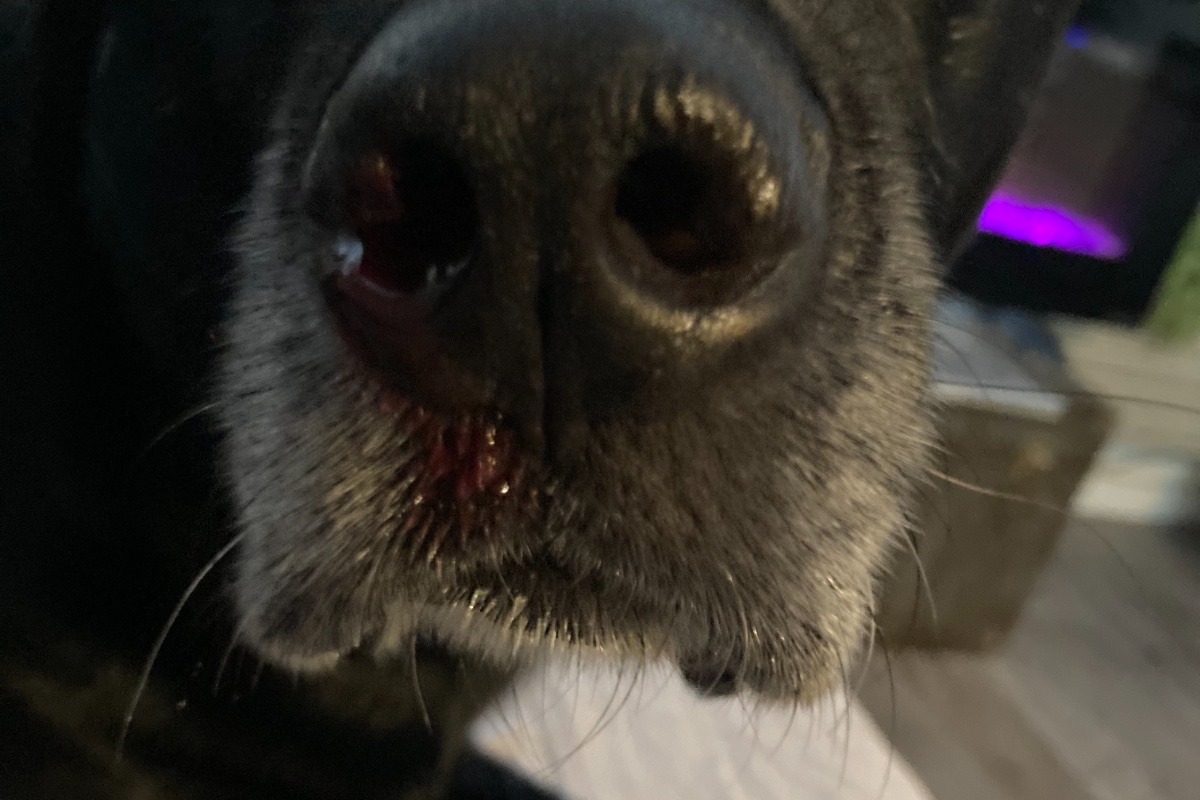 And then there was blood in her sneezes. So I took her back to the vet.
He did a nasal flush, took a specimen sample from her lymph nodes, and did blood work.
Second Vet Bill: $904.23
Two days after this vet visit, the amount of blood coming from her nose was non-stop.
She had a continuous flow of blood coming from her right nostril and was sneezing blood every couple minutes.
I immediately brought her to the emergency vet.
The ER vet at Animal Health Partners did a full body exam and could not conclusively say what the problem was, but she had predictions: Cancer, Fungal Infection, or Occlusion.
Animal Health Partners Vet Bill: $200.00
The ER Vet said she needed to have a CT Scan to accurately determine the cause of the bloody sneezing.
So I called around the city to find an emergency animal clinic that specialized in internal medicine and made an appointment at Central Toronto Veterinary Clinic to see if I could get her a CT Scan.
The vet at CTVRC did a preliminary exam of Nova and agreed that she needed a CT Scan to determine the cause of her illness and then decide the treatment.
Cost of CTVRC First Bill: $155.77
I then booked the first possible appointment for a ST Scan for Nova at CTVRC.
But, before that appointment happened Nova began to have sever diarrhea.
The vet had warned me that if the started vomiting or had diarrhea then she had to be reassessed immediately. So I brought her back to the CTVRC that day for an emergency appointment and to get medication.
Cost of Second CTVRC Bill: $202.95
With the medication, Novas stool returned to normal.
A couple days later I brought her back to CTVRC for her CT Scan.
Cost of Third CTVRC Bill for ST Scan: $3122.08
The radiologist read the CT Scan, and delivered good and bad news.
The good news: It isn't cancer. It looked like a severe fungal infection in her right nasal passage and up in her right sinus.
The bad news: This type of fungal infection is fatal, if left untreated.
The treatment is a "Trephination" surgery, where they drill a hole into her skull 1 inch above her right eye, and then remove all the fungal matter, and then pack the right sinus and right nasal canal with an anti-fungal cream. The anti-fungal cream is extremely toxic and cannot be ingested into her body. So during the surgery she will be under full anesthesia and will be intubated and placed on a ventilator,  which will breathe for her artificially. 
This is an extremely invasive surgery, and any complication would be immediately fatal.
However, the surgery is not uncommon and the vet was confident that if the surgery is successful, then Nova could be cured. So I booked the earliest date for the surgery that I could.
Cost of Fourth CTVRC Bill for Surgeon's Exam: $209.05
Cost of Fourth CTVRC Bill for Nova's Trephination Surgery: $3,996.43
Cost of Uber's to and from the CTVRC: $260.00
Nova had her surgery on Nov. 25th, and it was a success!!
They were able to remove a large amount of fungal material and inject the anti-fungal cream into her nasal canal without any complications.  I am happy beyond words, and Nova is currently stable and recovering at home.
Cost of All Vet Bills related to Nova's illness: $9,455.61
If Nova didn't have this surgery, then she would have died.
I did not have pet insurance.
When the vet bills piled up, I paid for them using all of my OSAP loans, and several credit cards.
I am a full time Nursing student at George Brown College, and I am working part time as a PSW.
I have not been able to work since Nova got sick because she required 24hr monitoring, and I cannot return to work until one week after her surgery because requires monitoring while she is recovering.
This situation has been financially devastating to me. I used all of my OSAP loans, which were supposed to be for rent and food. I used all of my available credit, so now all of my credit cards are maxed out. I am still in school full time, and have to monitor Nova during her recovery, so the amount I am able to work is very limited right now.
I really need help.
I know this is a tough time financially for many people. I know many people are struggling to get by right now.
I hate to ask for financial help, but I don't have any other options. This situation has left me in a financial crisis.
Anything helps. $2, $5, $10... Anything!
I am hoping that with many small donations from family and friends, that I can recover enough money to at least be able to cover my rent for December, and pay the credit card payments for a few months until I graduate in May 2021, and become employed as a nurse.
Nova and I thank you from the bottom of our hearts for anything you are able to donate.  xo

Organizer
#1 fundraising platform

More people start fundraisers on GoFundMe than on any other platform. Learn more

GoFundMe Guarantee

In the rare case something isn't right, we will work with you to determine if misuse occurred. Learn more

Expert advice, 24/7

Contact us with your questions and we'll answer, day or night. Learn more