#NOTBlowingSmoke 2.0
$79,794
of $27,500 goal
Raised by
775
people in 51 months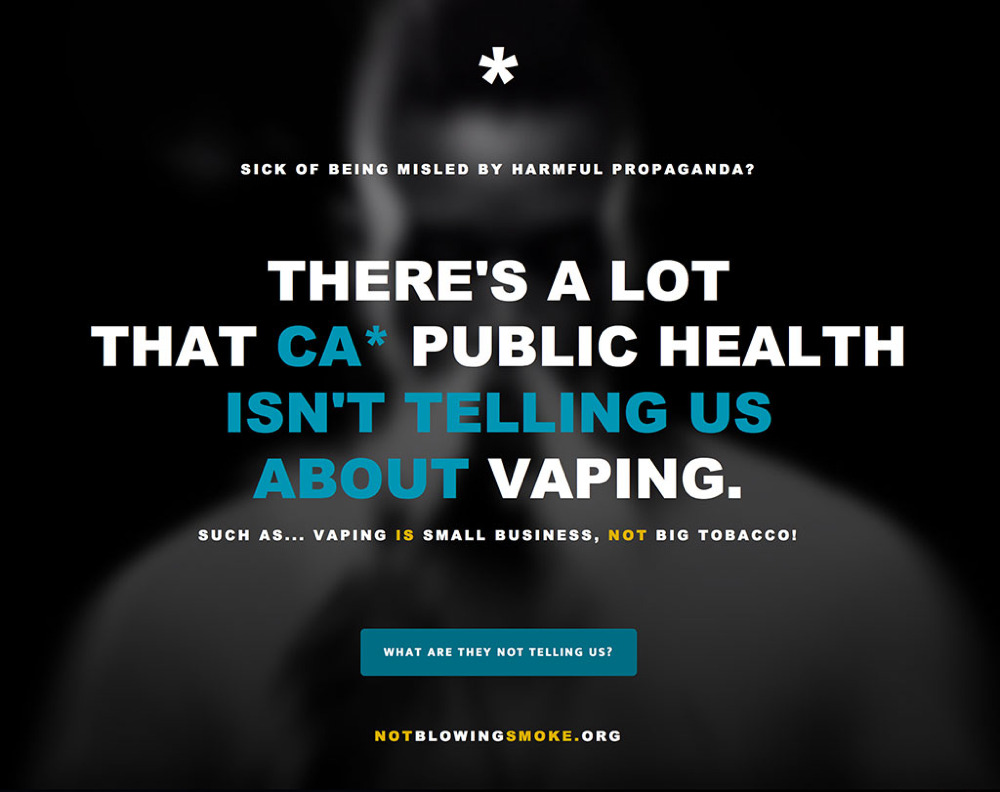 Introduction

Hi, I'm
Stefan Didak
and I'm the president and founder of NOT Blowing Smoke, a
California
registered 501(c)6 non-profit organization.

Summary
Following the launch of
NOTBlowingSmoke
, we were surprised at the magnitude of support from both from industry leaders and consumers. To say that the success of the initial campaign was overwhelming is an understatement! In fact, support for this project gave way to demand for a platform that seamlessly integrates the spirit of continued education, public awareness and visibility for the ongoing challenges faced at state and municipal levels for industry stakeholders and consumers.
The chief goal of 
NOTBlowingSmoke
is a sustainable, professional, and most importantly, transparent approach to advocacy efforts.
A $0 budget and small out-of-pocket expense has carried the message thus far, but does not allow for availability of dedicated resources or the level of support we wish to provide.The TeamNOTBlowingSmoke
 is currently being spearheaded by an 
amazing team
that includes
Danielle Bloss
, the creator of
"The Truth About Vaping" video series
. On behalf of our entire team, thank you for your continued support for our efforts!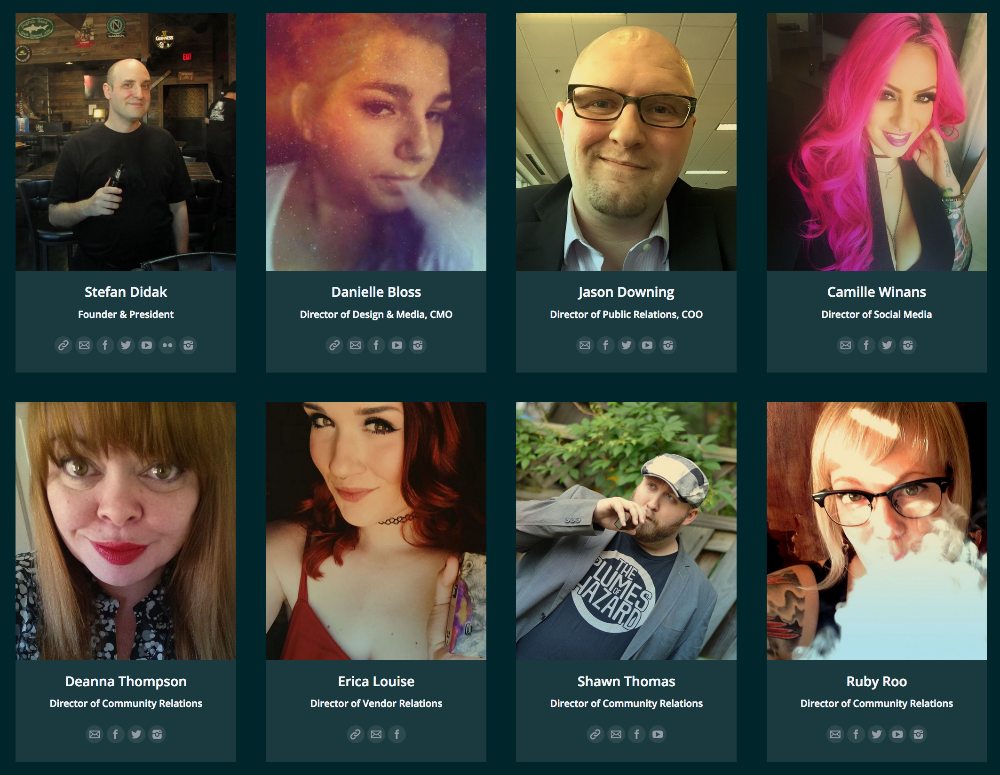 We are extremely appreciative of this opportunity and very excited about having our very first official presence at
Vapercon:West
because it's an event that is a shining example of the kind of unity, friendship, and shared interests and goals that are exemplary of what the vaping community is all about. So please come visit us there and stop by our booth with any questions, suggestions, etc. that you may have about our plans for moving forward.
Projects
Since our inception we have been happy to have launched several different projects, including the 
No More Casualties
campaign, the
Vapers Voting Guide
, and our 
FDARegs Information
website. And more projects are currently underway as there is always another thing that needs our attention.

Fundraiser
Our immediate goal was to achieve sufficient funding to incorporate as a
501(c)6 non-profit organization
. In addition, we needed to cover the immediate operating and investment cost involved in scaling
NOTBlowingSmoke
. Ensuring that this was done correctly and meticulously was complex and unfortunately, not cheap. Due to future plans, we needed to make certain that our initial filings are 100% correct to avoid potential liabilities and problems further down the road.
Our current and ongoing goal is to continue the funding for the projects we're now maintaining and the new ones that are underway.
Goals and Mission
There are several goals, big and small, that 
NOTBlowingSmoke
aims to accomplish. As you know, many interest groups monitor activity in our community very closely. While this means we can't go into excruciating detail on what the execution of our goals will look like, we want to assure you that any donation you wish to make will be handled carefully. To that extent, we want to share some of our current initiatives:
• Continue to bring 
NOTBlowingSmoke
to a national audience with a most robust, fresh, and expandable websites, print and video material and with a strong social media presence.
• Continue to "export" 
NOTBlowingSmoke
into the offline world to reach a larger segment of the public by providing a range of free, up to date educational materials (print, video, images, etc.) for vapers and shops to raise awareness and reach into the non-hobbyist vaper demographic.
• As of 2016, continued outreach to the mainstream media realm in an attempt to correct misleading information and propaganda that has been put out through public health organizations who have a vested interest in seeing the continuation of people smoking.
• Continue to expand 
NOTBlowingSmoke
into additional projects covering important and pressing areas of concern to both vapers and the vapor products industry.
• Continue to provide mechanisms for greater interaction and above all, participation within the community.
One of primary goals following our incorporation continues to be the creation of a number of full time jobs in the field of advocacy. Currently, there are virtually no paid positions in the industry devoted to this work. Opponents of vaping, on the other hand, have
a small army
of administrative and professional staff. Many industry insiders
agree
that volunteer efforts, while deeply appreciated, are
not enough
to manage the ever-increasing need from organizations like
CASAA
,
SFATA
,
AVA, State Groups
and
Smoke Free Associations
. We hope to provide assistance on an "as-needed, where-needed" basis with dedicated resources to work in partnership with existing organizations to relieve some of the strain on their volunteers and further encourage cooperation.
F.A.Q.Are you taking donations only from businesses or only from consumers, or both?
Because the mission and goals of 
NOTBlowingSmoke
encompass the entire vaping community, we've elected to open a pathway for donations from anyone who chooses to contribute. The main deciding factor in accepting consumer funds were the numerous inquiries we've received from individuals about how they can support our efforts. Industry contributions, of course, will reflect support for the consumer space and the growing need for dedicated advocacy resources.
Why is the mission of NOTBlowingSmoke one of "education"?
An educational mission gives us license to deploy a wide range of material tailored to regional concerns, specific topics or new approaches while remaining under this umbrella. Because of the broad definition of "educational", we expect to cover a wide variety of topics of interest to vapers and the vapor products industry.
How will NOTBlowingSmoke work with other organizations?
Extremely well! Part of our goal has always been to alleviate some of the pressure from the (primarily) volunteer staff from these organizations to allow their focus to remain on their own missions. We also hope to continue to support industry and consumer organizations through close partnerships working towards common goals. As noted above, we will also offer direct support on an
"as-needed, where-needed"
basis to complete tasks that volunteer staff may not have time to accomplish.
Can we see how you are spending donation money?
Of course you can. You can find our tax exempt status at the
California FTB
and you can find our
IRS 990
filing (which is required disclosure for non-profit organizations) by
clicking here
. Note that contributions to section 501(c)(6) organizations are not deductible as charitable contributions on the donor's federal income tax return. They may be deductible as trade or business expenses if ordi­nary and necessary in the conduct of the taxpayer's business.
+ Read More