Noah Jordan's Journey To Transplant
***** THIS IS NOAH'S REAL ACCOUNT RAN BY HIS MOM AND DAD..NOT THE FRAUDULENT ONE FEATURED ON THE NEWS*****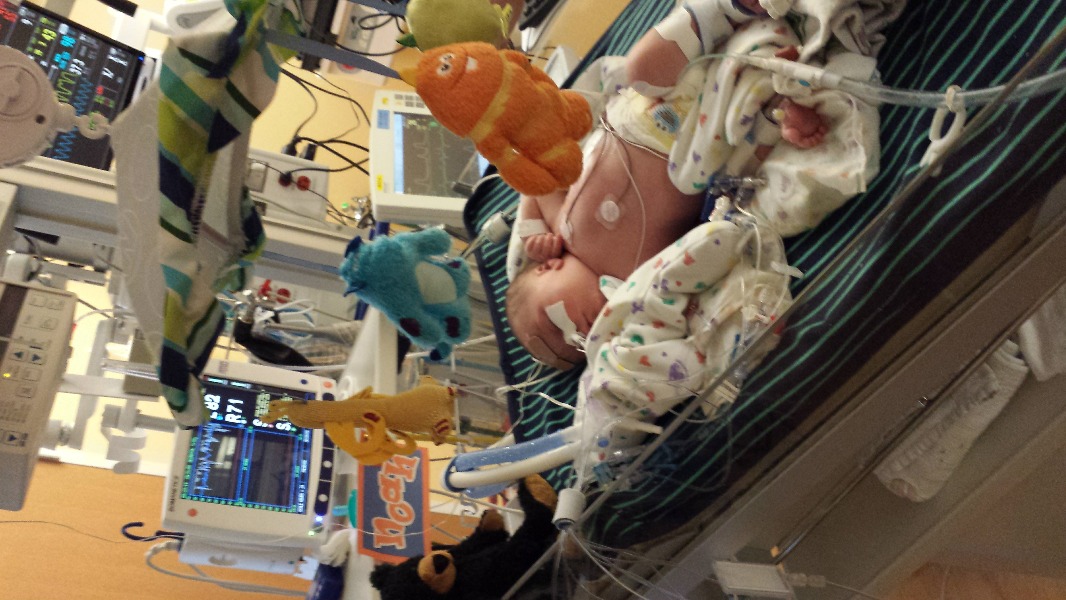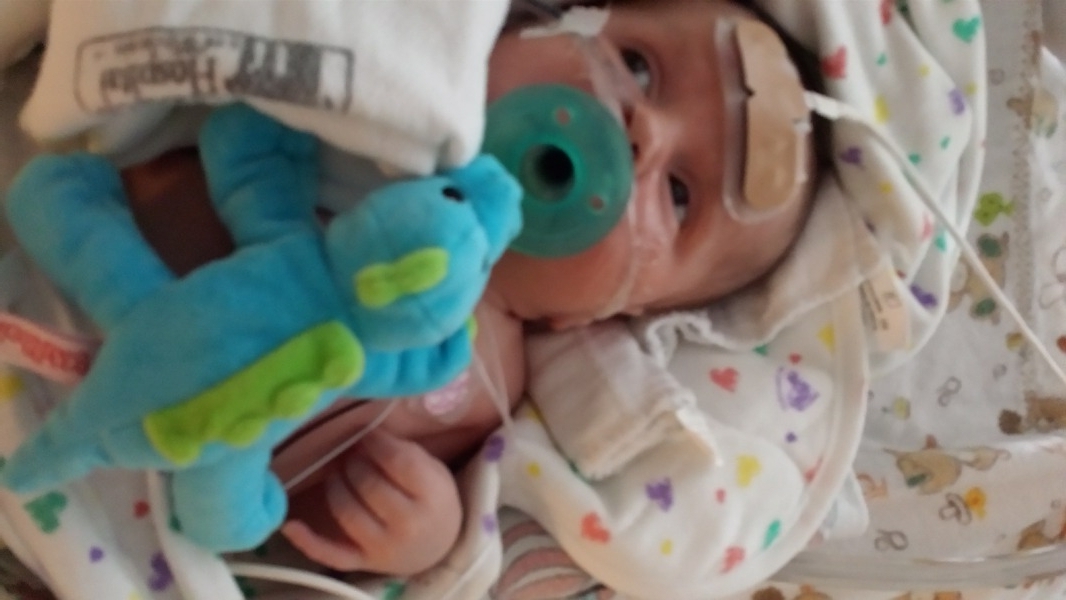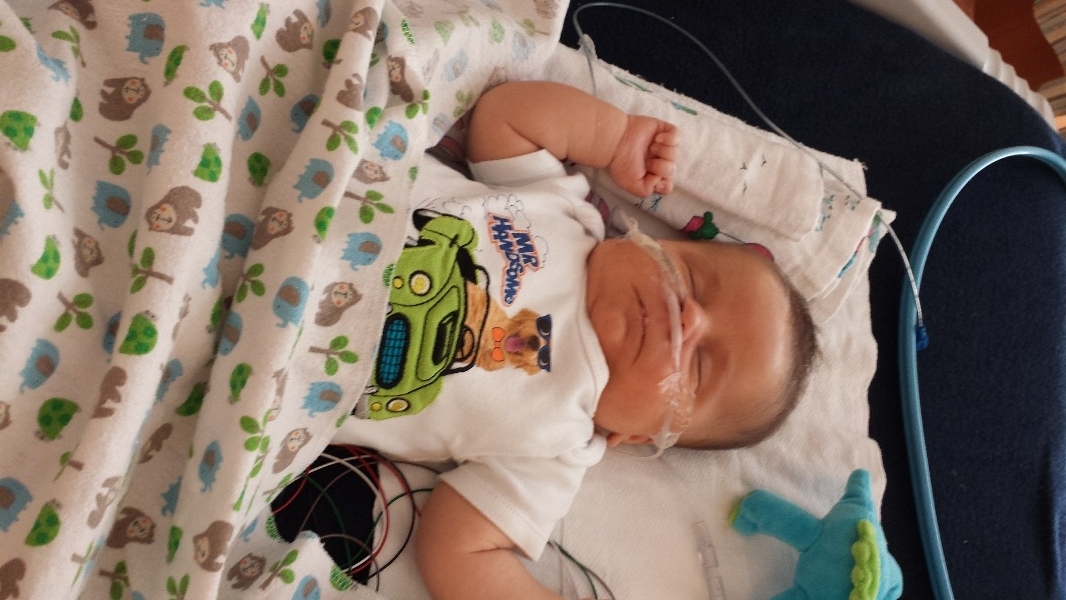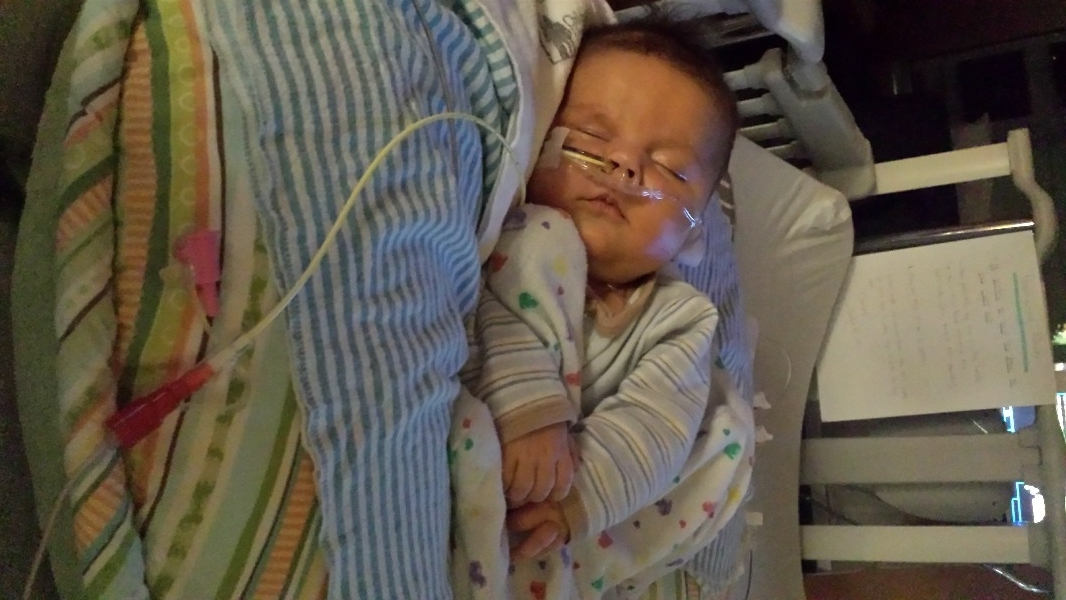 Facebook.com/NoahsJourneyToTransplant
Noah Jordan is a 12 week old little boy born on August 5th 2014 who is listed status 1A(most urgent) for a heart transplant. Noah is unique because he had a balloon dilation of his aortic valve done at 29 weeks pregnant in Boston, MA. Noah was blue at birth and immediately intubated. He had his second balloon dilation done at 12 hours old. When Noah was just 3 days old, the team of doctors informed mom and dad that there was no saving Noah's heart, and the only possibility for a normal life was a heart transplant. At 2.5 weeks old Noah had heart surgery, this surgery was a Coarctation repair. When Noah was 26 days old he was extubated, although doctors did not think he would last long off the vent he proved them wrong.
Present day- Noah is continuing to fight. He is hospitalized waiting for his new perfect heart.  
Funds received will go to any medical expences that are not covered, and relocating the family closer to the hopsital once discharged.  Once discharged, mom will continue to not work and stay home to care for Noah, with big brothers help!
Here is the long version of Noah's journey from pregnancy until now -
Noah Jordan's Journey to Transplant.
In mid-December of 2013 we found out we were expecting our second child. We found out we were having our 2nd little boy and the pregnancy had been easy and normal. At 22 weeks we had an ultrasound, the tech had the doctor come in regarding the baby's heart. The doctor said she wanted me to see a cardiologist although it is "probably nothing". At 24 weeks we went to the fetal cardiologist. We thought that everything would be fine because of what my doctor said. How could anything be wrong with our baby, right? Wrong. Immediately we knew something was very wrong with our baby by the look of concern in the doctor's face. The doctor spent an hour looking at our baby's heart, but it felt like it was hours and hours. By the time he was done with the echo the office was closed and he asked us to meet him in the conference room to discuss our baby's heart. The doctor met us in the room, he was visibly sad for us. We had no idea what was about to be said would forever change our lives. The doctor gently told us "your baby is very sick. He has Critical Aortic Stenosis with evolving HLHS (hypoplastic left heart syndrome), Coarctation of Aorta, and severe Mitral Valve Regurgitation".     
Aortic Stenosis: The aortic valve is narrow which prevents the valve from fully opening. This prevents blood flow from your heart into the aorta and the rest of the body. The heart is working extra hard and then, becomes weak.
HLHS (hypoplastic left heart syndrome): The left side of the heart is extremely underdeveloped and insufficient. The left side of the heart is unable to normally pump blood to the body, making the right side of the heart pump harder. The right side is then responsible for pumping blood to the lungs and the rest of the body. 
Mitral valve regurgitation: The mitral valve is not closing enough and causes blood to leak backward into the heart.
Coarctation of the Aorta: A narrowing of the aorta. The aorta is a large blood vessel that delivers oxygenated blood to your body.
The doctor explained to us what this meant and drew us a picture that I still hold onto. He told us with a very heavy heart that our baby's chance at making it to birth or long after birth was very low. But, he gave us hope with only one option. He told us of a very intelligent doctor named Dr. Tworetzky who is at Boston Children's Hospital.  He explained to us that Dr. Tworetzky and his team do fetal intervention on these babies with Aortic Stenosis with evolving HLHS. He kept it short while explaining the fetal intervention because he had to send our echo off to Boston and find out first if we were candidates for this procedure. What he did tell us was that this team of doctors using a needle enters the mother stomach, enters the baby's chest and goes into the aortic valve and tries to successfully balloon it open. We had never heard of anything like this and were truly amazed. The doctor sent us home and told us to return 3 days later on Friday morning.  Friday also happened to be the day we were supposed to go to the Dells with our 2 year old. We decided to go on the trip still as we had been talking with our son about it for some time. That Friday's appointment was to take a good look at the rest of the baby, and thankfully everything else was great! We knew our call regarding if we were able to go to Boston to be evaluated and see if we were candidates for fetal intervention could come at any time. On our last day at the Dells, we received the call; I was too scared to answer and had my husband answer it. Boston wanted us! It was a very surreal moment. We went back home and shortly after, on June 3rd we flew out to Boston, MA.
June 4th.
Early in the morning, we arrived at Dr. Tworetzky's office. He was doing an echo to determine if we would in fact be able to have this fetal intervention done. We were so nervous. Shortly into the echo, Dr.  Tworetzky let us know that the baby is a great candidate! Wow! He told us that as long as the rest of the team finds me to be healthy that the intervention would happen the following morning! Everything checked out great with my health as well. After a long 10 hour day at the hospital and meeting doctor after doctor after doctor we were sent back to the hotel.
Fetal Intervention: While a doctor is performing an ultrasound, another doctor is entering the mothers stomach with a long hallowed needle, then the baby's chest, and then into the aortic valve. Once inserted into the aortic valve, a third doctor puts a long wired balloon through the needle and tries to successfully balloon open the aortic valve. The highest risk associated with fetal intervention is loss of the baby. 

June 5th.
We arrived at labor and delivery at 7am while the doctors and nurses got everything prepped for the OR. I skyped with our son who was with my mom and dad. I cried and cried while I talked to him because I was so terrified for what was about to happen. Before we knew it, it was time to go back to the OR. I was very scared. The next thing I can remember is trying to pull my oxygen mask off. Then, I fell back asleep and my next memory is being pushed back to my recovery room. This is when Dr. Tworetzky was walking next to me and told me that it was a "technical success"! I cried tears of joy! We went back to the room and met my husband, we were so relieved. We spent the next 24 hours inpatient as they monitored the baby. Before we were discharged we met with Dr. Tworetzky who did another echo. He told us that the baby's aortic valve was functioning better, not anywhere where it needed to be, but better than it had been. What a relief. What an amazing and brilliant team of doctors. Finally, it was time to return home.

Fast forward- 33 weeks pregnant.
There had been no changes with the baby's heart function, not for better or worse. I started my follow up appointments at a great hospital that was recommend by Boston 1.5 hours away from home. At my 33 week appointment, the doctor told me my amniotic fluid was dangerously high (42mm :/ ). The doctor gave us the option of moving within 10 minutes of the hospital, or being admitted. This was due to the high risk of preterm labor due to excess amniotic fluid and the danger to the baby if I'm unable to get immediate medical assistance. This was said on a Tuesday, that Friday we were temporarily living within 10 minutes of the hospital.

36 weeks 2 days pregnant - August 5th
At 8:32pm my water broke. At 11:32pm Noah Jordan was born 8lbs 6oz and 19 1/4inches. He cried and cried but was turning a not so pretty blue color. He was immediately ventilated. At 8 hours old Noah was moved from the NICU to the CICU. The head doctor of the CICU told us that our child was the sickest kid in the unit. At least 15+ doctors surrounded our very sick, helpless baby while they tried to determine what was next. The decision was made to get him into the catheterization lab and do another balloon dilation of his aortic valve. At 12 hours old, Noah had his second balloon dilation. He was no longer blue after this procedure, but still very ill.

August 8th - 3 days old
At 3 days old, two of the head doctors sat us down to talk. They told us that our baby was very ill and had a very sick heart. They talked about possible surgeries that could be done, but did not think that any would benefit him. They told us that Noah's best chance at a normal life would be- a heart transplant. Our world fell apart. I spent the whole conversation crying while my husband listened very well to all this entailed. At 3 days old Noah Jordan was added status 1A to the heart transplant list. I had hopes that we wouldn't have to wait that long for a new heart, maybe a few weeks or a month. Wrong.

Heart transplant status 1A- most urgent.

August 18th - 13 days old.
At 13 days old Noah was not doing well. The doctors were discussing doing a surgery. The surgery that was originally decided on was the Ross Procedure. That following Thursday on August 16th  Noah was 16 days old and scheduled for the OR at 9am. At 8am that morning while the nurses were getting Noah prepped, the head of the CICU came in to speak with us. She told us that Noah had been doing better the past couple of days and none of the doctors felt comfortable doing this big surgery on him anymore. Instead, it was decided that Noah would have a "smaller" procedure done- a coarctation Repair. This surgery greatly helped Noah.

Ross procedure: Open heart surgery. The aortic valve is replaced with the patient's own pulmonary valve.
Coarctation repair: Removing the narrowed section of the aorta, and then connecting the two ends of the aorta together.

August 26th - 21 days old.
Today was a very big day for us and Noah. Today was the day that we finally got to hold our sweet boy for the first time. No parent should ever have to wait to hold their child

August 31st (also Noah's due date) - 26 days old.
Today was a day we had long been awaiting. It was the day he was going to be extubated. The doctors told us that there is a very high possibility that he may not be able to handle it, and need to be intubated again. Noah proved them wrong; he has been on oxygen and not needed to be intubated again.

October 27th – 11 weeks old.
 Noah is continuing to fight. He has been through so much at only almost 3 months old. He has come a long way, much further than anyone thought. Noah is incredibly strong and very loved. I think Noah can teach us all something. Please keep our sweet baby in your thoughts and prayers while he continues his journey to transplant and recovery.
Organizer