Nicky Siano LIVE podcast - HELP KEEP THE LIGHTS ON
$2,700
of $7,000 goal
Raised by
37
people in 2 months
This episode is with DC LaRue, press to see this or other episodes on the same fan page
'Nicky Siano LIVE' has been reaching thousands of viewers around the world and is growing each week, but the expenses for this production have exceeded our investment of $4,000.00.
To keep the show going we need to raise money, quickly.  We're asking our world wide family who share the love for this podcast to give  some "GREEN" energy to keep the lights on.
Money donated will be used for:
 - 1 Technician and 1 Assistant
 - Guests and co-host transportation
 - Microphones
 - Audio Mixer
 - Tables, chairs, fans and other infrastructure
 - Wirecast subscription; required to stream effectively to your preferred platform
 - Equipment rental for LIVE at GOODROOM
 - and others
INCENTIVES INCLUDE:
$50.00 Donation, you receive a Native New Yorker membership card.  Benefits of the card include (1) lowest ticket price admission to all NNYER parties (at door); (2) 1 free admission, to the NNYER party of your choice, a one time benefit; ticket holders line admission to NNYER events;
$100.00 Donation, you receive a free Gallery T-shirt, shipping and T-shirt on us!  sizes: S-M-L-XL-2XL (while supplies last);
$250.00 Donation, Dinner with Nicky Siano and producer Fabulmann;
$500.00 Donation, your choice,
a 10 minute guest appearance on the show, either by Skype or in person,
OR
a 20 second advertisement of your product and link (for that same product) in our show notes (3 shows);
$1000.00 Donation, a producer credit in the NEW release of the film LOVE IS THE MESSAGE; a night at the Gallery, the directors cut, 2020 AND all the above!
We sincerely thank you for all donations of any size.  Each are welcome and appreciated.  We thank you,  LOVE IS THE MESSAGE, Nicky and Fabulmann
(all incentives are fulfilled within 90 Days of donation receipt)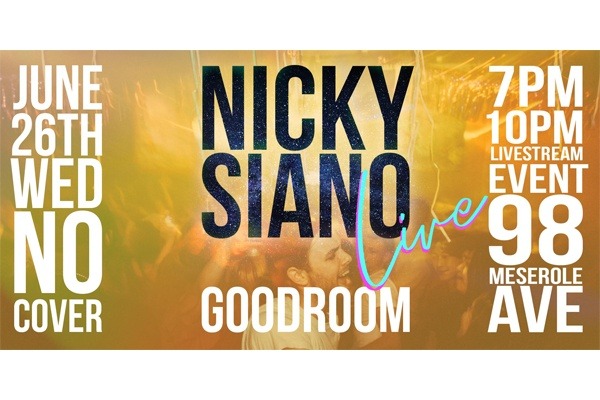 + Read More