Meat Trade Survivor Needs New Hip
Funds needed: £8,000
Funds needed for:  Total hip replacement
Funds needed by: 15 Sept 2017
Nibble was rescued in Feb 2015 from a meat truck in China.  There were hundreds of dogs crammed in to too small cages.  Nibble was taken in, along with seven other Tibetan Mastiffs by an amazing woman named Camilla.  Through extreme dedication and successful fundraising, Camilla was able to rehome seven of the Tibetan Mastiffs, including Nibble, who was sent to a new family in Sweden.  Another of the mastiffs, a male named Moomkin, was rehomed to England with my husband and I.
The meat truck Nibble was rescue from.
Sadly for Nibble, life did not improve for her in Sweden.  From August through the following March, Nibble suffered in the hands of her new family.  Eventually, her life was put at risk again, when she attacked a neighbor after he used a live cattle prod on her.  Her new owners wanted to euthanize her, but once again, Camilla stepped in.  She reached out to us, and we agreed to take Nibble in to try and rehabilitate her.  We had low expectations, and were prepared to have to put Nibble down if she proved too dangerous or unable to be rehabilitated.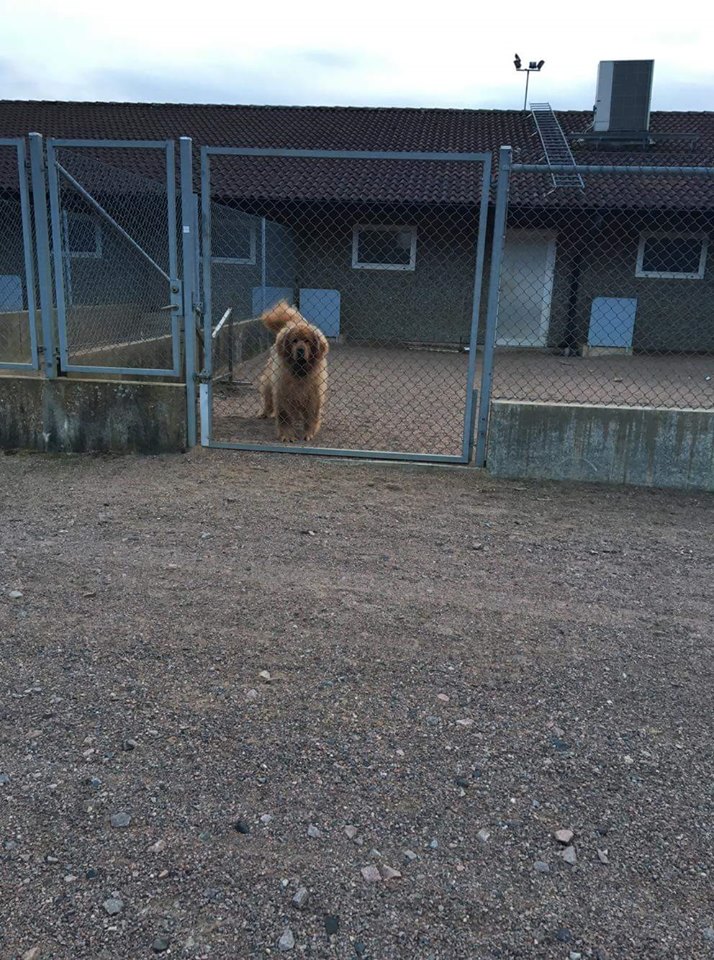 Nibble facing euthanasia in Sweden.
Camilla flew to Sweden and drove Nibble to Hamburg, Germany, where I had driven from England.  The dog that came out of that car was heartbreaking.  She was matted, emaciated, and clearly traumatized.  My husband could wrap his hands around her waist and touch his index fingers together (she was about 30 lbs under weight).  Her prospects weren't good.
Nibble the day we picked her up in Germany.
We got Nibble home, barely.  When we got there, I watched one of the most amazing moments of my life... the reuniting of Moomkin and Nibble, who had been separated for nearly ten months at this point, after being rescued together off the meat truck.  For the first time, there was some life in Nibble's sad eyes.
Nibble after two weeks with us, learning to trust.
Nibble and Moomkin, reunited.
Over the last year and a half, Nibble has become almost unrecognizable from the dog we first met.  She regained her weight, and her coat was saved with lots of effort and hours of brushing.  She is sweet, loving, and a ferocious guard dog.  She loves peanut butter, my husband, on whom the sun rises and sets, and of course, her Moomkin.  The dog who many, including some of her original rescuers, told me was never going to be rehabilitated, is now a much loved member of our family.
All that being said, Nibble isn't exactly the brightest bulb in the box.  And today, she apparently was so excited from playing with another of our dogs, that she decided to throw herself out of the first story window of our house.  Nibble has successfully managed this feat once before, and we responded by carefully watching our windows.  But this time, Nibble caught us off guard, and she landed badly.
Nibble dislocated her right hip in her fall.  X-rays showed that she also suffers from severe arthritis in that hip from her previous poor nutrition and abuse.  The arthritis is so bad that the veterinarian was unable to return the hip in to the socket, with no hope of ever being able to do so.  We are left now with two options: a total hip replacement, or euthanasia.
When we took Nibble in, we intended to rehabilitate her and rehome her.  But it was clear within a matter of weeks that Nibble had already found her home, with us and with Moomkin; separating them again was not an option.  We agreed though, that we wouldn't do any life saving measures should she ever become sick or injured…  we'd give her a home and lots of love, but with six other dogs, three cats, bunnies and horses already to support, we weren't prepared for another.  So today, when the vet told me the quote for the hip replacement surgery, I asked to see Nibble in preparation for putting her down.  And Nibble, who was taking her own sweet time waking up from anesthesia (she was under to try and return the joint to the socket), finally raised her head, lumbered to her feet, and walked the few steps to me to drop her head trustingly in my lap.  And I couldn't say the words that would end her life.  
The vet was relieved when I said I wanted to take her home while I raise the money to replace her hip.  She informed me that if there was any hope at all of raising the funds, that euthanasia was the wrong call: Nibble is otherwise very healthy and the prognosis for a full recovery with the surgery is very, very good.  Nibble has a long and pain-free life ahead of her if we can get her a new hip.
Nibble visits the groomer every 8 weeks now.
Nibble has survived so much in her short life.  She's only three or four years old, and has survived inhumane breeding conditions in China (she's had at least two litters), the disgusting conditions on that meat truck, months in a Chinese shelter, transport to Sweden, a failed rehoming there, transport to England, and the very long road to recovering her weight, her health, and her sanity.  She suffers from dog post traumatic stress disorder to this day, often having nightmares, anxiety about leaving our home, and she still guards food as if her next meal may never come, because in her experience, it may not.  This dog has suffered massively at human hands, but this time, I am determined to do right by her.  Please help me raise the money we need to get Nibble her new hip, and let her continue living the life she has finally found.
Nibble now... help us give her another new lease on life.

Organizer
Nicole Strauss 
Organizer
Feltwell, East of England, United Kingdom