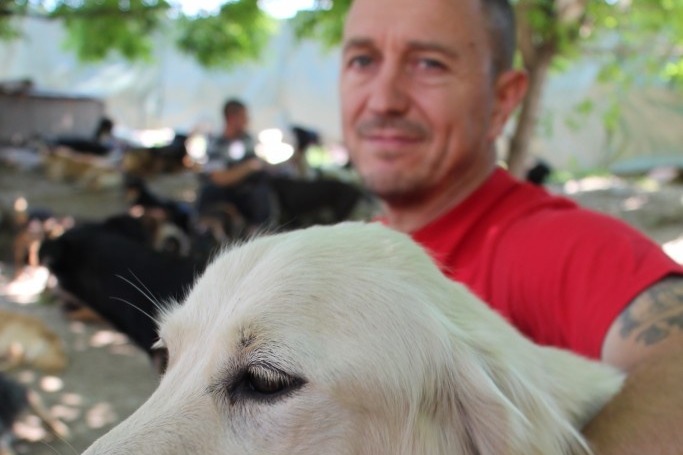 We have set up this fund to help 750 desperate Serbian stray dogs and assist the people who have dedicated their lives to love and support them.
Sasha Pesic
and a tireless group of volunteers have devoted themselves to a mission of mercy in a place where apathy is the general attitude towards stray animals.  They scrape together whatever funds they can through donations and minimal organizational aid to shelter, administer healthcare, and feed these desperate souls who would otherwise be starving and living on the streets . Unfortunately, it is nowhere near enough! 
After the costs of their healthcare, there is only enough left to sustain the dogs on a daily diet of bread alone.  Sasha and the volunteers do everything in their power,  but are only able to feed them kibble twice a month if funds allow. They are forced to endure the harsh Serbian winter conditions in a cold, dilapidated, abandoned horse stable. Sasha desperately needs our help!  Please follow the Facebook link to Sasha's Shelter to learn more of their plight.
https://www.facebook.com/SASHAs-shelter-Serbia-582039271882671/
Team Gimme Shelter
consists of
Olga Skrepnik, Steve Bonato and Olga Miljkovic.
The three of us hold near and dear to our hearts the welfare of all animals. We will be travelling to
Sasha's Shelter
this June to volunteer our time and services with great enthusiasm and excitement! Before our journey begins, we would love to raise as much money as possible in the hopes of bringing some relief to this cause.
Thank you to everyone who is able to contribute!  Please donate whatever you can, any amount is a huge help!  All funds donated will go directly to Sasha's Shelter. 
Please share our page!

Fundraising team (3)
Steve Bonato
Organizer
Raised $4,050 from 32 donations
Langley Township, BC
Steven Bonato
Team member
Raised $1,095 from 19 donations
Olga Miljkovic
Team member
This team raised $1,045 from 22 other donations.